Panelle or Sicilian chickpea fritters are a common street food in Sicily. These crispy little bites are exceptionally delicious served in a panino.
Panelle or Sicilian Chickpea Fritters are a popular street food typically found in Palermo, Sicily. I had the pleasure of sampling them for the first time in Palermo two years ago. Although they are usually sold as street food and served in a panino, my family and I ordered them as an appetizer in a local restaurant. You can read more about that trip and all the amazing foods we tried here.
The plate arrived piled with hot, crispy panelle squares. We quickly devoured them and immediately ordered a second plate. We were hooked! I had never even heard of them before, which goes to show you how specialties can vary from one town to another within Sicily.
Where can I find chickpea flour?
Thankfully chickpea flour is widely available in most grocery stores here in Montreal and so I was able to recreate this dish easily. Chickpea flour is usually found in the same section as dried packaged legumes, such as chickpeas and other beans. You may also find it in the ethnic food section of your grocery store.
Chickpea flour is also available for purchase on Amazon. See link at the bottom of this post for details.
How do you make Panelle (Sicilian Chickpea Fritters)
All you need is chickpea flour, water, salt and parsley as well as vegetable or canola oil for frying.
The first step in making panelle is similar to the process of making polenta. The only difference is that with polenta you would heat the water before stirring in the cornmeal. With panelle, the chickpea flour, salt and water are whisked together before placing on the stove.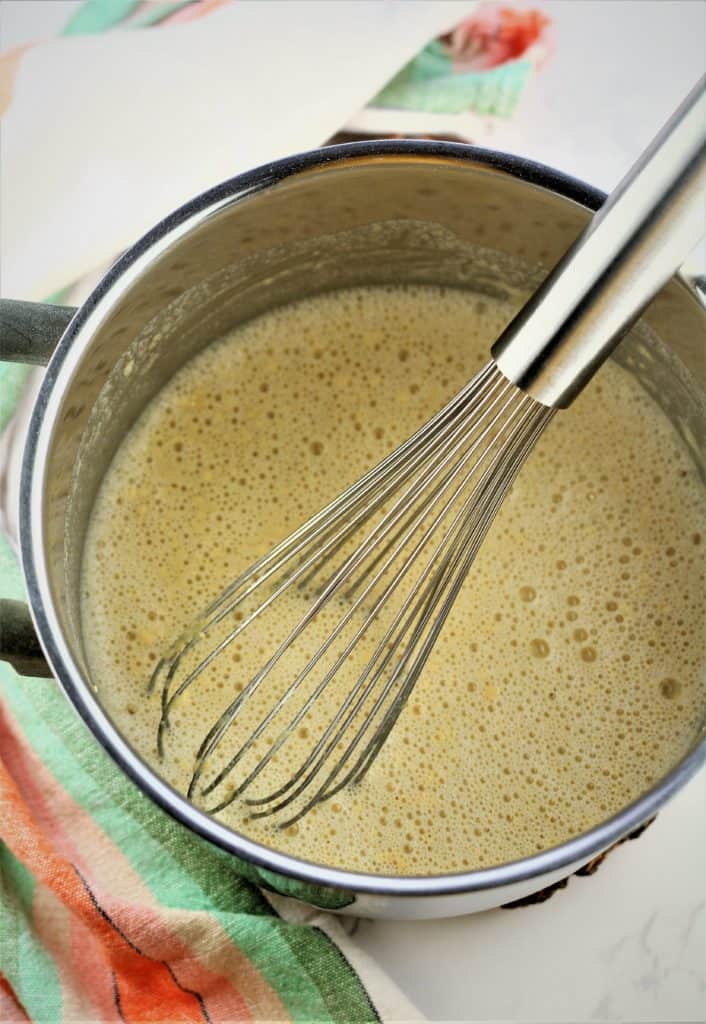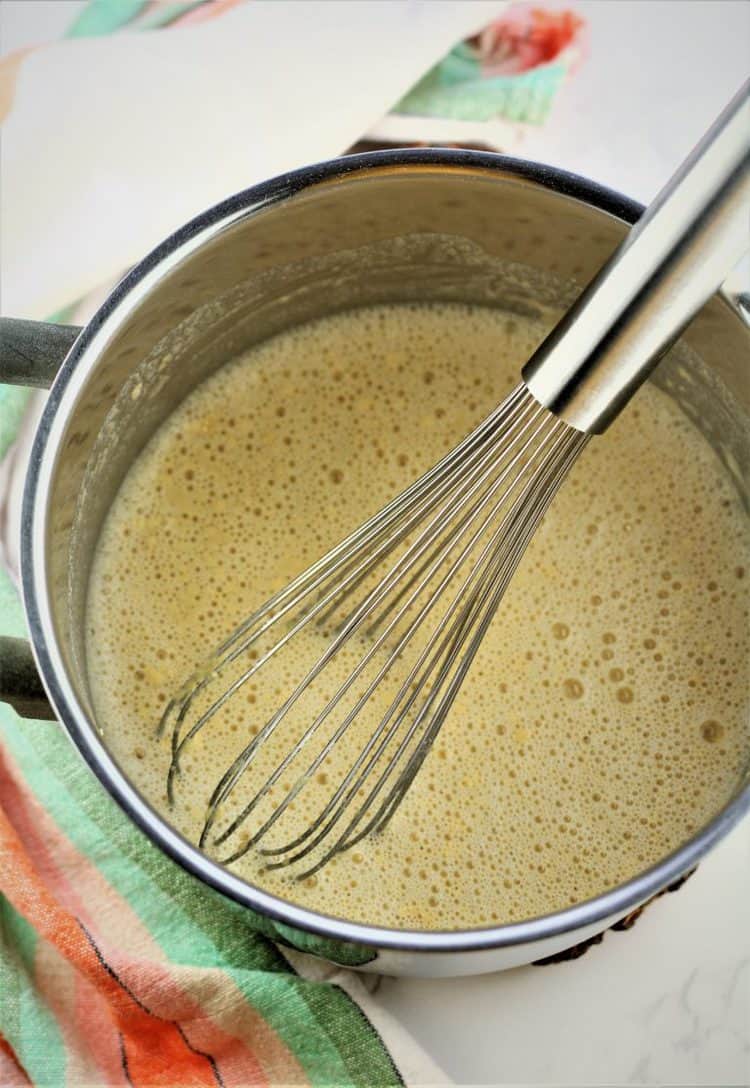 The mixture is whisked constantly until smooth and thick on medium heat. This will take about 5 minutes.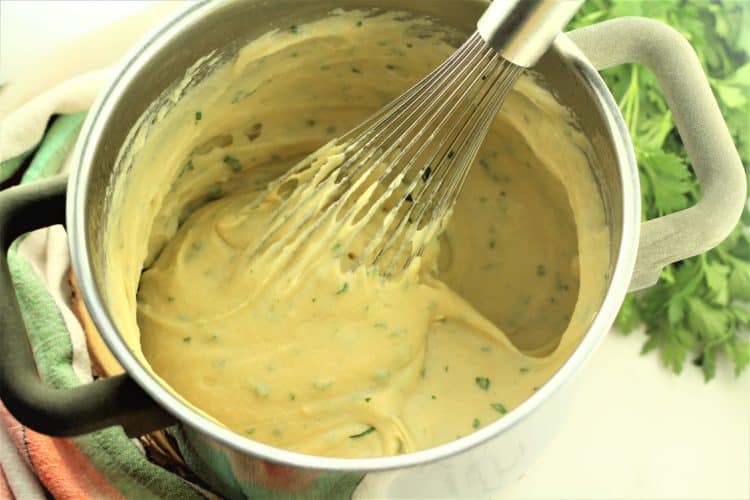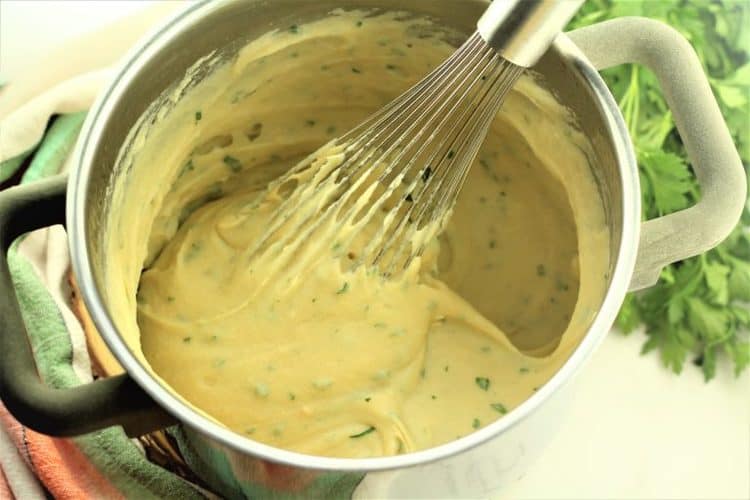 When it is ready, stir in fresh chopped parsley and quickly spread the mixture on a baking sheet with a spatula, as shown below. Place in the refrigerator and let cool completely before frying, about an hour.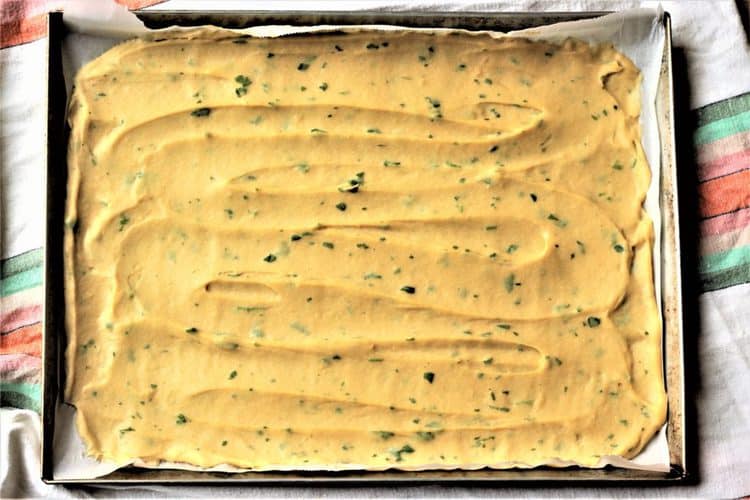 Cut the cooled panelle into squares.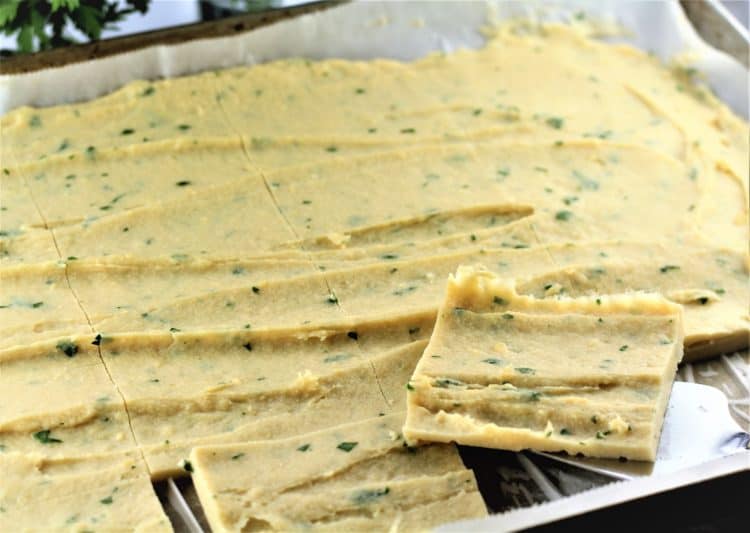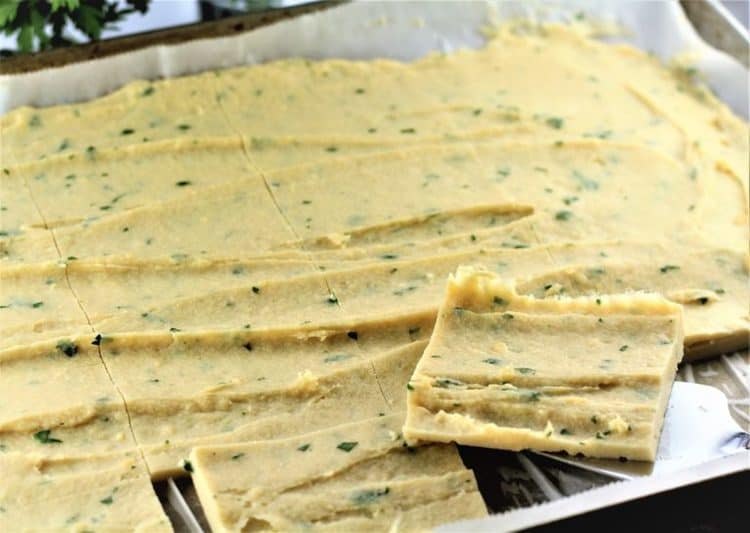 Fill a large shallow skillet with canola oil to the depth of about 1/2 inch. Without overcrowding the pan, fry panelle 2-3 minutes on one side, until crisp and golden, then flip and fry the opposite side 2-3 minutes more. Transfer to a paper towel covered dish to absorb excess oil. Sprinkle lightly with salt.
How to serve Panelle:
Panelle are best served piping hot out of the oil or they can be warmed in the oven just before serving. Serve as antipasto or a simple lunch stuffed inside a panino with a drizzle of lemon juice.
Tips for making perfect panelle each time:
Spread the chickpea mixture using a spatula on the prepared baking sheet quickly before it begins to set.
Do not overcrowd the pan when frying. Fry 3-4 at a time for best results.
Panelle can be fried ahead of time and kept warm in the oven before serving.
If you enjoy chickpeas as much as I do, you'll definitely love panelle. I know I'll experimenting more with chickpea flour in the near future.
Let me know how much you enjoyed panelle by posting your photos on Facebook or Instagram and tagging me with @mangiabedda or #mangiabedda. Feel free to pin the recipe for later. Buon appetito!
Servings:
1
12X15 sheet pan
Ingredients
1 ½

cups

chickpea flour

3

cups

water

1

teaspoon

coarse sea salt or kosher salt

2

tbsp

chopped fresh parsley

Vegetable or canola oil

for frying
Instructions
Pour the chickpea flour, water, and salt in a medium sized sauce pan and whisk until smooth. Set over medium heat, and whisk constantly as the mixture slowly heats. Cook and keep whisking, scraping the bottom and sides of the pan frequently, until the mixture is smooth, thick and starts to pull away from the sides of the pan, about 5 minutes. Remove from heat and stir in the parsley.

Pour the mixture onto a parchment covered baking sheet (approximately 12" x 15") and spread it quickly with a spatula, before it cools and sets, so it fills the pan in an even layer, about ¼ inch thick. Let cool in the refrigerator for approximately an hour, until completely firm.

Once cooled, cut into squares with a sharp knife. Carefully lift the cut pieces from the pan with a spatula or your hands.

To fry the panelle, pour enough canola oil into a wide heavy skillet to cover the bottom to a depth of 1/2 inch, and set over medium heat. When the oil is hot, fry the panelle about 3 minutes, until the underside is crisp and golden, then flip and brown the other side about 2-3 minutes more. Place the panelle on paper towels to drain excess oil. Drizzle lightly with salt and serve hot. The panelle may also be served in a panino.
Notes
Spread the chickpea mixture using a spatula on the prepared baking sheet quickly before it begins to set.
Do not overcrowd the pan when frying. Fry 3-4 at a time for best results.
Panelle can be fried ahead of time and kept warm in the oven before serving.
Nutrition
Calories:
699
kcal
|
Carbohydrates:
105
g
|
Protein:
41
g
|
Fat:
12
g
|
Saturated Fat:
1
g
|
Sodium:
2482
mg
|
Potassium:
1565
mg
|
Fiber:
19
g
|
Sugar:
20
g
|
Vitamin A:
715
IU
|
Vitamin C:
10.1
mg
|
Calcium:
114
mg
|
Iron:
9.2
mg
We are a participant in the Amazon Services LLC Associates Program, an affiliate advertising program designed to provide a means for us to earn fees by linking to Amazon.com and affiliated sites.