Drumroll please… yes, these are the BEST Sicilian arancini (rice balls)! They are indeed my favorite food in the world, next to gnocchi that is. I've been eating these golden morsels all my life and it was time I learned to make them and share them with you. Arancini means "little oranges" in Italian in reference to their shape and color.
I recently spent half a day with my mother in order to finally document this recipe.  A recipe that's been in my family for years, brought over from Sicily by my mother when she immigrated here, a recipe that she learned from my nonna back in the home town…  This could not have been further than the truth! Imagine my disappointment when I found out that they never made arancini in the home town, in fact my mother only once saw them at a train station in Italy.  She only learned of arancini after about ten years that she had been in Canada and a friend of my aunt's gave her the recipe.  And she probably wasn't even Sicilian!  Oh, the deception!
After I got over this I realized that, of course, it made sense.  Each region of Italy is known for it's local specialties, in fact practically each town has it's own signature dishes. So it would not be surprising that although arancini were available in certain parts of Sicily, in an era without television, radio, computers or internet (horrors!) the people in that small hilltop town with a then population of less than 10 000 would never have heard of arancini. I also found out that in this same town they had never heard of pizza! But that's another story.
So back to the task at hand. Arancini are commonly considered as street food in Sicily. There are several variations of this recipe and by no means is this the ultimate recipe.  Fillings may include a meat sauce with or without peas, 
mozzarella and even prosciutto and a béchamel sauce.  Further below, I've  included a variation of the traditional meat sauce centered arancini, spinach arancini. Spinach is stirred into the rice mixture (along with the cheese and eggs) and a cube of mozzarella cheese is placed in the center. You may wish to reserve half of the rice to make regular arancini and then stir in the spinach in the second batch.
This recipe has been modified many times by my mother. Recently, she began adding mozzarella in the centre as well. One of her modifications was the addition of strained tomato juice from the meat sauce to the rice mixture, thus adding not only color but more flavor to the rice.  It also requires the addition of less eggs than usual in order to bind the rice. My mother is conscious of cholesterol levels! She also prefers a blend of grated parmesan, pecorino romano and crotonese instead of only parmesan cheese.
The task of documenting this recipe was quite daunting as she has never measured any ingredient.  And so, I took the time to stop her at each step in order to measure each ingredient.  You'll probably have leftover meat sauce after you have stuffed the arancini, as it was almost impossible to get the exact amount of sauce needed.  But, no problem, you can save it for a pasta dish later.
My mother also usually makes unusually large amounts of arancini because there needs to be enough to be divided amongst her children and grandchildren. On this particular day we made 95 arancini!  The recipe I'm giving you today is for half that amount. But you may wish to halve it further if you're attempting this for the first time.  If you decide to make the full recipe, arancini freeze well (wrapped airtight) or can be refrigerated for several days and warmed before serving.  They also make a great lunch.  Your kids will be the envy of their classmates at lunch time!
Yes, it is a lengthy process and not something that I will make often but the main goal for me was to make sure that I documented this recipe in order to preserve it for future generations. You can also include the kids in the process, particularly in shaping the arancini and rolling them in the breadcrumbs.
Personally, a freshly fried batch of arancini will consist of my appetizer, entrée and main dish.  Especially when they come out of the fryer:  golden and crispy on the outside and soft, moist and cheesy on the inside.
So without further ado…my mother's arancini!
---
The Best Sicilian Arancini
This popular Sicilian street food is a family favourite. A crispy breaded coating, savoury cheesy rice with a savoury meat sauce and peas filling, what's not to love!
Ingredients
For the sauce:

2

tablespoons

olive oil

1

onion

finely chopped

1

clove

garlic

chopped

1/2

package white mushrooms

quartered

1/2

pound

ground veal/beef/pork

1/4

cup

wine

red or white

1

can diced tomatoes

salt and pepper

to taste

1

cup

frozen peas

For the rice:

1

kg

Arborio rice

10

cups

of chicken stock

preferably homemade

2

cups

grated mixture of parmesan

pecorino romano and crotonese cheese (or only parmesan if you prefer)

3

beaten eggs

For assembling the arancini:

5

beaten eggs

2 1/2

cups

unseasoned bread crumbs

2

litres vegetable oil for frying
Instructions
Begin by preparing the sauce. In a large sauce pan, on medium heat sauté the onion, garlic and mushrooms in the olive oil. Add the ground meat and brown, stirring frequently. Add the wine and cook for 1 minute until it evaporates. Pour in the diced tomatoes and bring to a boil. Lower the heat and bring to a simmer and cook for 1 hour covering the sauce loosely with the lid. Add salt and pepper to taste. In the last 10 minutes of cooking, stir in the peas.

Meanwhile, in a sauce pan, bring the chicken stock to a boil and add the rice. Bring to a simmer and cook the rice for about 20 minutes, until the broth is absorbed. After the rice is cooked, pour into a large shallow dish which will help it to cool faster. Stir in the grated cheese and the beaten eggs. Mix well.

In a deep heavy bottomed dutch oven, large enough to contain 7-8 arancini, add 2 litres of vegetable oil and begin to heat. Meanwhile, prepare two shallow bowls with the breadcrumbs in one and the beaten eggs in the other. Now you are ready to assemble your arancini.

Using a 1/2 cup measuring cup, scoop the rice into your hand and form a ball. Next, make an indentation in the centre of the rice with your thumb and add about 1 teaspoon of meat mixture, making sure to include a mushroom and a few peas. Close the rice mixture around the meat and shape into a ball. Dip into the egg wash and then roll in the breadcrumbs. It is recommended that you prepare all of your arancini and have them ready for frying.

In order to check if your oil is hot enough (if not using a deep fryer) place the handle of a wooden spoon in the pot and if the oil begins to bubble and fry around the handle, it is ready for your arancini. Fry 7 or 8 arancini at a time until they are golden brown, about 4-5 minutes. Transfer to a dish lined with paper towels to absorb extra oil. Serve immediately or store in the refrigerator and reheat in the oven before serving.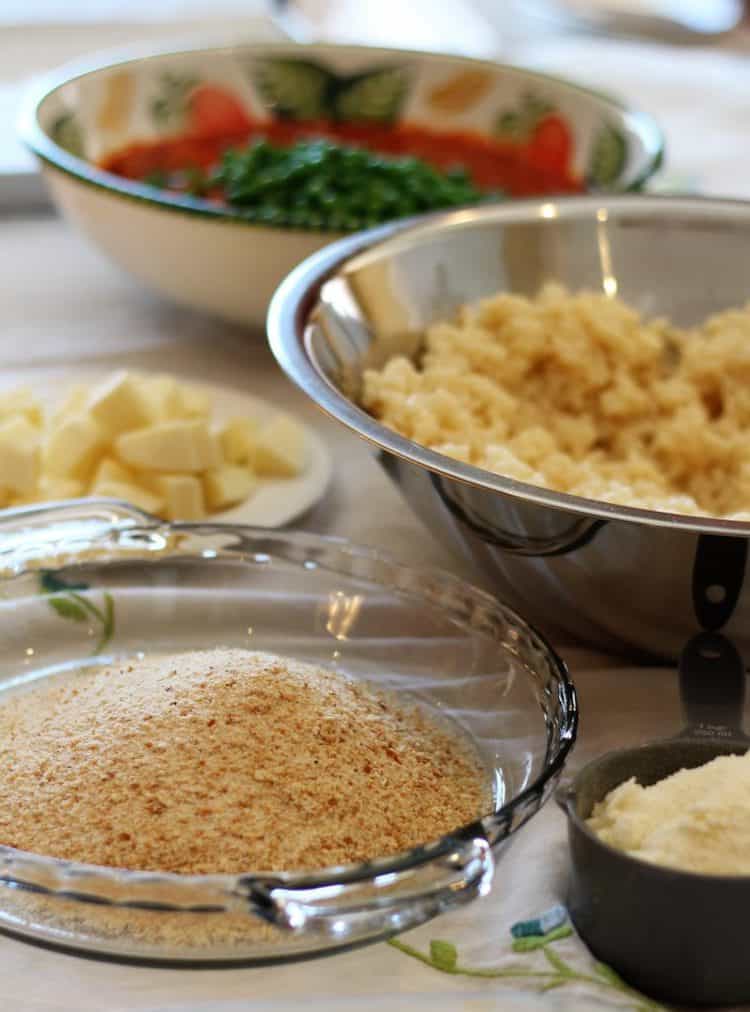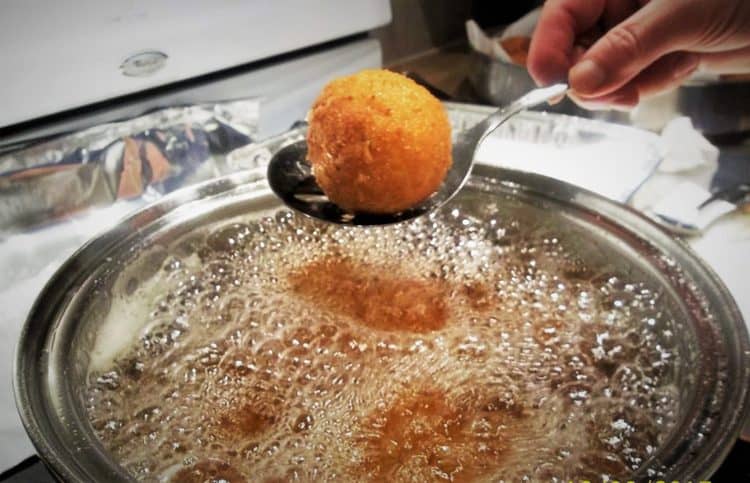 Variation: Filling for Spinach Arancini
Following the same method for traditional arancini, stir in 150 grams defrosted frozen spinach leaves (squeeze out excess water), 1/2 cup grated parmesan and 1 egg for each 250 grams cooked rice mixture. This represents one quarter of the recipe above.
Add 1 inch cube of mozzarella in the centre of each arancini instead of sauce mixture. Proceed as outlined above.