The most iconic of Sicilian desserts, Sicilian Cannoli! My favorite are filled with a lightly sweetened ricotta filling. Follow my step by step instructions to make your own cannoli shells. There's nothing like homemade!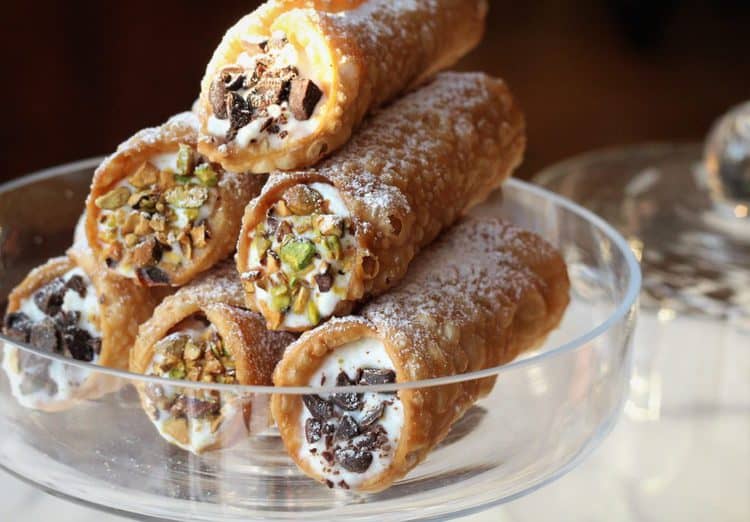 My mother has not made cannoli in years. Too much work, she says. I finally understood why. Making 96 cannoli shells is quite an undertaking! Is any Italian capable of downsizing a recipe, I ask myself? One kilogram of flour is what we used as that is the recipe she had written down in her little black book of recipes.
That's the little black book that I am attempting to translate one recipe at a time. Part of the reason I need to do this is that I can not understand most of my mother's script! This is a treasury of recipes which to me is representative of my childhood and my Sicilian roots.
Sicilian cannoli with ricotta filling are my favorite dessert. Don't try to offer me any custard filled cannoli. Everyone close to me knows that I will only eat a ricotta filled cannoli. And not ricotta with candied fruit or orange peels or any other fancy filler. Perhaps just some crushed pistachios as shown in my photos. The chocolate ones are for my children. By the way, did you know that you can easily make your own homemade ricotta? Here's my recipe for ricotta!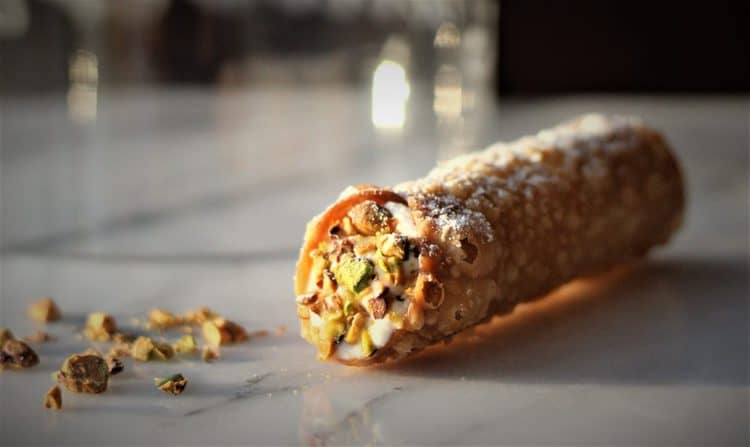 It took us about three hours to make the 96 shells and I am sure most of you will not want to invest that much time in cannoli, unless you get together with a group of family members or friends and share the cannoli shells. Therefore, I decided to cut down the recipe to one quarter in order to make a manageable amount. They are well worth the effort and will never compare to those shells available in grocery stores!
What do I need to make cannoli?
In order to make cannoli shells, you will need bamboo dowels or currently available on the market are stainless steel cannoli molds, such as these. My mother brought back her dowels from Sicily years ago and they are nicely weathered, shiny and slick from years of use. Priceless!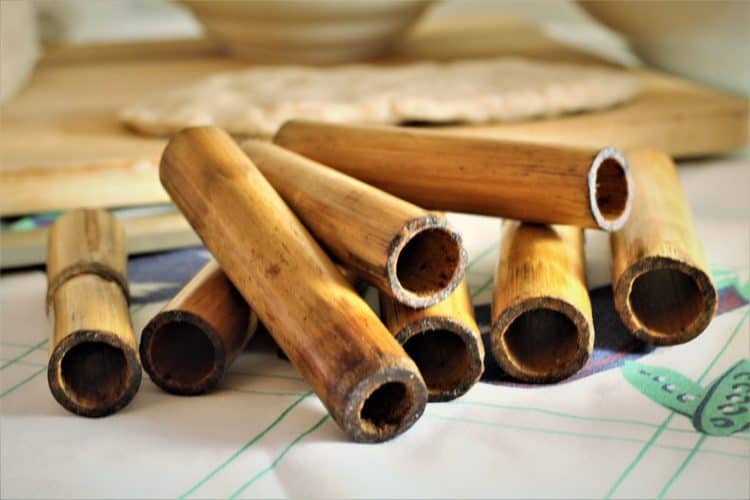 How to make Sicilian Cannoli with Ricotta Filling:
Prepare the dough as instructed in the recipe below. This dough does not need to rest, so you can begin rolling right away. We cut small pieces of dough as shown.
My mother has always used a rolling pin to roll out her dough, but this time she decided to take out her pasta maker in order to ensure that her sheets of dough turned out of equal thickness. If you don't happen to have one, a rolling pin will work just fine. We also don't have a standard circular cutter but tested several bowls and mugs in her cupboard and found that this 4-inch diameter cup worked best to shape rounds which would wrap around the cannoli molds.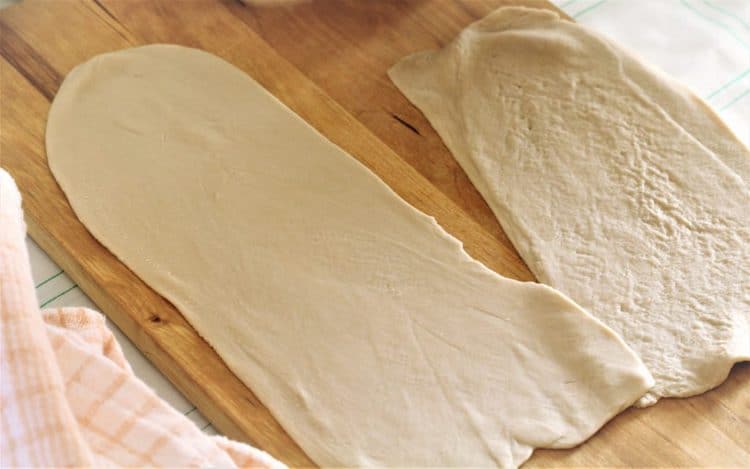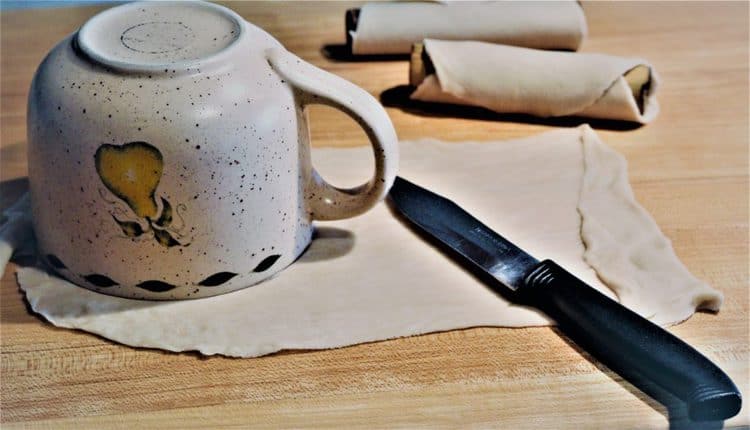 Wrap the circles around the cannoli molds and use a beaten egg white to seal the ends.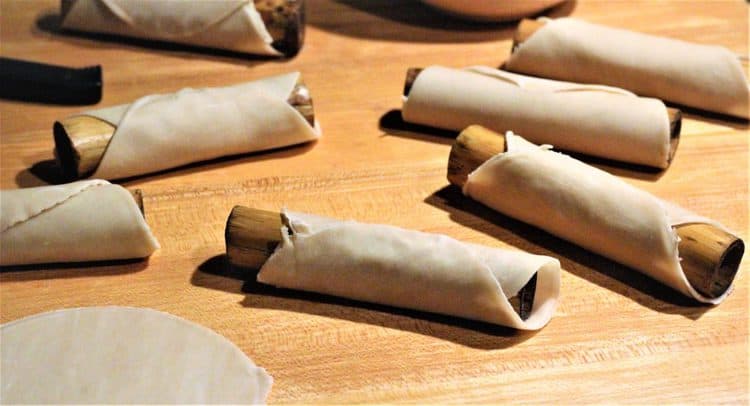 Frying the cannoli shells:
The challenge in frying the shells is that they constantly roll over when you try to flip them to brown the opposite side. We often found ourselves keeping one side down with a fork. Some shells may unwrap themselves from the dowels while frying. You can use those to make deconstructed cannoli by simply layering two or three with ricotta filling in between.
The other challenge is in removing the dowel from the scorching hot fried shell in order to reuse it for the next batch of shells. Do not use your bare hands! We used a couple of paper towels to handle them.
I therefore recommend that you use a smaller pot for frying and to fry three or four at a time at most. Also, if possible, purchase an extra set of cannoli molds.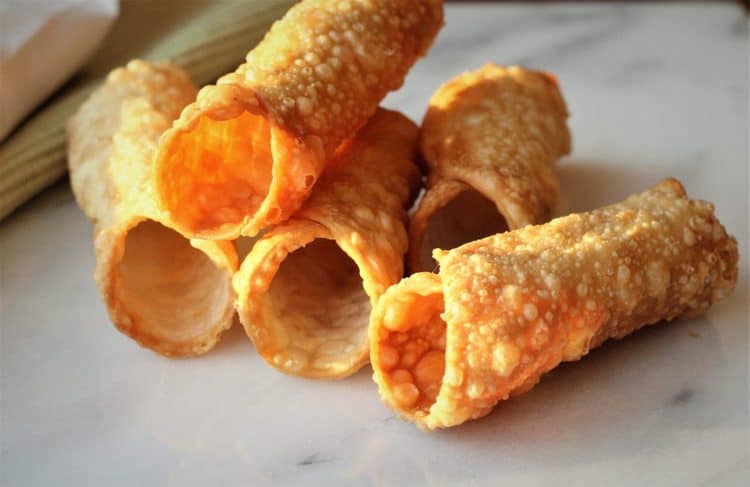 Fill the cannoli shells:
Use a pastry bag to fill the cannoli with ricotta filling (recipe below in the printable recipe card). If you don't have a pastry bag a plain old ziploc bag with the tip cut off will do! You can then add a few chocolate chips or chopped pistachios on the ricotta filling at both ends of the cannoli.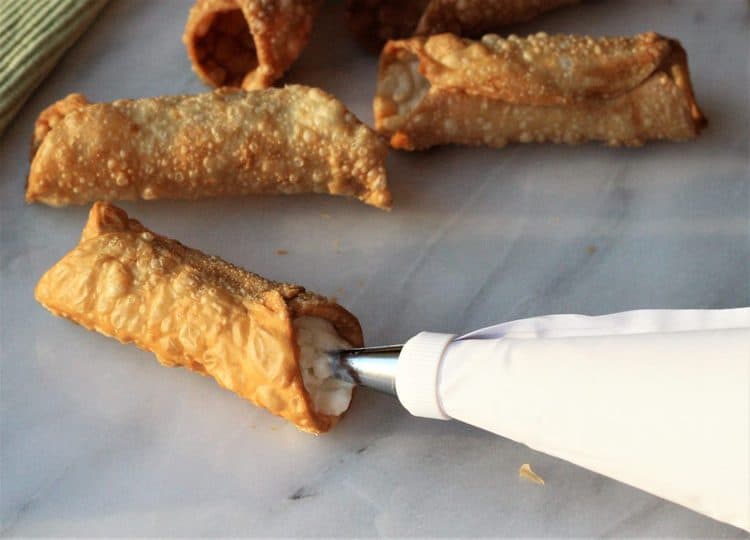 Storing cannoli shells:
Cannoli shells keep well for weeks if stored in an air tight container in a cool dry space. We prepared ours about two weeks before Christmas.
More tips and suggestions for making Sicilian cannoli with ricotta filling:
Ideally, I recommend you prepare the shells ahead of time and then fill them just before serving. That is unless you are partial to soggy cannoli shells.
Leftover cannoli will keep well refrigerated for a day or two. The longer they sit in the fridge, the softer the shells!
I am partial to ricotta filling in my cannoli however you may also fill them with a vanilla or chocolate flavored custard as I have seen in Sicily!
I hope you enjoy these cannoli, after all they are my favorite Sicilian dessert! If you try them out please tag me with @mangiabedda or #mangiabedda on Instagram or Facebook.
To all my readers, family and friends, Buon Natale!
Here are a few of my other favorite ricotta filled sweets:
Sicilian Cassatelle with Ricotta
Fig Jam, Ricotta and Pistachio Crostata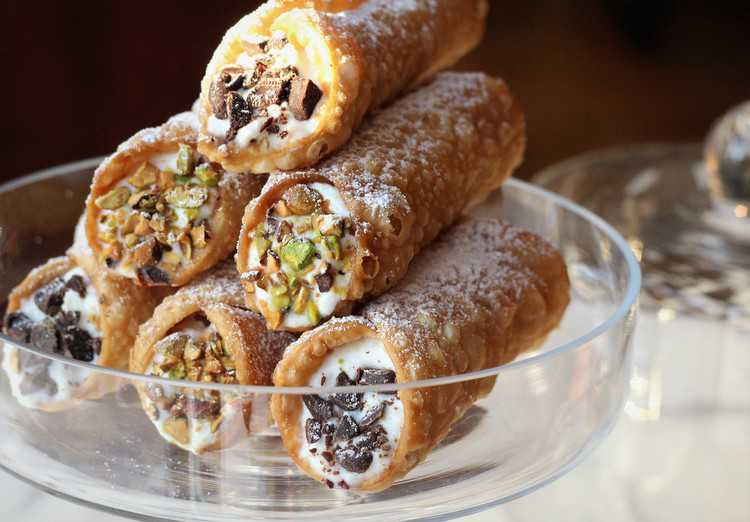 Ingredients
For the shells:
2

cups

all-purpose flour

1

egg

1

tablespoon

vegetable oil

1

tablespoon

sugar

1/4

cup

red wine

3

tablespoons

milk

1

egg white for sealing the edges

vegetable oil for frying
For the ricotta filling:
4

cups

whole milk ricotta

3/4

cup

powdered sugar

or more if you prefer a sweeter filling

dash of cinnamon

semi-sweet chocolate chips

roughly chopped (optional)

chopped pistachios

optional

powdered sugar

for sprinkling on top
Instructions
To make the shells:
Place flour in a large bowl. Make a well in the centre and add the egg, oil, sugar, red wine and milk. Stir the ingredients in the centre and gradually incorporate the flour in order to form a dough. Using your hands, knead until a dough is formed.

Using a pasta roller or a rolling pin, cut off a small piece of dough and flatten with your hands. If using a pasta roller, begin with the widest setting and end by rolling your sheet of dough through the narrowest setting. The dough should be very thin, about 1/8 inch. Roll all the pieces of dough and cover them with a kitchen towel in order to prevent the sheets from drying out.

Using a 4 inch diameter circular shaped bowl or cup, cut out rounds of dough with a knife. Once again, cover to keep from drying out the dough. When all the dough has been used up, wrap each round of dough around a bamboo dowel or stainless steel cannoli molds and seal the edges with the beaten egg white.

Fill a deep pot half way with vegetable oil. When the oil is hot, fry 3 or 4 cannoli shells at a time until golden. You may have to hold them down to ensure that all sides are evenly fried. Transfer to a paper towel lined plate or tray. Carefully separate the cannoli molds from the shell (be careful, they will be extremely hot!) and continue to fry the remaining rounds of dough.
For the ricotta filling:
In a bowl, whisk together the ricotta, powdered sugar and cinnamon until smooth. Use a pastry bag or a plastic freezer bag with the tip cut off to pipe the ricotta filling inside the shells. If desired, dip the ends in chocolate chips or pistachios. Sprinkle with powdered sugar and serve.
Notes
Ideally, I recommend you prepare the shells ahead of time and then fill them just before serving or they will become soggy.
The shells will keep well for weeks if stored in an air tight container in a cool dry space. 
If the brand of ricotta you use is very watery, place in a cheese cloth in a colander and let drain in the refrigerator for about an hour. 
Nutrition
Calories:
137.35
kcal
|
Carbohydrates:
13.61
g
|
Protein:
6.12
g
|
Fat:
6.24
g
|
Saturated Fat:
3.98
g
|
Cholesterol:
27.92
mg
|
Sodium:
40.31
mg
|
Potassium:
64.41
mg
|
Fiber:
0.28
g
|
Sugar:
4.43
g
|
Vitamin A:
195.39
IU
|
Calcium:
89.58
mg
|
Iron:
0.68
mg
We are a participant in the Amazon Services LLC Associates Program, an affiliate advertising program designed to provide a means for us to earn fees by linking to Amazon.com and affiliated sites.