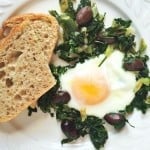 Print
Fried Egg with Greens
A fried sunny side up egg with fresh greens is the ideal, satisfying breakfast or lunch!
Heat about 1 tablespoon of olive oil in a small non stick pan. Add green onions, kale, and parsley and cook with the lid on for about 3 minutes. Remove lid, add salt and pepper and olives.

Make a well in the center of the pan and add the egg. Continue cooking with the lid on until the egg is cooked but the yolk is still runny, 2-3 minutes. Serve hot with fresh bread.