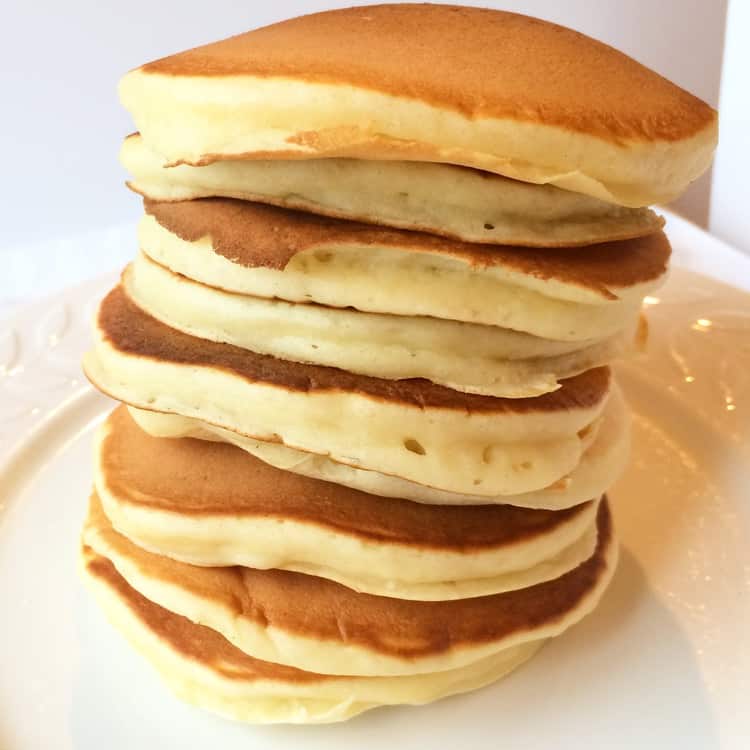 I'm following up a green smoothie recipe from my last post to decadent breakfast/brunch recipes! Why not? After all, I did say everything in moderation! Last Friday my daughter and I had an evening to ourselves and I decided to prepare one of her favorite dishes for supper: eggs benedict.  We are big fans of breakfast for dinner at our house. It's wonderful eating as a family but sometimes some one on one time with each of my children can be special as well.
We set out to make our eggs benedict and my daughter lent a helping hand by pouring the melted butter while I whisked the eggs yolks for our hollandaise sauce. I convinced her to accept my adding some spinach to our eggs benedict. After all, there has to be at least one vegetable present at every meal!  She's also very interested in food styling and insists I have much to learn so she is now taking care of this department for me. My blog is increasingly becoming a family affair. Exactly what I was hoping for!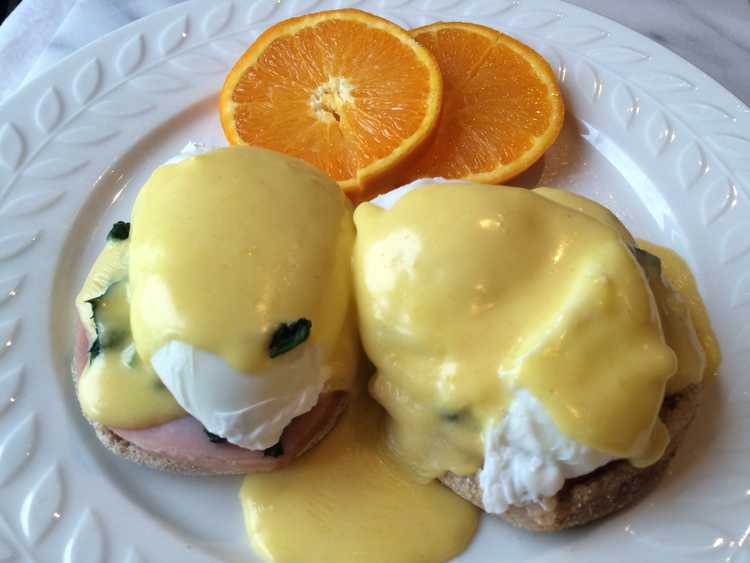 We sat down to this beautiful plate of eggs benedict with ham and spinach thinking we'd be so full. But after we were done we realized that we were still hungry. So what goes well with eggs benedict? Pancakes, of course! Not just any pancakes but my famous yogurt pancakes that I've been making forever.  This recipe has been passed on to so many friends and has become a staple at all our brunch gatherings.
I haven't made any of those boxed pancake mixes in years and I'll never go back.  Honestly, it probably takes about the same amount of time to make your own batter as it takes to mix a packaged batter.  You can also vary the flavor of these pancakes by adding vanilla or fruit yogurt instead of plain.  In that case, I would cut the amount of sugar by half.
My daughter and I enjoyed this lovely meal and spent some quality time together. Afterward, we headed out for our nightly walk. Don't forget, Mother's Day is coming up and these recipes would be great for brunch. Kids, you can impress mom with breakfast in bed, with a little help from dad, of course. Enjoy!
Ham and Spinach Eggs Benedict
We enjoy breakfast for dinner any time. I'm sharing two of our favourites: Ham and Cheese eggs Benedict and Yogourt Pancakes!
Ingredients
For hollandaise sauce:
2

egg yolks

2

teaspoons

lemon juice

1/4

cup

melted butter

salt

cayenne pepper
For eggs benedict:
2

English muffins

halved

4

slices

ham

2

handfuls spinach,

cooked and chopped.

4

eggs

1

teaspoon

vinegar
Instructions
To prepare the hollandaise sauce, in a small heatproof bowl whisk the egg yolks and lemon juice until smooth and thick. Pour about an inch of water in a small sauce pan and bring to a simmer. Place your bowl with the egg yolk mixture on the sauce pan and while whisking vigorously, slowly pour the melted butter into the bowl. Whisk until all the butter is incorporated. Remove from heat, add salt and cayenne pepper. Place a lid on the sauce to keep warm.

Place halved English muffin slices on a plate. Top each half with a slice of ham. Squeeze any excess water from the spinach and divide among the four English muffins.

To poach the eggs, bring about three inches of water and vinegar to a simmer in a large saucepan. One at a time, crack each egg into a small bowl. Stir the water creating a whirlpool, then pour the egg in the center. This will enable the egg white to wrap itself around the yolk. Cook about two minutes until the white has set and the yolk is soft. Remove with a slotted spoon and blot dry underneath with a paper towel. Transfer to a prepared English muffin half and keep warm as you poach the remaining eggs.

Spoon warm hollandaise sauce on each egg and serve.
Yogurt Pancakes
Yogurt Pancakes are the fluffiest pancakes you'll ever make. So easy to prepare, you'll never go back to a boxed mix!
Servings
12
-3 inch pancakes
Ingredients
1

cup

all purpose flour

2

tablespoons

sugar

1

teaspoon

baking powder

1/2

teaspoon

baking soda

1/2

teaspoon

salt

2

eggs

1/2

cup

plain yoghourt

1/2

cup

water

2

tablespoons

vegetable oil
Instructions
In a small bowl, mix dry ingredients together.

In a large bowl, combine the wet ingredients.

Pour the flour mixture into the large bowl and stir until the ingredients are combined. Do not over stir, it's normal for the mixture to be slightly lumpy. If the batter is too thick add more water, one tablespoon at a time, to thin it out.

Pour batter onto a hot griddle on medium heat. When bubbles appear on the surface of the pancakes and the edges begin to brown, flip them and continue to cook until golden. Serve hot with maple syrup.