Bacon covered turkey roulade with mushroom filling is the perfect alternative to a whole roasted turkey for Thanksgiving or if you're feeding a small crowd. This elegant looking roulade is much easier to make than you think and is sure to impress!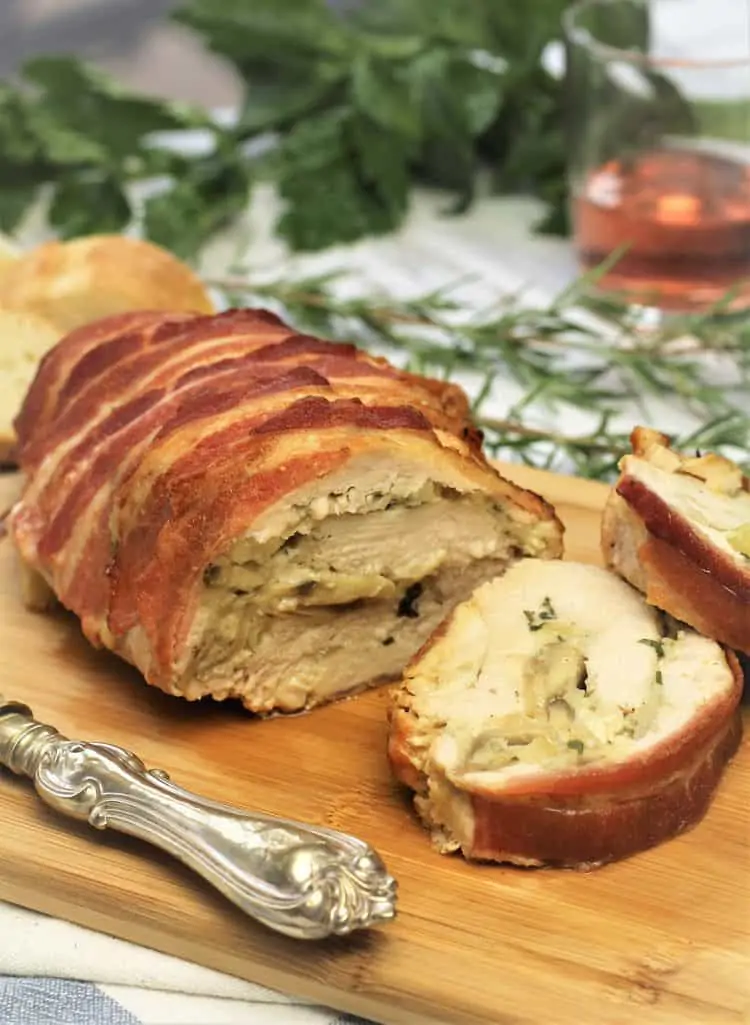 Do Italians celebrate Thanksgiving?
This bacon covered turkey roulade with mushroom filling is definitely not a traditional Sicilian dish! My parents emigrated from Sicily to Canada in the late 1950s and like most immigrants, throughout the years local customs and holidays were gradually adopted. Just like Thanksgiving for instance!
I recall learning about Thanksgiving in elementary school and came home wondering why we didn't celebrate this day? And so, eventually, my mom began roasting a turkey and made an incredible stuffing (which I must share one day) along with mashed potatoes and tortellini soup as a first course. No pumpkin pie at our table back then!
Today, Thanksgiving is one of my favorite holidays and celebrated by most Italian-Canadians (as far as I know). And yes we do serve pumpkin pie now! In fact we all ask ourselves why don't we enjoy this meal more often?
Origins of this recipe:
So, back to this dish. I first taught this recipe at one of my cooking classes and it was a huge success. The basis of this class was to offer a simple alternative to the time consuming roasting of a whole turkey. It's also a great option if you're not feeding a large crowd and don't necessarily want to eat leftover turkey for a week!
And if you're worried about dry turkey, trust me this roulade is incredibly moist and far from tough and dry.
I was inspired by a similar recipe made by Chef Emeril Lagasse and I decided to 'Italianize' it with ingredients such as day old bread crumbs, Parmesan cheese, mozzarella and parsley. And I also cut down on the bacon adding it over the turkey roulade and not in the filling as well.
It makes for a beautiful presentation and although it may seem intimidating, assembling this roulade is easier than you think and so forgiving. Let me show you!
The following are step by step instructions with images to guide you through this recipe. Please scroll to the end of this post for the detailed, printable recipe card.
How to make Bacon Covered Turkey Roulade with Mushroom Filling:
Prepare the filling:
Tear up the crumb (crust removed) of day old bread into small pieces by hand, or in your food processor and pulse until you have coarse crumbs. Place in a bowl and cover with milk. Let soak while you prepare the vegetables for the filling.
Heat olive oil in a large skillet and sauté a finely diced onion and celery branch until tender, about 5 minutes.
Stir in garlic and cook, stirring, for a minutes Add mushrooms and cook about 5 minutes longer, until their water has evaporated. Stir in freshly chopped rosemary. Transfer to a bowl and let cool before adding the remaining ingredients.
Butterfly the turkey breast:
While the vegetables cool, prepare the turkey breast. You will need 2 skinless, boneless turkey breasts. This recipe makes enough filling for 2 turkey breasts or you can halve the recipe, if you prefer.
Place the turkey breast on a sheet of parchment paper over a cutting board. Place one hand flat on the breast and slide a sharp knife along the thicker part of the breast. Holding the knife parallel to the turkey breast and board make a horizontal cut but not all the way to the end. You want to keep the breast intact and not cut it into 2 pieces. Open up the breast like a book.
Cover with an extra sheet of parchment paper or plastic wrap and use a meat mallet to pound it to a 1/2 inch thickness. Don't worry if it doesn't look perfect or if you make a tear in it. It will soon be covered in bacon!
Once the filling is cooled, stir in the remaining ingredients: breadcrumbs soaked in milk; eggs; parsley; Parmesan cheese; shredded mozzarella; salt and pepper.
Spread half the prepared filling evenly over the surface. Leave a 1-inch border to prevent the filling from oozing out when rolling.
Roll up tightly from a short end and place seam side down. Wrap with slices of bacon, halved as needed, and tuck underneath the roast.
Repeat with the second turkey breast.
Bake in a 400 degrees F preheated oven for 45 minutes to an hour, or until a thermometer registers at 165 degrees F. Let rest for a few minutes before slicing.
Tips and suggestions:
If you give this recipe a try, please let me know how much you enjoyed it by rating it in the recipe card below. Feel free to Pin it for later. Buon appetito!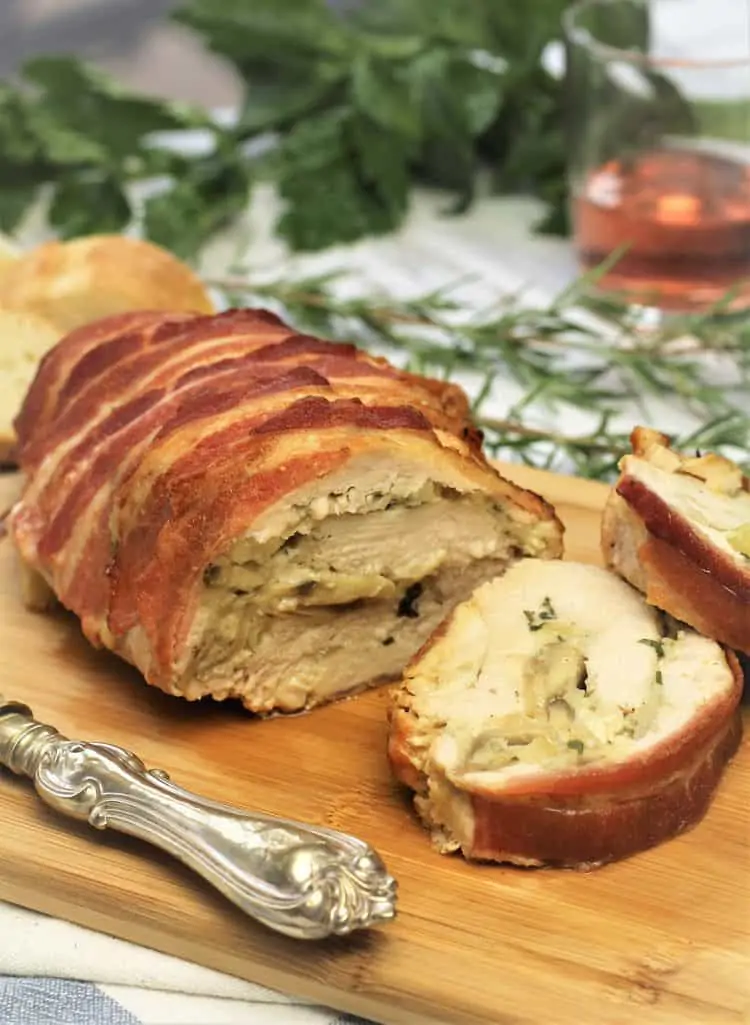 Ingredients
2

turkey breasts

skinless and boneless; weighing about 1.5 lbs each

salt and pepper

to taste
For the mushroom filling
1

cup

breadcrumbs from day old bread

crusts removed torn into bite size pieces

1/2

cup

milk

2

tbsp.

olive oil

1

onion

finely chopped

1

celery stalk

finely chopped

2

garlic cloves

minced

225

grams

mushrooms

(one package) thinly sliced

1/4

cup

white wine

2

teaspoons

fresh rosemary

chopped

2

large eggs

lightly beaten

2

tbsp.

parsley

freshly chopped

¼

cup

grated Parmesan cheese

1

cup

shredded mozzarella

1/2

tsp

salt

pepper

to taste
Instructions
Prepare the mushroom filling
In a large bowl, toss the bread with milk and let sit while you prepare the mushroom filling.

In a large skillet heat olive oil and add onion and celery; cook until softened, about 5 minutes. Add garlic, cook for 1 minute.

Add mushrooms and cook until they have released their liquid, about 5 minutes.

Add wine; cook until evaporated from 2 to 3 minutes. Stir in the rosemary. Pour into a bowl and let cool before you add the remaining filling ingredients. Meanwhile, prepare the turkey breasts.
Butterfly the turkey breast
Place turkey breast on a cutting board. Holding a sharp knife parallel to the board, cut the turkey almost completely in half without cutting all the way through; open like a book.

With a meat mallet, pound turkey to a 1/2-inch thickness. Sprinkle with salt and pepper. Repeat with the second breast.
Assemble the roulades
Preheat oven to 400 degrees F and line a baking sheet with parchment paper.

Squeeze excess milk from bread and add to bowl with mushroom mixture. Add eggs, parsley, cheeses, salt, and pepper; mix well.

Spread half of the filling on the turkey breast, leaving a 1/2-inch border all around. Starting at a short end, roll turkey over stuffing, tucking in the ends to form a log.

Place the turkey roulade seam side down. Slice bacon slices in half and place crosswise over turkey, overlapping slices slightly. Tuck the ends under the roast. Transfer to the prepared baking sheet and repeat with the second turkey breast.

Bake between 45 minutes to 1 hour until the internal temperature registers 165 degrees F. Let rest for a few minutes; slice and serve hot.
Nutrition
Calories:
480
kcal
|
Carbohydrates:
18
g
|
Protein:
68
g
|
Fat:
14
g
|
Saturated Fat:
6
g
|
Polyunsaturated Fat:
2
g
|
Monounsaturated Fat:
4
g
|
Trans Fat:
1
g
|
Cholesterol:
217
mg
|
Sodium:
1080
mg
|
Potassium:
917
mg
|
Fiber:
2
g
|
Sugar:
4
g
|
Vitamin A:
746
IU
|
Vitamin C:
9
mg
|
Calcium:
256
mg
|
Iron:
3
mg