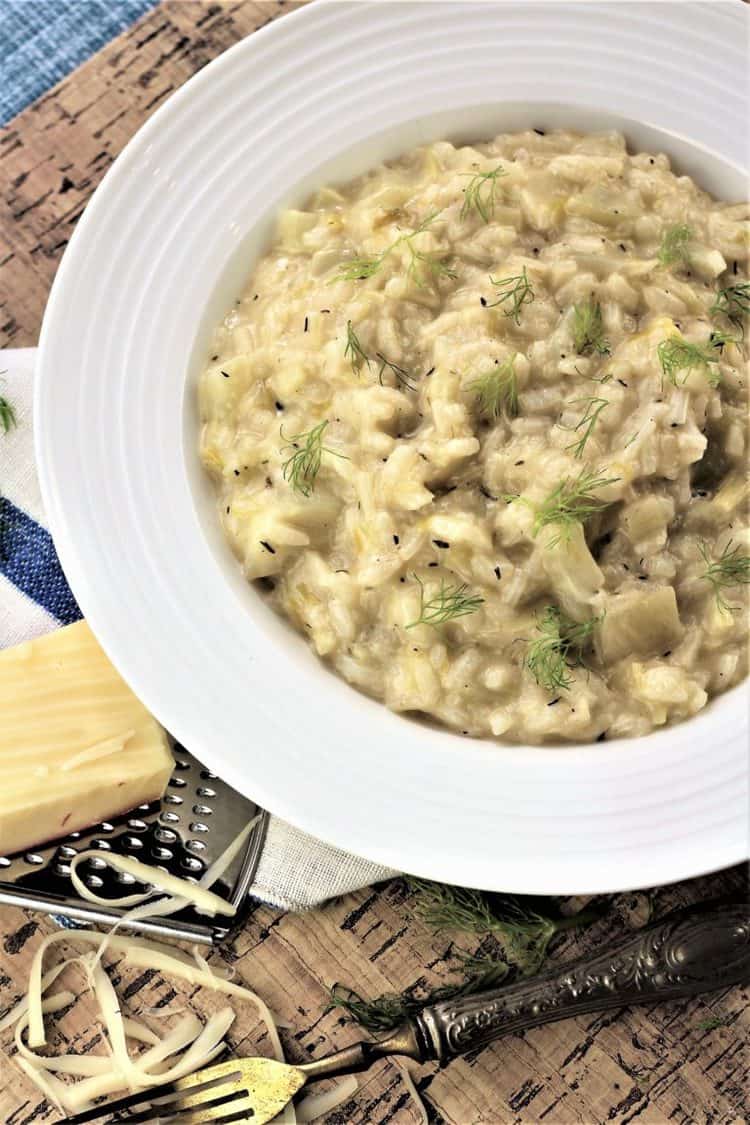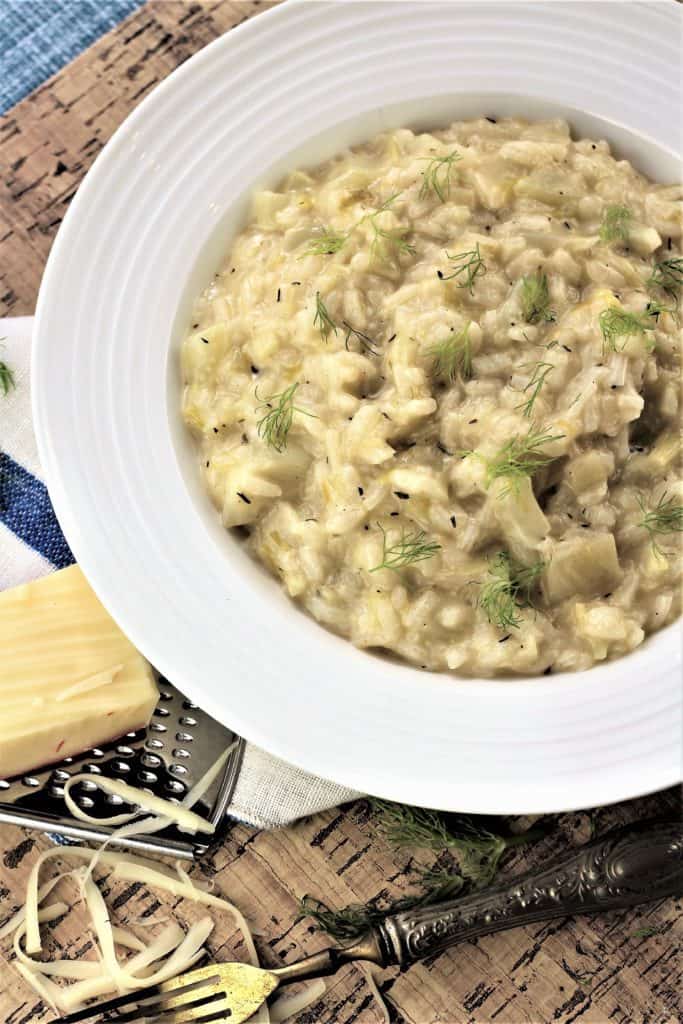 Some of the best recipes originate as a result of whatever you have in your fridge and pantry. Wouldn't you agree? That was clearly the case last Saturday afternoon when my son and I created this Fennel and Leek Risotto for the first time. Right then and there I knew this was one of our best improvised creations ever! I decided on the spot to share this recipe.
My mother often made risotto when I was growing up, and still does. Her risotto is the classic Milanese with saffron to which she adds mushrooms. As you know, I love the traditional recipes but I enjoy coming up with my own variations on classic recipes. My kids' favorite so far is Bocconcini and Pesto Barley Risotto that I created several years ago in order to get them to eat risotto in the first place. I love the bite of barley in risotto instead of rice. The beauty of risotto is that you can make it with practically any ingredient you have on hand.
So back to my Fennel and Leek Risotto! I was out working in the yard, taking down the garden and getting ready for the winter. Sniff! Lunch time was approaching and, as usual, I'm asked "what are we having for lunch?" My usual response is to ask them to check what we have in the fridge to which one of my kids will respond, nothing!
I'm a firm believer that you can always whip up something with whatever you have on hand. As long as you have some staples in your fridge such as eggs and cheese; frozen homemade broth in the freezer or good quality packaged broth in the pantry; along with rice, pasta, dried beans and canned tuna, you'll never go hungry!
On this particular Saturday we had one leek and one fennel in the fridge. Next, I knew that we always have rice in the pantry and finally my freezer was stocked with turkey broth made from the carcass at Thanksgiving. Finally, at the last minute my son recalled that we had a small chunk of Fontina cheese left in the fridge and he decided we should stir that in at the end. We were all set!
I'll admit, I never really liked fennel until I tasted it in a salad (here's my recipe) and then I started cooking with it. My favorite way to eat fennel is to slice it thinly, toss with salt and olive oil and oven roast it until it is caramelized. The transformation of flavor is incredible! If you're not particularly familiar with fennel, here are step by step photos to show you how I chopped it for the risotto. Following that, I'll show you how I chopped the leek.
How to prep fennel:
Begin by chopping off the stalks and fronds at the top of the fennel. Reserve the fronds for garnishing the risotto. The stalks can be reserved for making stock.
Cut the bulb in half. Remove the core, as shown below.
Slice each bulb half lengthwise into thin slices.
Chop the slices into small cubes.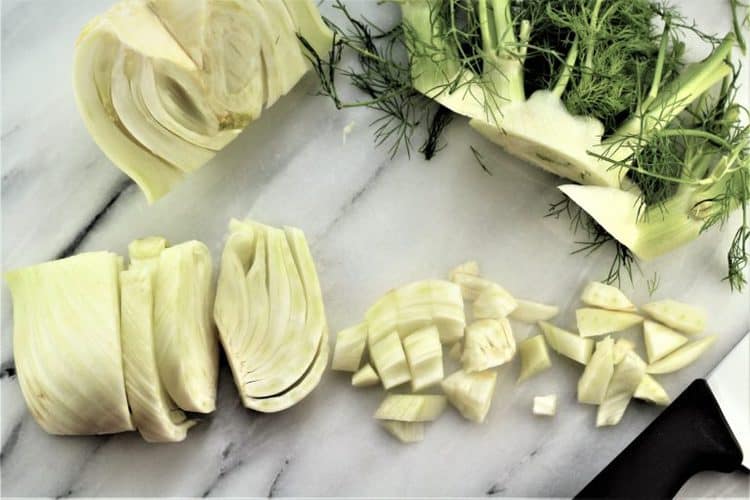 How to prep leeks:
Remove the dark green leaves on the top part of the leek and trim the bottom.
Wash thoroughly, making sure to rinse away the grit in between the layers.
Cut in half, lengthwise. Then cut crosswise into thin strips.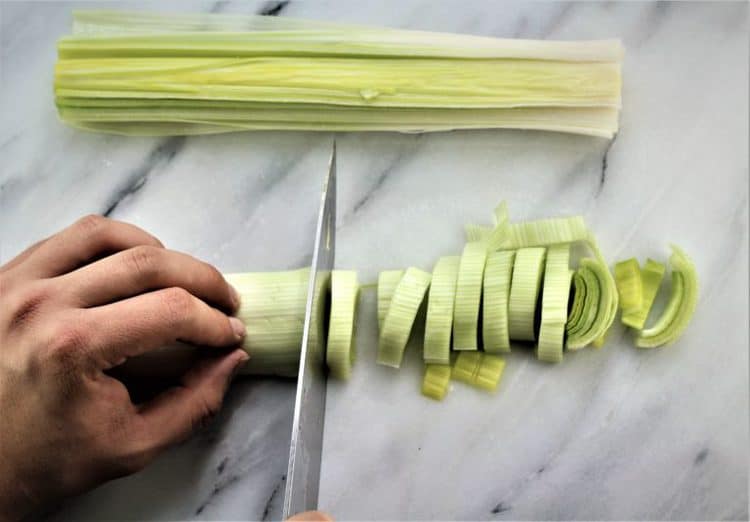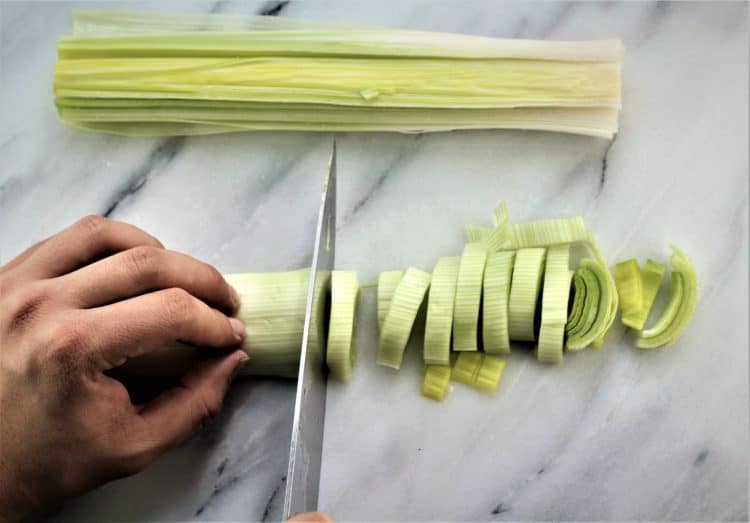 Within about thirty minutes our lunch was ready. We then proceeded to devour the entire pot of risotto within minutes and I couldn't wait to make it again! Give it a try and I'll think you'll agree with me.
When you do so, please tag me with your fabulous risotto picture with #mangiabedda on Instagram and Facebook. I'd love to see your interpretation of my recipe. Buon appetito!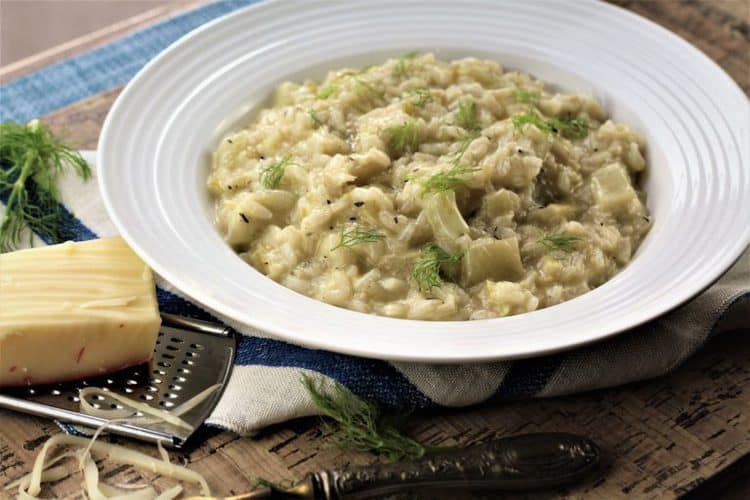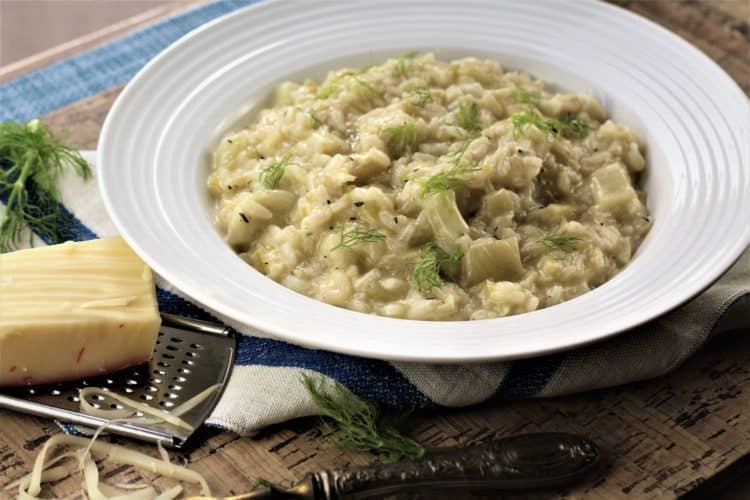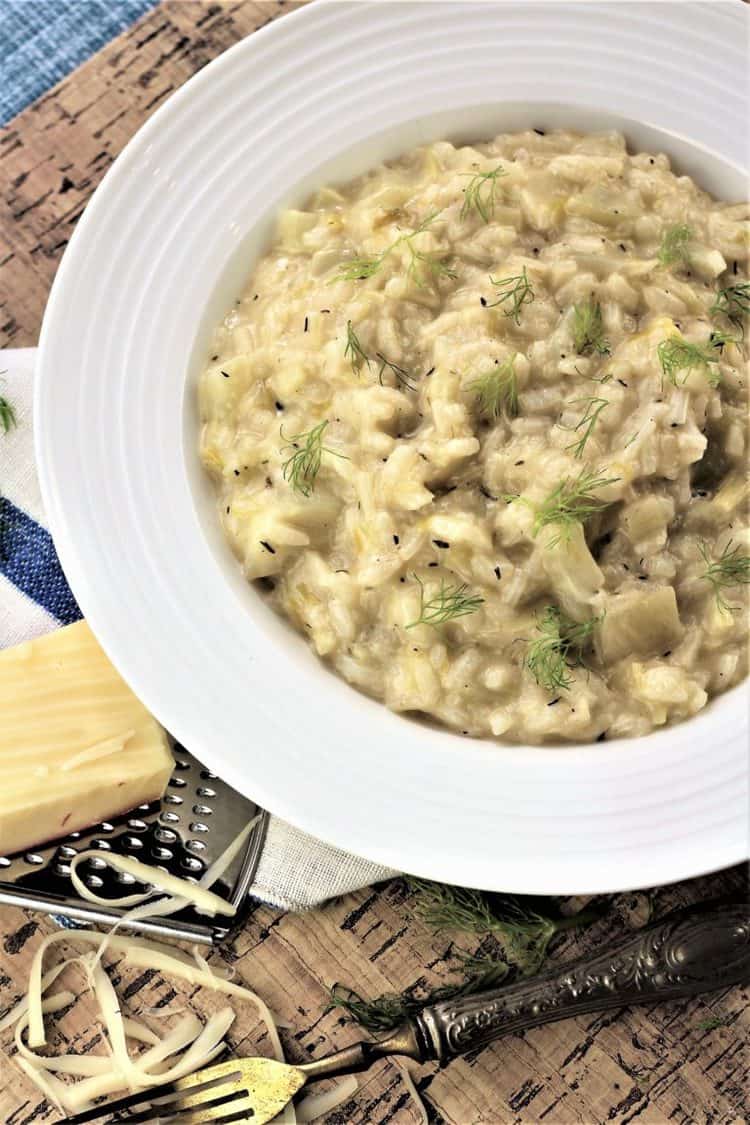 Ingredients
7

cups

chicken or turkey stock,

simmering

1/2

tsp

dried thyme

optional

2

tbsp

butter

1

leek,

green parts removed and sliced as shown above

1

fennel,

chopped as shown above, reserving fronds for garnish

1

garlic clove,

minced

2

cups

arborio rice

3/4

cup

white wine

1

cup

fontina cheese,

shredded

1/4

cup

Parmigiano cheese,

grated

salt and pepper,

to taste
Instructions
Bring the chicken or turkey stock to a simmer, stir in dried thyme if using.

In a large dutch oven, melt butter on medium high heat. Add leeks and sauté, stirring, for 3 minutes.

Add fennel and garlic and cook for 5 minutes. Salt lightly.

Add the white wine and cook for 2 minutes longer until most of it has evaporated.

Add the arborio rice and stir to ensure each grain of rice is coated with butter and cook until the rice is translucent, about 2 minutes.

Gradually begin adding the broth, 1 ladle full at a time. Cook, stirring, until the liquid has been absorbed by the rice before adding more broth. Continue adding broth and cook, stirring, until the rice is slightly al dente, or until desired doneness. This will take approximately 20 minutes. Add salt and pepper, to taste.

When the rice is ready, remove from heat and stir in the shredded Fontina and Parmigiano cheeses. Serve hot with fennel fronds as a garnish and extra Parmigiano cheese at the table.
Tried this recipe?
@mangiabedda or #mangiabedda