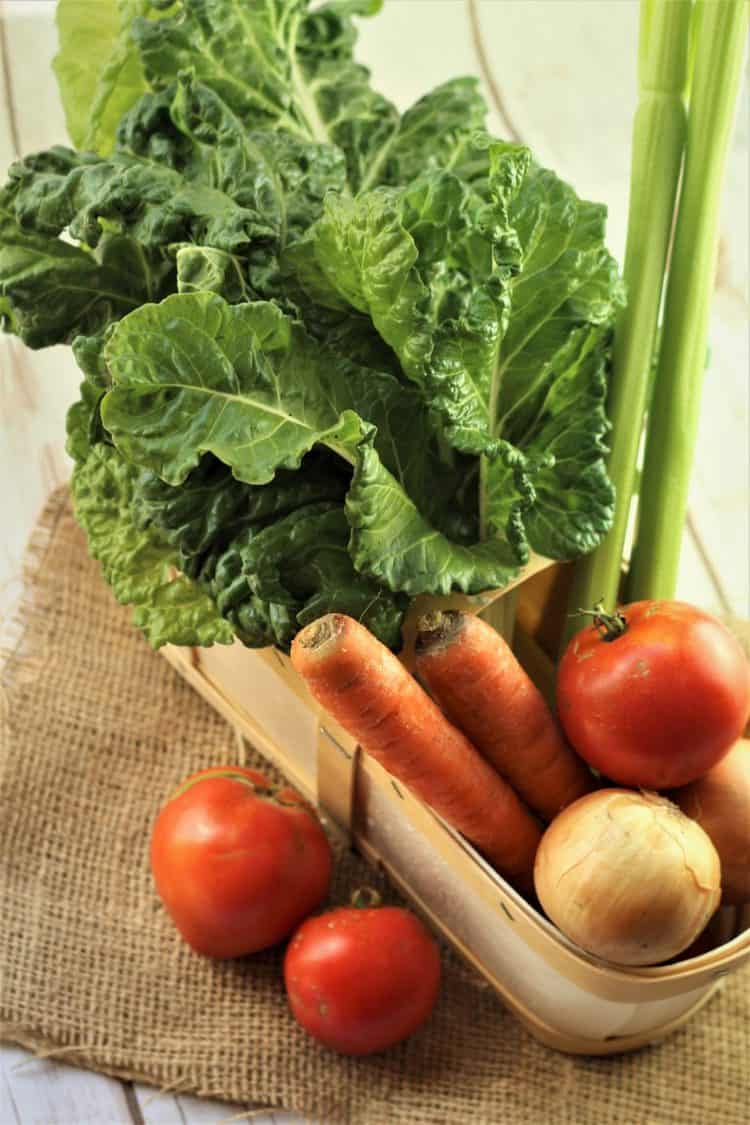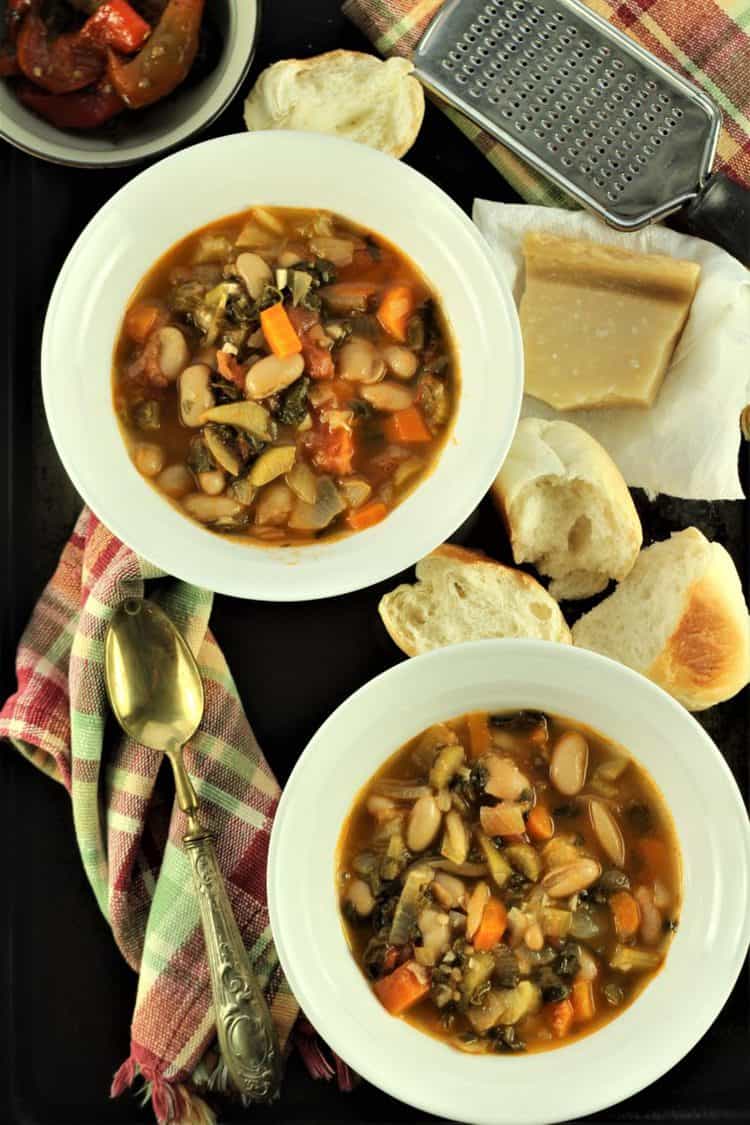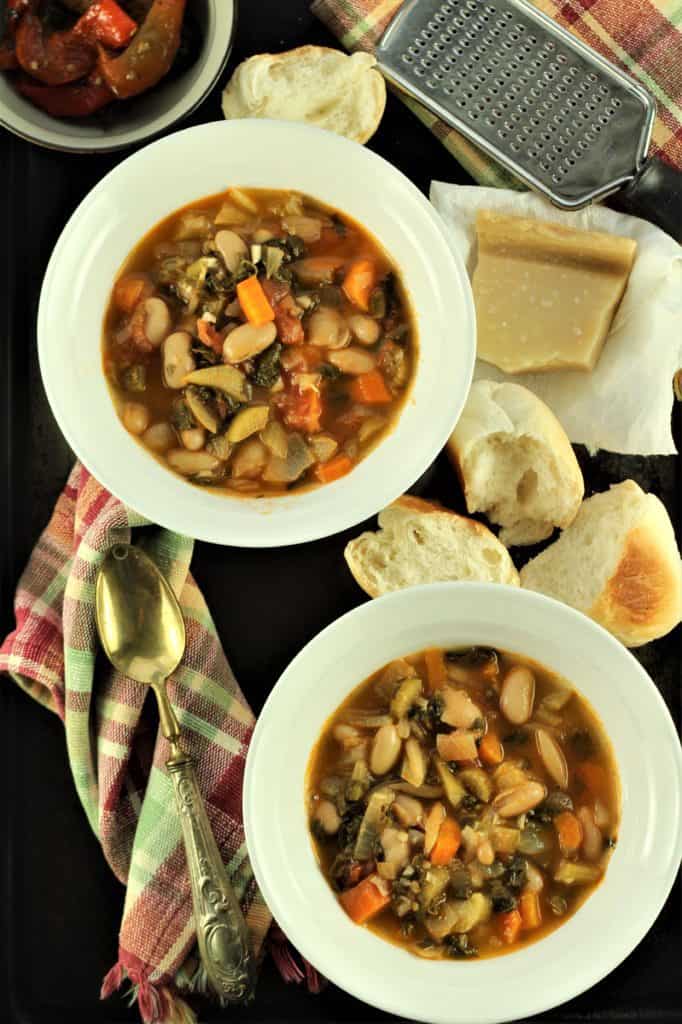 This week was the first full moon of autumn and I learned it is called the harvest moon. How fitting that I should head out into my garden to pick the last of the swiss chard. I decided to wait for fall weather to come along to make Swiss Chard and White Bean Stew, a perfect hearty, cool weather meal. My children's favorite swiss chard dish is my Cheesy Swiss Chard and Potato Casserole, which would be a great addition to our Thanksgiving table. But for now, I think soups and stews are in order.
This is exactly the type of soup I would not have eaten as a child. All those greens and beans! I recall my mother making large batches of soup with the vegetables she harvested from our garden. She would then pour the cooled soup in freezer bags and pull them out throughout the winter months. Unfortunately, I don't have those quantities of vegetables to be able to do that, so I'll just enjoy my stew for today.
Thankfully, my palate has evolved! I love the combination of creamy white beans alongside the greens. If you don't have access to swiss chard in your garden, a great substitution would be escarole.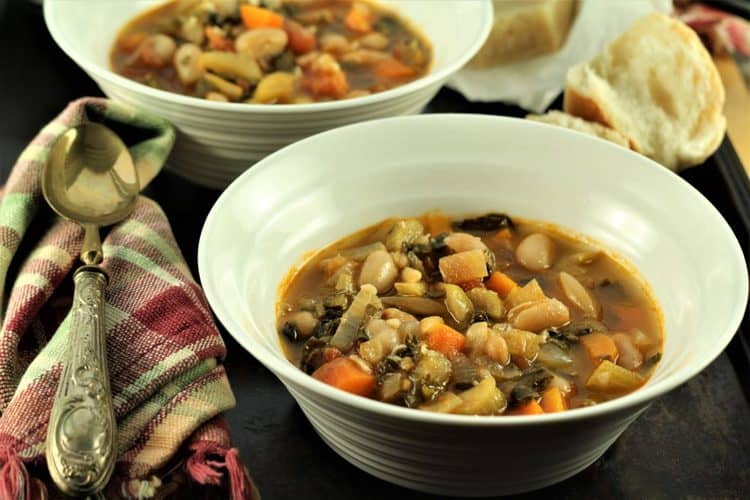 I also used fresh tomatoes from my garden to flavor the stew as well as add color. Blanch the tomatoes by scoring the bottom with an X and adding to boiling water for about one minute, until the skin splits open. Allow to cool, peel off the skin and dice. If you're making this soup when fresh garden tomatoes are not available, simply used canned diced tomatoes.
You can serve it as is, or add some cooked pasta or rice to the stew. I usually resort to adding tubettini pasta in order to coax fussy ones to eat their vegetables.
Adding a parmesan rind to your soups and stews is one of the best. ways to flavor your broth. I usually have my local grocery store grind the parmesan for me and I always ask them to reserve the rinds for me for this purpose. The rind also adds salt to your stew so you'll have to adjust the amount of salt you add accordingly.
This will definitely be the first of many soups and stews to come over the next few months. If you try out this recipe be sure to let me know by tagging me (#mangiabedda) on Instagram. Buon appetito!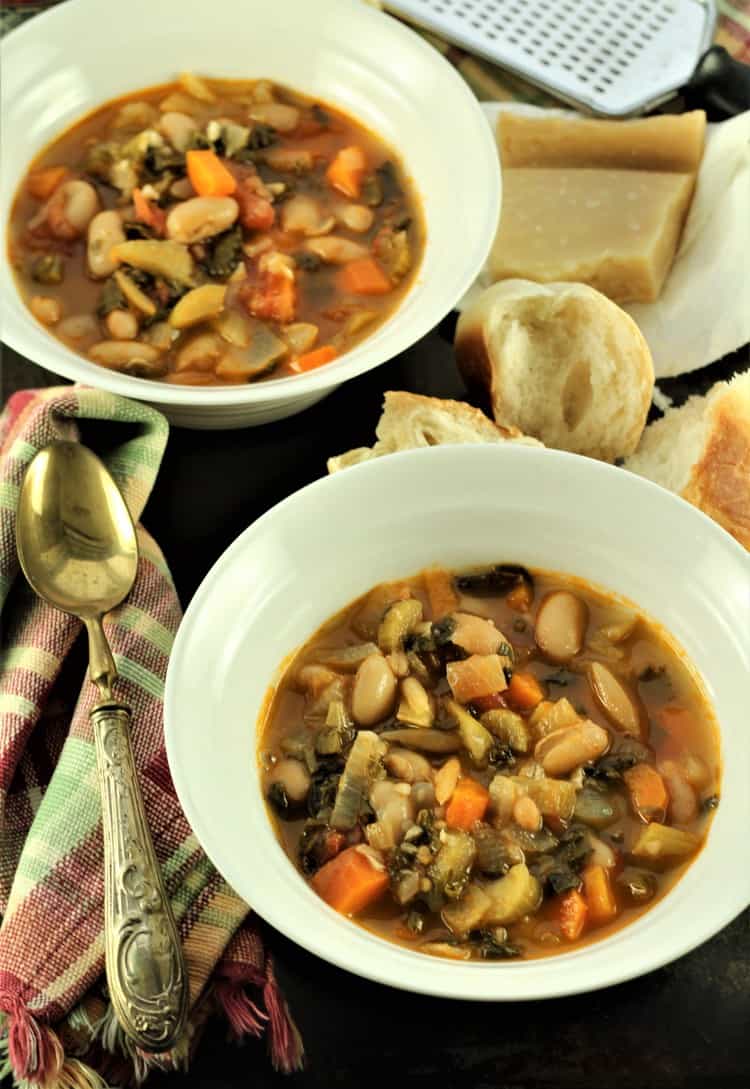 Ingredients
1

large

onion,

diced

2

carrots,

diced

2

stalks

celery,

diced

1

clove

garlic,

minced

1

bunch

swiss chard,

rinsed, tough stems removed and roughly shopped

1

cup

diced tomatoes,

fresh or canned

salt,

to taste

5

cups

chicken broth ,

1

540 ml

can of white beans,

rinsed

1

Parmigiano rind,

optional

2

bay leaves
Instructions
In a large pot, heat olive oil on medium-high heat and add onions, carrots and celery. Cook, stirring, for 5 minutes.

Add garlic and swiss chard and cook for 3 minutes.

Stir in diced tomatoes and cook for 4 minutes.

Pour in chicken stock and bring to a boil. Add white beans, Parmigiano rind (if using) and bay leaves. Lower to a simmer and cook for 30 minutes, until the vegetables are tender. Adjust salt, if necessary.

Remove and discard the Parmigiano rind and bay leaves. Serve hot with Parmigiano cheese at the table, if desired.
Tried this recipe?
@mangiabedda or #mangiabedda