Fresh from the garden zucchini blossoms are the star of this simple egg dish perfect for breakfast, lunch or dinner!
I just got back from Sicily a week ago and I miss it already! I'm just beginning to attempt to sort through my hundreds of photos as I plan my upcoming posts that will consist of our adventures throughout Sicily and, most importantly, all that we ate! Zucchini blossoms with eggs is the first of several amazing dishes that I will recreate and share with you here.
At first peek in my overgrown garden I spotted a few zucchini blossoms and I immediately thought of my cousin Graziella's zucchini blossoms with eggs. Given the abundance of zucchini blossoms her husband Ignazio picked in their garden each day, this dish was on her table each time she invited us over for lunch. And it quickly became my favourite dish!
Why would I pick this over all the amazing pasta, seafood, brioche, or granitas I devoured? Because of it's simplicity, freshness and it was always made with love for us by my cousin. Just picked zucchini blossoms, an onion and eggs. That's all it takes to create a simple dish which can be enjoyed any time of day with fresh crusty bread. Of course, it was best enjoyed on a lovely outdoor terrace overlooking the Sicilian countryside but it was just as good back at home.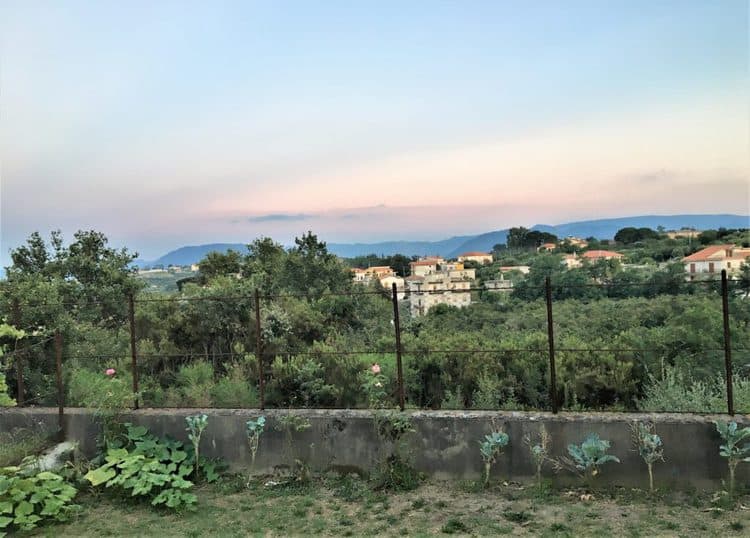 It takes a small mountain of zucchini blossoms for one plate of this dish which will serve two as a main dish or four as a side dish. This is more of a guide rather than a precise recipe as it can be endlessly modified according to your taste and availability of zucchini blossoms. It took about 30 blossoms to create this dish. However, if you have access to less, substitute a zucchini for half of the blossoms. When I made this at home this week, it took me a few days to gather enough blossoms.
Here is my cousin's version served at her table alongside her wonderful olives!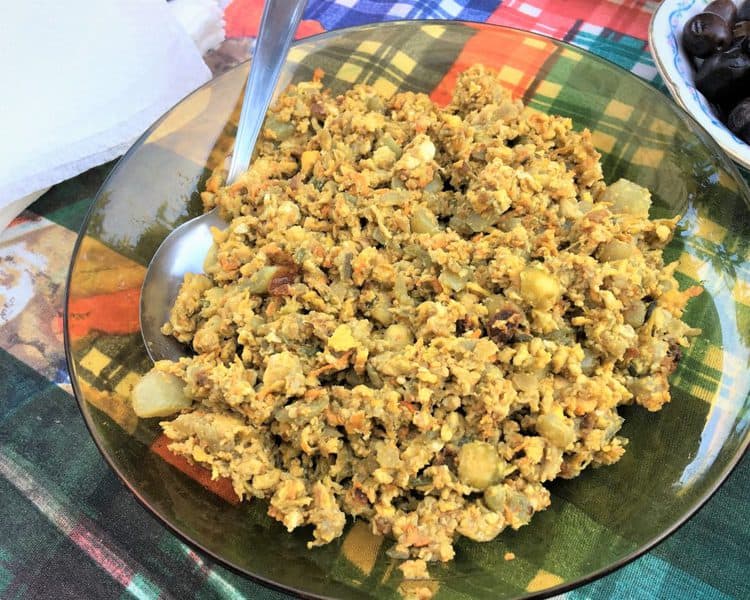 She then gave me a huge bowl full of blossoms to take with me. Since we rented an apartment with a full kitchen (I'll tell you all about it in my upcoming posts!) I was able to recreate it the following day. Here is my dish!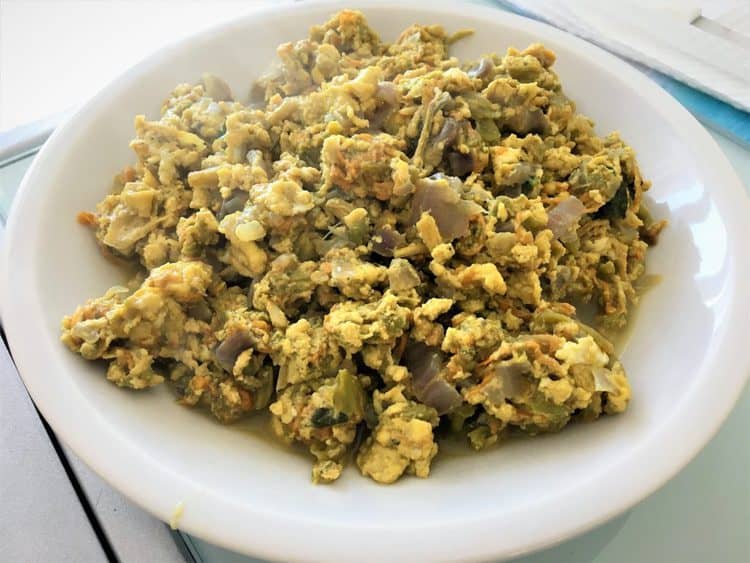 As you can see it is far from fancy but oh, the flavour!
We all know how delicious battered and fried zucchini blossoms taste however this simple and healthier dish is worth trying. Start picking those zucchini blossoms from your garden or head over to your closest farmer's market today since we all know they won't be available for long!
Servings:
2
main dish servings
Ingredients
30

zucchini blossoms

or 1 small diced zucchini and 15 blossoms

1

small onion

diced

2

eggs

lightly beaten

2

tbsp.

olive oil

or more as needed

salt

to taste
Instructions
Remove the pistil from the center of the zucchini blossoms, rinse and pat dry. Roughly chop.

Pour about 1/4 inch water in a medium sized skillet and bring to a boil. Add zucchini blossoms and onions, reduce to medium-high heat and cook for about 15 minutes or until the water evaporates.

When the water has evaporated, stir in olive oil, eggs and salt, to taste. Cook, stirring, until the eggs are cooked through and there is no liquid left in the pan.

Serve hot or at room temperature with fresh bread.
Nutrition
Calories:
213.18
kcal
|
Carbohydrates:
6.44
g
|
Protein:
6.44
g
|
Fat:
18.26
g
|
Saturated Fat:
3.34
g
|
Cholesterol:
163.68
mg
|
Sodium:
66.46
mg
|
Potassium:
192.92
mg
|
Fiber:
0.94
g
|
Sugar:
2.5
g
|
Vitamin A:
821.7
IU
|
Vitamin C:
12.47
mg
|
Calcium:
48.99
mg
|
Iron:
1.09
mg