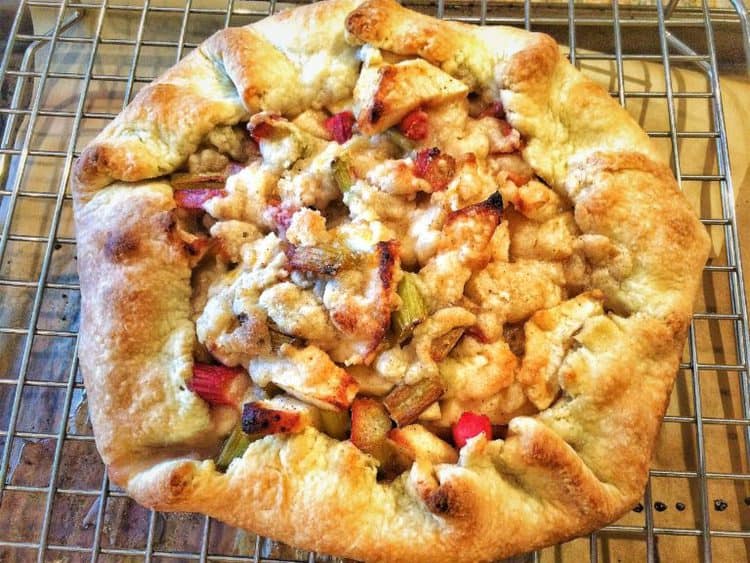 Alas, I think I've picked the final rhubarb stalks of the season. It's so sad to see the end of our short growing season quickly approaching. On a positive side, I am certainly enjoying the harvest and coming up with different ways to cook up the abundance of kale, swiss chard, tomatoes and other vegetables. In this recipe I decided to pair the rhubarb with local Quebec apples which are becoming increasingly available in grocery stores.
This is the first summer that I did not make my usual rhubarb crisp with apples or strawberries. I decided to challenge myself and try out a crostata for the first time. I usually try to avoid making pastry and therefore I don't often make pies or tarts. But I must admit this one was a no brainer and required very little effort. My crimped pie edges do not usually turn out so pretty so this rustic, pleated crust is perfect for my level of baking skills. This crust is buttery, flaky and lightly sweetened and I can imagine making it again with a variety of fillings such as plums, peaches and probably apples on their own.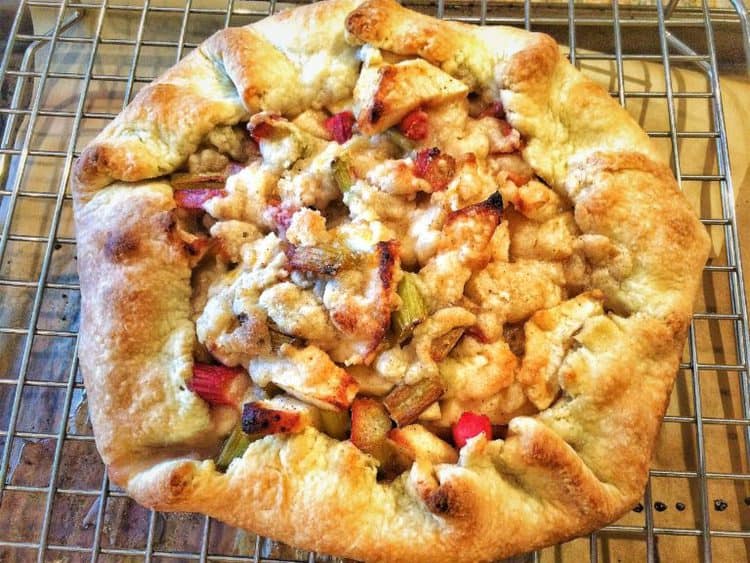 Ingredients
For the pastry:
1

cup

all purpose flour

2

tablespoons

sugar

1/4

teaspoon

salt

1/4

pound

non salted butter,

1 stick

2

tablespoons

ice water
For the filling:
6 

rhubarb stalks

4 

McIntosh apples

1/2

cup

sugar

1/2

teaspoon

grated orange rind

1/2

teaspoon

cinnamon

1/4

cup

all purpose flour

1/4

cup

sugar

1/4

teaspoon

salt

1/4

teaspoon

cinnamon

2

tablespoons

cold butter
Instructions
For the tart:
In a food processor fitted with a steel blade, add the flour, sugar, salt and butter into the bowl. Pulse until the butter has broken down and is the size of peas. With the motor running, add the ice water through the feed tube. Pulse until the mixture resembles a crumbly dough. If the dough is too crumbly add a bit more water.  Turn out onto a lightly floured surface and shape into a disk.  Wrap in plastic wrap and refrigerate for about half an hour.
For the filing:
Peel, core and slice the apples into chunks. Chop the rhubarb into 1 inch pieces.  Combine the apples and rhubarb in a bowl and add sugar, orange rind, cinnamon and toss. In a separate bowl combine the flour, sugar, salt and cinnamon. Add the butter and work with your fingers until the mixture is crumbly.
To assemble the crostata:
Preheat oven to 350°F. Remove the pastry from the refrigerator and roll out on a floured surface into an 11 inch circle. Place on a baking sheet covered with parchment paper.

Place the apple rhubarb mixture on the pastry, leaving a 1 1/2 border. Fold the border over the mixture, gently pleating it into a circular shape. Sprinkle the flour mixture evenly over the topping.

Bake for 30 minutes until the crust is golden and the apples and rhubarb are tender. Transfer to a wire rack to cool.