Fall is in the air, do you feel it? The kids are back in school, the days are becoming shorter and the geese are flying overhead.  As my daughter says, it even smells like fall! I miss summer already but the one redeeming factor in all of this is how much I love fall cooking. This is the perfect time to give in to our desires for cozy, comforting dishes! This time of year makes me to want to bake, which doesn't happen often.  In fact last week my kids and I baked a pumpkin pie along with this Fig Jam, Ricotta and Pistachio Crostata.  Who says we have to wait until Thanksgiving!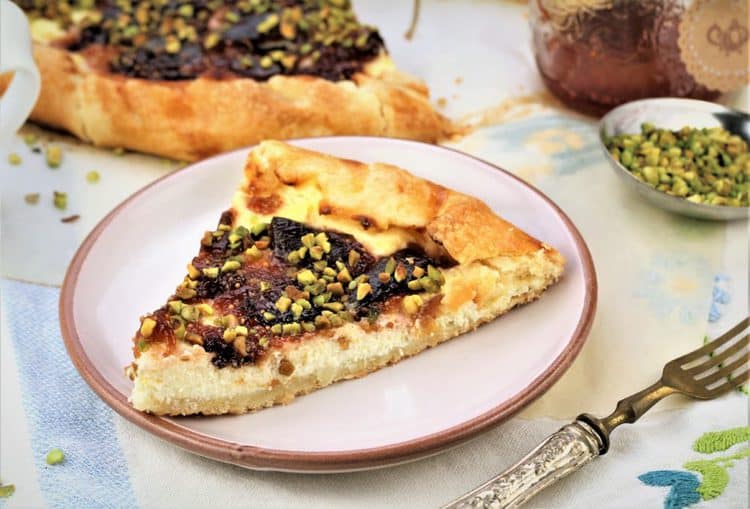 This recipe was inspired by a lovely jar of fig jam given to me by my dear friend Liliana at My Cookbook Addiction. This summer I was in Sicily way too early to enjoy freshly picked figs so I was thrilled when Liliana presented me with this homemade fig jam. I'm not a fan of toast and jam so I got right to thinking of how to use it in a recipe. Figs, ricotta and pistachios are all key, traditional ingredients in Sicilian cooking. I decided to incorporate all three in a dessert that I am particularly fond of, crostatas!
You can tell how much I like them as I have two other crostata recipes on my blog:  Strawberry Rhubarb Crostata and a savoury Butternut Squash, Goat Cheese and Leek Crostata.  I loooove making crostatas because they are so easy and forgiving, especially if you're not fond of making pie dough. The shape doesn't have to be perfect, the edges don't have to be accurately crimped and it doesn't take long to put together.
I chose creamy, sweetened ricotta flavoured with orange zest as a bottom layer. Next, I spread fig jam over the ricotta. This jam had a chunky texture, which I actually prefer since you get to bite into small chunks of the figs, so it was easier to use my fingers to dot the pieces over the ricotta. You can purchase fig jam or you can go head over to Liliana's blog for the fig jam recipe she posted here.  Lastly, I sprinkled the filling with chopped pistachios that I brought back from Sicily. These pistachios are grown in Bronte at the foot of Mount Etna and are like green gold nuggets in Sicily. I like the contrast in color between the fig jam and pistachios as well as the crunch when you bite into them.
Another thing that I like about crostatas, since I'm not a huge dessert lover, is that a wedge is the right sized dessert portion for me! I hope this recipe helps ease you toward fall, comfort food cooking. After all, Thanksgiving is right around the corner.  Let me know what you're cooking and baking this fall, I'd love to hear from you. If you try out this recipe, please do tag me on Instagram with @mangiabedda.  Ciao!
Fig Jam, Ricotta and Pistachio Crostata
It's beginning to look a lot like fall and it's time to bake this easy Fig Jam, Ricotta and Pistachio Crostata. This recipe is inspired by key ingredients used in Sicilian cooking.
Ingredients
For the dough:
1

cup

all-purpose flour

pinch

of salt

2

tbsp.

granulated sugar

1/4

lb

cold butter

2

tbsp.

cold water

or more as needed
For the filling:
1 1/2

cups

ricotta

zest of 1 orange

2

tbsp.

granulated sugar

1

egg

plus one extra to brush on the crust

1/2

cup

fig jam

2

tbsp.

chopped pistachios
Instructions
Begin by preparing the dough: In a food processor fitted with a steel blade, add the flour, sugar, salt and butter into the bowl. Pulse until the butter has broken down and is the size of peas. With the motor running, add the ice water through the feed tube. Pulse until the mixture resembles a crumbly dough. If the dough is too crumbly add a bit more water. Turn out onto a lightly floured surface and shape into a disk. Wrap in plastic wrap and refrigerate for about half an hour.

For the filling, in a medium-sized bowl combine the ricotta, orange zest, sugar and egg. Stir to combine.

To assemble: Remove the dough from the refrigerator and roll out on a floured surface into a 14 inch circle.Carefully place it on a parchment covered baking sheet. Preheat oven to 400F.

Spread the ricotta mixture in the centre of the dough, leaving a 1 1/2 inch border all around. Spread the fig jam over the ricotta. Sprinkle the filling with pistachios.

Fold the border over the filling, gently pleating it into a circular shape. Brush the dough with the beaten egg.

Bake for 35 minutes until the dough is golden. Transfer to a wire rack and let cool completely before serving.