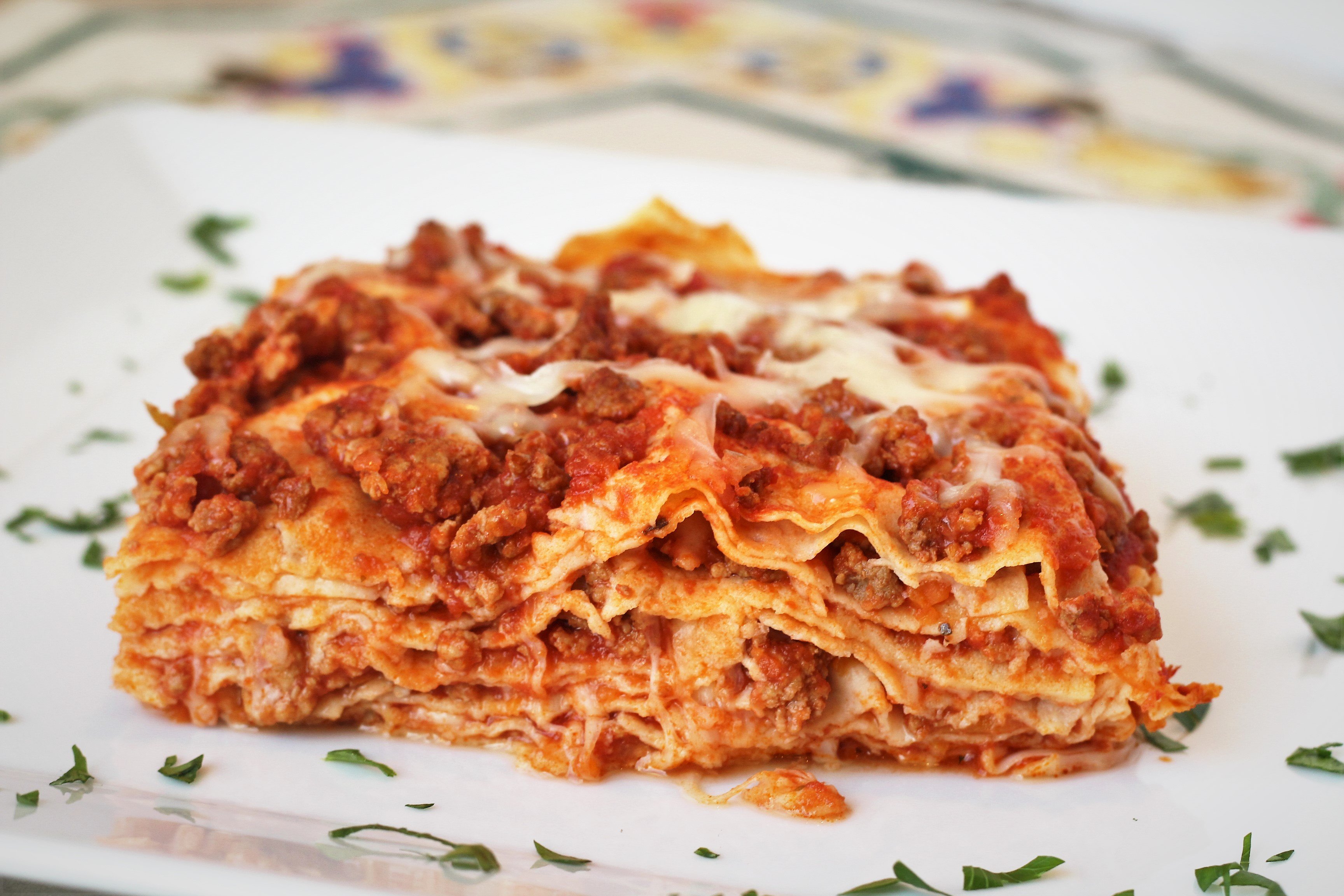 This amazing lasagna was taught to me by my husband's aunt from Italy. She visits frequently and each time she's here I invite her over for the day so we can cook together. The day begins with a trip to the grocery store as she searches for ingredients or brands that most resemble what she uses back home. We then move on to my kitchen where we attempt to find adequate sized pots, pans, bowls and so on. Mine, of course, are usually too small. And then, she begins. "Watch and learn" she says in Italian. You see, I don't get to cook in my kitchen when she's here. I'm demoded to kitchen assistant. The day is a whirlwind of activity and by supper time I am exhausted and my freezer is full of supplies to last until her next trip! I can't get over how much energy this women in her mid-seventies has! This recipe for crepe lasagna is my favorite. I was never able to document the recipe in her presence. She simply adds a bit of this and a bit of that until it is just right. After having watched her make this several times, this recipe is my recreation of her crepe lasagna.
I have frequently cooked with crepes in the past, creating both savoury and sweet dishes. I posted a wonderful Key Lime Mascarpone Crepe Cake which I made for my husband's last birthday. But I had never considered making larger crepes in order to make lasagna. The result is a melt in your mouth lasagna which is lighter (if that's even possible) due to the paper thin crepes.
Some tips on making crepes
If you haven't tried before, making crepes is quite easy. A simple pancake like batter, although much thinner, is allowed to rest for about half an hour. The cooking of the crepes is what can be lengthy unless you have mastered the art and have two pans going at the same time. The key to a thin crepe is to pour the batter in the hot pan, swirl it around until the entire pan is coated. Next I tilt the pan over the bowl with the batter and allow the excess to drip out. After about a minute, the edge of the crepe starts to detach from the sides of the pan and the centre starts to bubble. That's when you know it's time to flip it over. There is really no special way to do this. I basically use my fingers to pull the crepe and flip it over. If the crepe sticks to the pan it either means you have flipped it too soon or your pan needs a brushing of oil or butter. However, the crepes should not stick in a non-stick pan. Your first couple of crepes may not turn out great, but you'll see, it's just a matter of practice.
The crepes are piled on top of one another and covered with a tea towel. You don't need to separate them with parchment paper as they will easily separate. You can then use them right away or wrap them in plastic wrap, once cooled, and place them in the refrigerator until you're ready to assemble your dish. The lasagna can be assembled in stages: make the crepes one day and the sauce the next day. You can also get the sauce cooking in the half hour that the crepe batter is resting.  Either way you do it, this recipe is a must try.
I used an 11-inch non-stick pan for my crepes which fit well in a 10 x 12-inch lasagna pan. This helped me avoid cutting and pasting crepes. But if you're using a different sized pan and need to do a little cutting and pasting, it's no problem at all. Once you've covered the crepes with sauce and cheese you will never be able to detect the pieces of crepes you've used to patch corners. The recipe also makes 10-12 crepes and I used 8 for my lasagna. My children readily gobbled up the extra crepes filled with Nutella or ricotta.
Unlike most commercial lasagnas, this one is not drowning in sauce. I was impressed as I watched my aunt lightly coat each crepe with sauce, spreading it with her fingers. The same goes for the mozzarella. You won't find a 1 inch thick coating of cheese here. Remember earlier when I mentioned that this is a light lasagna? But if you're partial to tons of mozzarella, just go for it and add as much as you'd like!
When my aunt was last here, just over a year ago, we made 6 lasagnas and my freezer was nicely stocked for a while. Since you're going to put in all that effort to make crepes, I definitely recommend making a couple of these and freezing one. Trust me, your family will ask for more!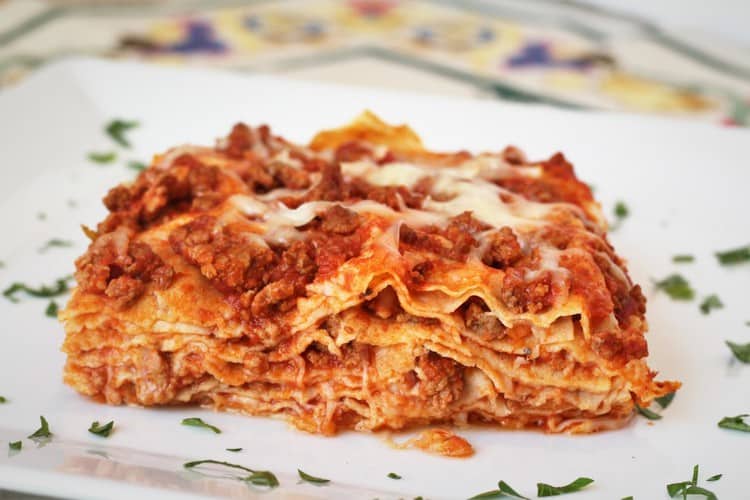 Ingredients
For the crepes:

4

eggs

2

tablespoons

melted butter

pinch

of salt

1 1/2

cups

all purpose flour

2

cups

combination milk and water

I usually use half of each

For the meat sauce:

2

tablespoons

olive oil

1

onion

1

carrot

1

celery stalk

2

cloves

garlic

500

gram

ground meat trio

beef, veal, pork

2

tablespoons

tomato paste

1

jar tomato purée

700ml

1

cup

water

salt and pepper to taste

For assembling:

2 1/2

cups

grated mozzarella

1/4

cup

grated parmesan cheese
Instructions
Begin by preparing the crepe batter. In a large bowl combine the eggs, butter and salt. Whisk until combined and add the flour. At this point, it may be easier to use an immersion blender if you have one. Add the milk and water and combine well until there are no lumps. Let rest for half an hour.

Meanwhile, prepare the meat sauce. Cut the onion, carrot, celery and garlic in large chunks and, using your food processor, process until finely chopped but not puréed. Alternately, chop finely with a knife. The sauce will be smooth and free of large chunks of vegetables. Heat the oil on medium high heat in a large dutch oven and sauté the vegetable mixture until the water has evaporated, about 5 minutes. Add the ground meat and cook, stirring to break up any large chunks, until it is no longer pink. Stir in the tomato paste. Add the tomato purée and rinse the bottle with a cup of water and add to the sauce. Cook partially covered for 1 hour, stirring occasionally. Season with salt and pepper.

Now back to the crepes. Preheat a 11-inch non stick pan over medium heat. Grease lightly with vegetable oil or melted butter. When the pan is hot, scoop 1 ladle full of batter onto the pan. Swirl the batter to completely cover the pan. Then tilt over the bowl of batter to allow the excess batter to drip away.

Cook for about 1 minute until the edges start to detach from the side of the pan and the crepe begins to bubble in the centre. Lift the crepe from the sides of the pan and flip it over. Cook for 30 more seconds. Place in a plate and cover with a tea towel. Continue until all the batter is used.

To assemble the lasagna: Preheat oven to 350°. Ladle 1 scoop of meat sauce on the bottom of the lasagna pan. Place a crepe on the sauce and evenly cover with 1 ladle of meat sauce.

Cover with mozzarella and parmesan cheese. Repeat with 7 more crepes, mozzarella and parmesan. Bake for 30-40 minutes until the cheese is bubbling. If the top begins to brown, cover with aluminum foil until done.
Tried this recipe?
@mangiabedda or #mangiabedda
We are a participant in the Amazon Services LLC Associates Program, an affiliate advertising program designed to provide a means for us to earn fees by linking to Amazon.com and affiliated sites.