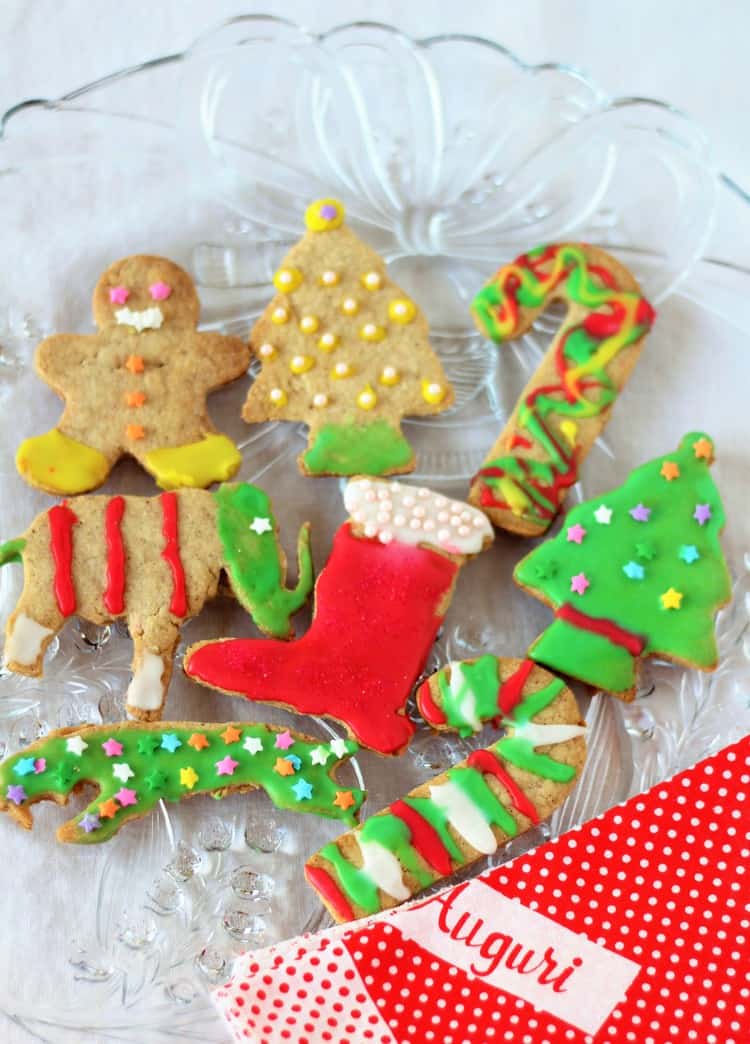 Until now I've shared a traditional Sicilian holiday recipe (my mother's sfinci), my own new favorite tradition ( coquille St-Jacques), a local Christmas French-Canadian favorite (tourtière), as well as the best cake recipe ever (nonna's sponge cake) which is perfect any time of year! With just under a week to go until Christmas, it's finally time to share my family's favorite gingerbread cookie recipe.
I've been making these gingerbread cookies with my children since they were born and it just isn't Christmas until we bake and decorate them together. As you can tell from our pictures, we use various Christmassy cookie cutters as well as dinosaurs! When my son was younger he was crazy about dinosaurs. He had tons of dinosaur books and knew the names of all of them by heart. So, one Christmas his grandma gave him a dinosaur cookie cutter set and since then we have Christmas dinosaur cookies as well.
The best part about making gingerbread cookies is that the whole process is a family affair, from preparing the dough to decorating. Even dad gets involved in the decorating. To tell you the truth, he's better at decorating than I am!
I love these cookies because unlike traditional gingerbread cookies they do not contain any molasses, which I'm really not crazy about. These taste more like a shortbread cookie with the addition of ginger.  We'll make a batch before Christmas each year but we hardly ever have any left by Christmas. Enjoy and Merry Christmas to all!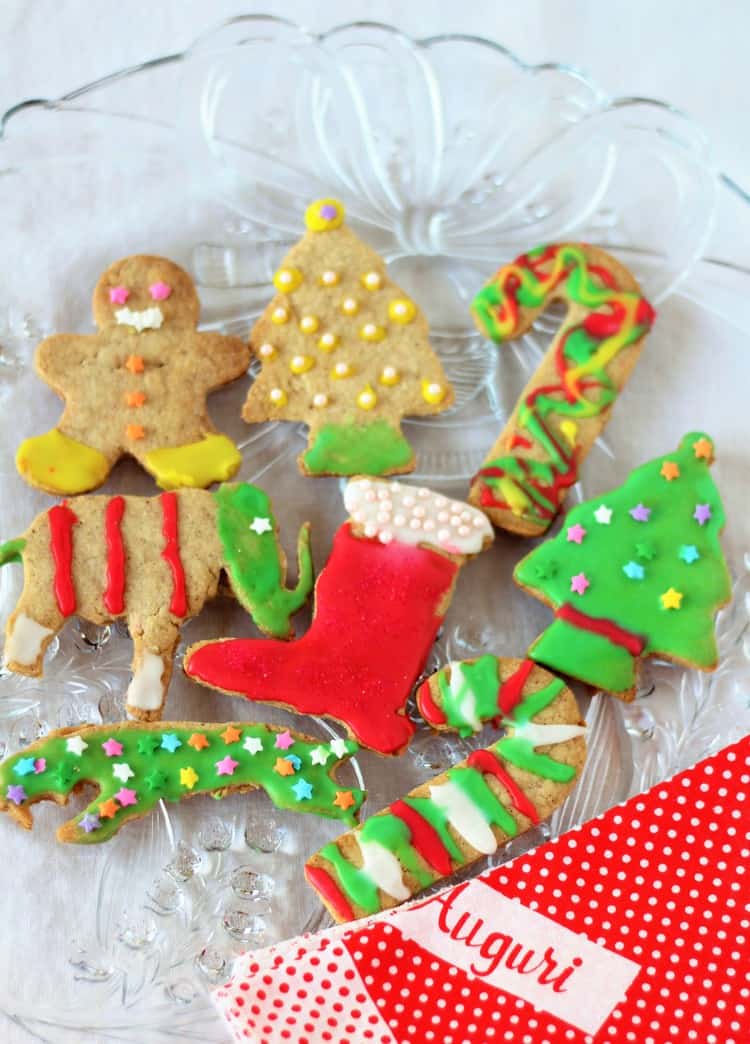 Ingredients
1

cup

unsalted

softened butter

3/4

cup

granulated sugar

1

egg

1/4

teaspoon

baking powder

1/8

teaspoon

salt

2

teaspoons

vanilla

2 1/3

cups

all-purpose flour

1

teaspoon

cinnamon

1

teaspoon

ginger

1/4

teaspoon

nutmeg

1/2

teaspoon

black pepper
For the icing:
1 

cup

icing sugar

1 

tablespoon

plus 1 teaspoon milk

food colouring

For decorating:

assorted sprinkles,

smarties and other candy, basically anything you like!
Instructions
In a large mixer bowl, cream butter and sugar at medium speed until smooth and fluffy, about five minutes. Add egg, baking powder, salt and vanilla. Beat until the egg is fully incorporated. In a medium bowl, sift together the flour, cinnamon, ginger, nutmeg and black pepper.

Add dry ingredients to the butter mixture in two batches until the dough holds together.

On a lightly floured surface, kneed the dough gently, then flatten into a disc. Wrap in plastic wrap and refrigerate for half an hour.

Preheat oven to 350°F. On a lightly floured surface, roll the dough to 1/4 inch thickness. Using gingerbread (or other Christmas shapes) cookie cutters, cut shapes and place cookies on a parchment lined baking sheet.

Bake for 12-14 minutes until the edges begin to turn brown. Place on cooling racks and allow to cool completely before icing them.
For the icing: place icing sugar in a large mixing bowl and whisk in the milk until the mixture is smooth and stiff. I make separate batches of the icing and add a few drops of food colouring to obtain the desired color.  Decorate the cookies with the icing using either an off-set spatula, pastry bags, spoons etc...
Tried this recipe?
@mangiabedda or #mangiabedda