Join me as I guide you through my travels in Sicily : province of Messina! In this post I'll be exploring and sharing with you the natural, cultural and culinary wonders of this province.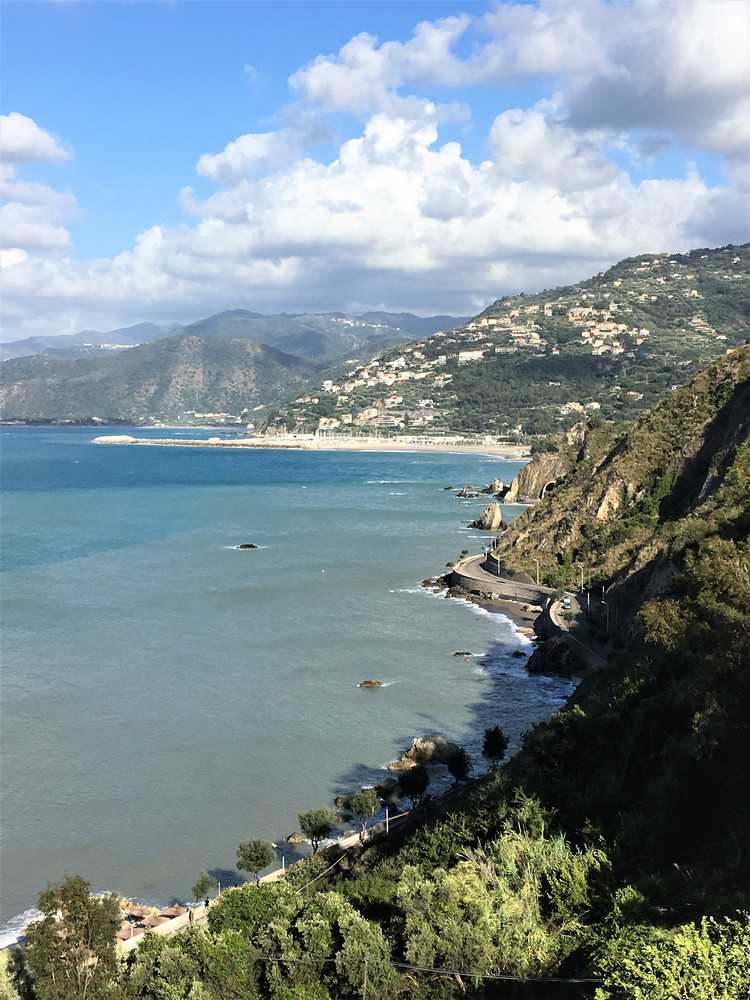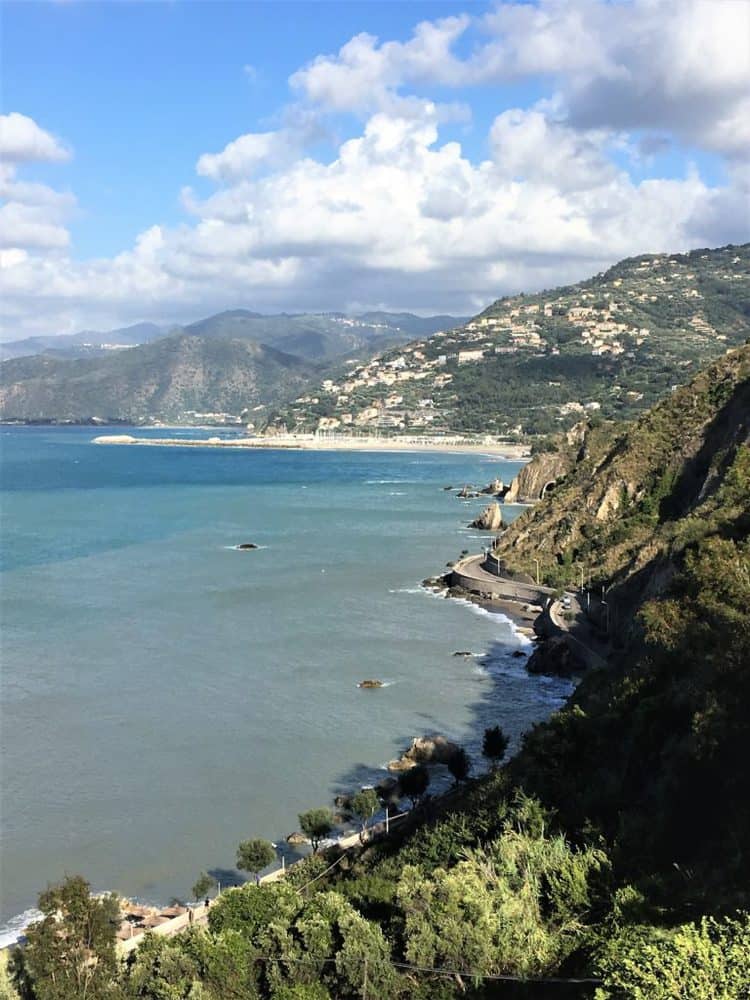 Hello dear readers! Thanks for following me along my journeys in Sicily. My family and I began with four adventure filled days in the province of Trapani, followed by a brief stay in the province of Agrigento. In this post, we'll be heading towards the final, but longest, leg of our journey to the north eastern shore of Sicily in the province of Messina.
This was truly a special part of our trip as this is where my parents were born. We spent a memorable two weeks visiting with relatives, relaxing on the beach as well as discovering new towns and natural wonders of this area. And of course, we ate lots of amazing foods which I will tell you all about.
We departed from Porto Empedocle and drove for three hours across the centre of Sicily crossing mountainous, rugged landscapes. Arriving on the northern shore of Sicily, we drove east along the coastline until we came to the town of Capo D'Orlando, located about 90 kilometers from Messina. This was to be our home base for the next two weeks.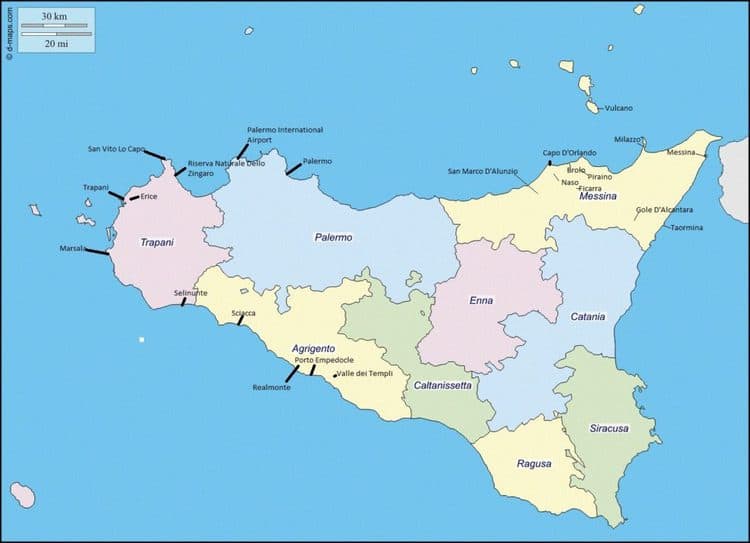 Capo D'Orlando
Accomodations
Capo D'Orlando is a picturesque town located on the shores of the Tyrrenian Sea that tourists flock to during the summer months. After a busy week of touring, we entered the apartment which was now familiar to us as we had first stayed here two years ago and we felt like we were home again. Vuelle Residence offered us a two bedroom apartment with a full kitchen and lots of space for a family of four to spread out comfortably. Most importantly, we had a washing machine so we could attack that mountain of laundry we had accumulated. What could be better than walking in to find a view like this?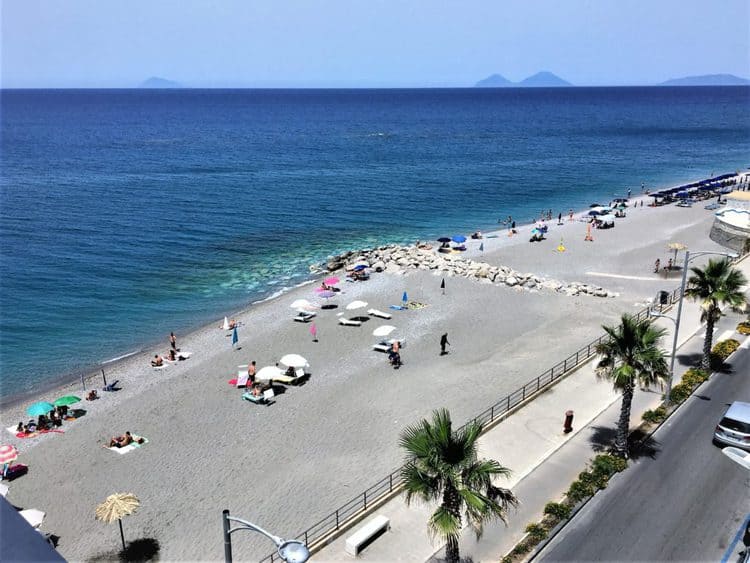 This is where I enjoyed my morning coffee and brioche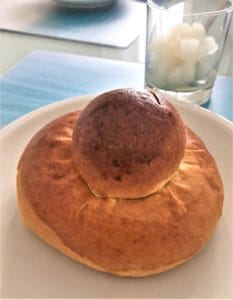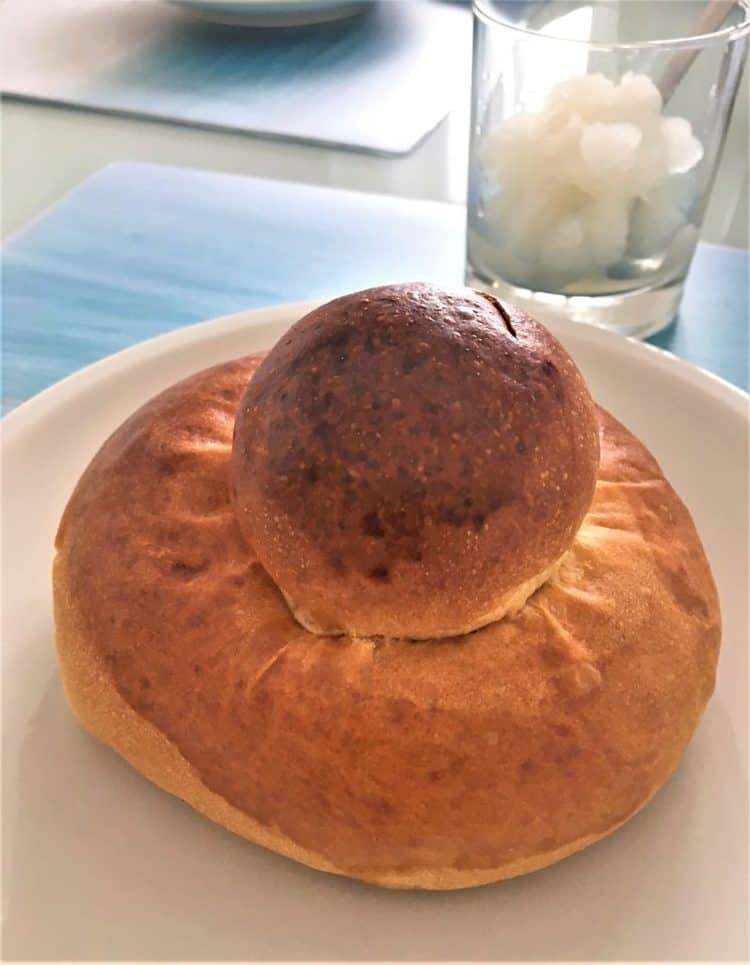 ! Vuelle Residence is located across the street from the beach and a few steps from the centre of beautiful Capo D'Orlando. Everything you could ever need is located a short walk away and I enjoyed not having to use a car or public transportation to get to the cafés, bakeries, grocery stores, dry cleaners or pharmacy. If you need anything, you can always count on Brigitte to help you out. Should you plan a stay there, be sure to tell her I sent you!
Located on the edge of town perched high above Capo D'Orlando is the Monte della Madonna. This church dedicated to the Madonna of Capo D'Orlando is located at the top of a hill accessible by stairs and offers beautiful panoramic views .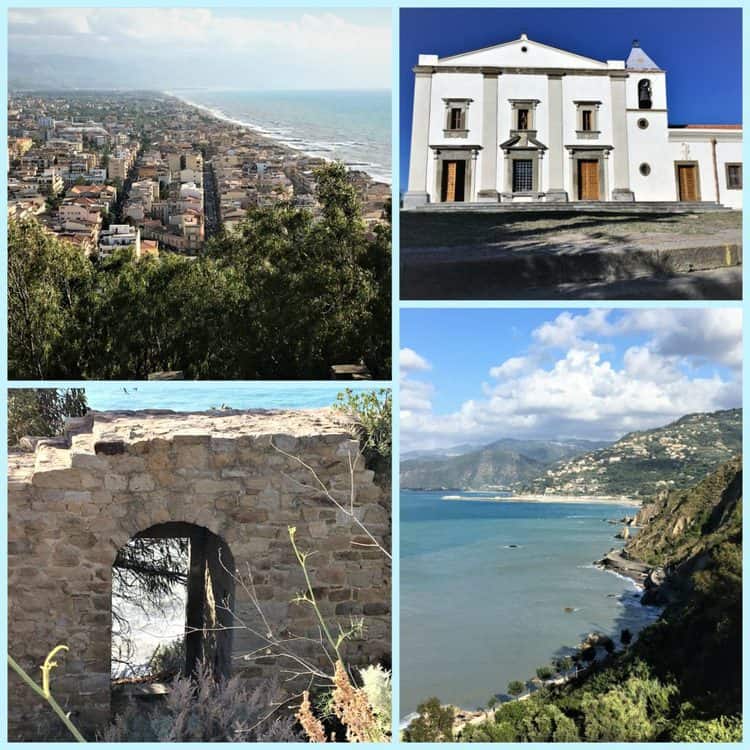 Eating in Capo D'Orlando
Equipped with a full kitchen, we took advantage and cooked some of our own meals. Therefore, I will not really be able to recommend good restaurants in the area but let me tell you about all the great places to get some of my favorite foods! We began to live as the locals do: walking to the bakery for fresh bread and brioche each morning, buying our fruits and vegetables daily, and most importantly, heading to one of the numerous cafés for granita!
Our favorite bakery:
Heading away from the shore, toward the centre of town you'll come across endless ice cream shops, bakeries and cafés and places to shop for food. One of the closest panificio we visited almost daily to purchase my morning brioche and fresh country style bread was Panificio Arlotta.
Bars and Cafés:
Along the beach front just a few steps away, Tentazioni Beach was a frequent stop for the many granitas I devoured during the next two weeks. Other favourite gelaterias or ice cream shops we enjoyed while strolling in town include Delicious Café, Bar Delle Poste or Sweet Bar, where we purchased an incredible pistachio ice cream cake for my son's birthday. Instead of gelato, I chose refreshing granitas offered in endless flavours such as lemon, coffee, berry, pistachio, watermelon and even ricotta.
Grocery store:
Less than a five minute walk away was Qualità, an impressive supermarket we visited almost daily to purchase fresh fruit and vegetables, meats and cheeses. The display of meats in this store is a jaw dropping sight. Yes, this is all meat! I had fully intended on trying all of them but sadly, we only managed to sample two or three of these artistic creations. Next time!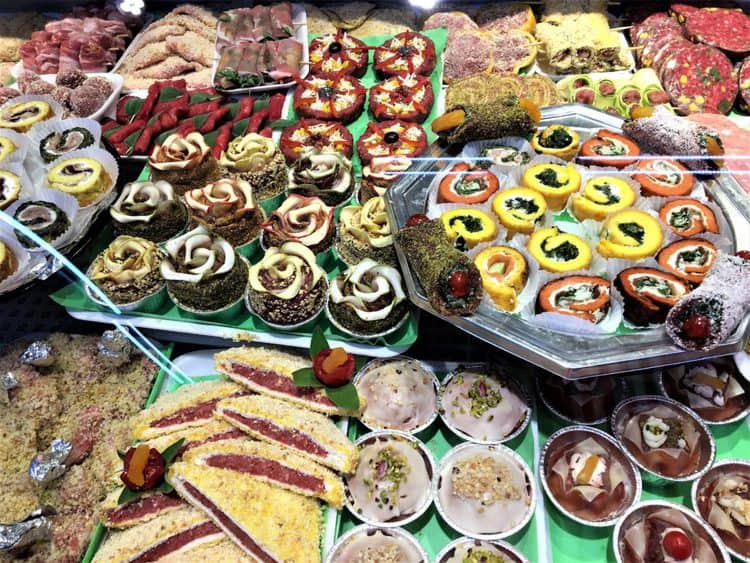 My son and I were excited about cooking with local ingredients. Here are just a few of the creations we prepared in our kitchen: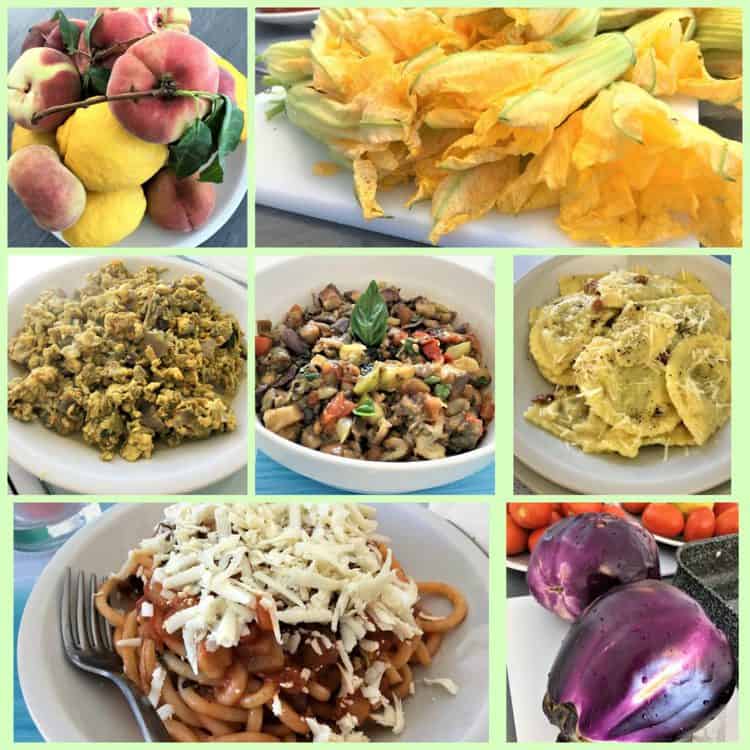 If, on the other hand, you're looking for a spot to grab a great sandwich or takeout 'cause you really don't want to cook here are a couple of suggestions.
Bottega Dei Due Monti is a salumeria that sells cured meats, cheeses and bread and where you can purchase panini for a ridiculously low price. Strolling through town late one night, we were hungry (no surprise here!) and headed to this shop for a sandwich. I quickly searched the menu of panini and noticed most them were priced at 1.50 euros, approximately 2.25$ Canadian. I thought surely there was an error, perhaps this was only for the bread and meats were extra? Nope! That included cheese, choice of cured meats and condiments such as mushrooms, roasted peppers or fig jam. Great place to purchase sandwiches to enjoy on the beach or a day trip.
If you're looking for a hot take away meal to enjoy at home, Guliotta Gourmet is your best bet in town. Back at home, we occasionally resort to rotisserie chicken from the grocery store when we're in a bind and need a quick dinner. This place takes rotisserie chicken to a whole new level. This juicy, moist chicken is flavored with rosemary and accompanied by the best roasted potatoes! Here's a feast we put together one night with chicken and potatoes from Gugliotta's and a simple salad which we prepared.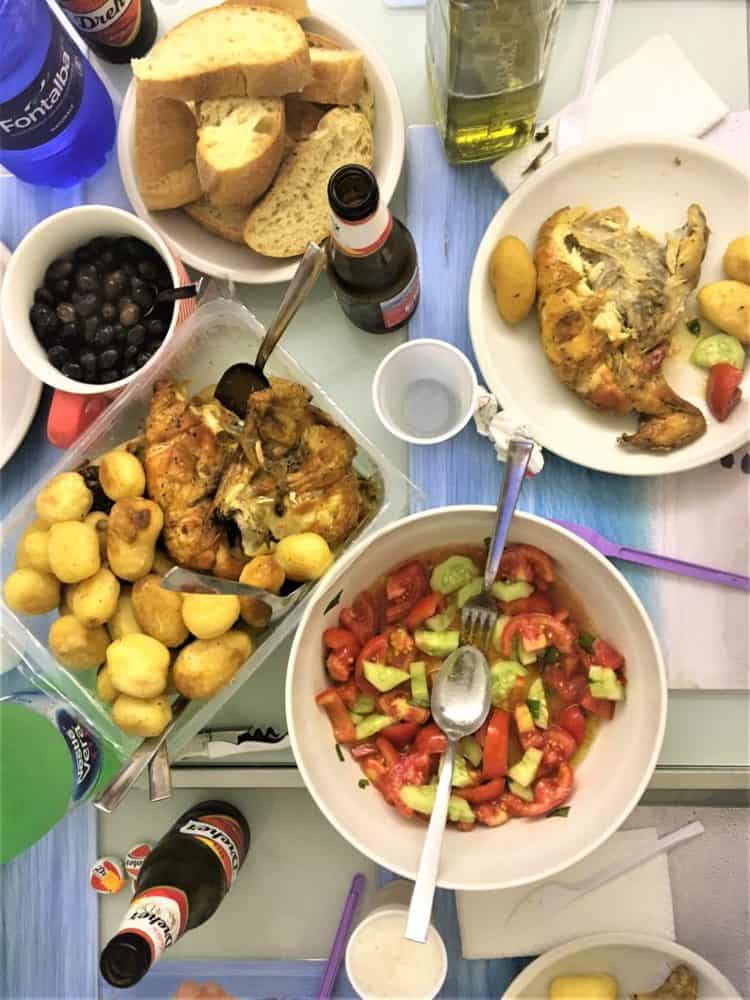 A few mouthwatering views of Gugliotta Gourmet: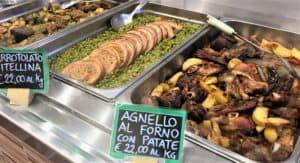 Other than ready to eat meals, they also offer an extensive array of cheeses, cured meats, pastas as well as a butcher section. Again, another must in Capo D'Orlando!
Nearby Towns
Naso
Although we enjoyed eating in and spending time at the beach across the street, there is lots to see in the nearby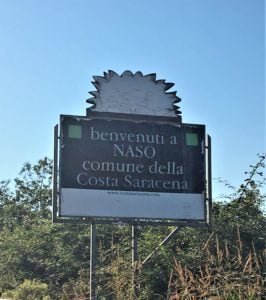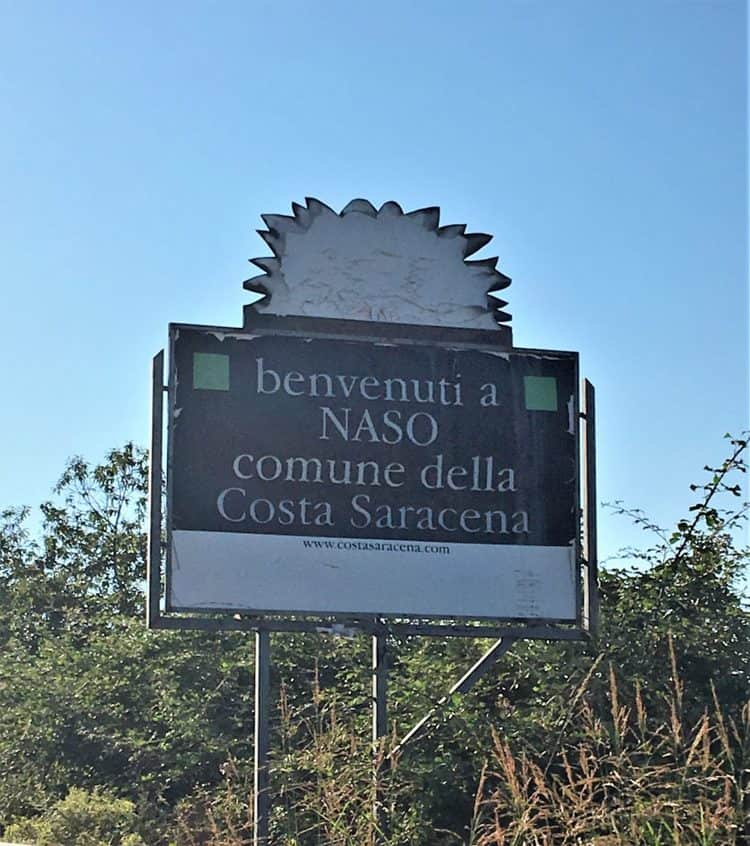 villages, beginning with Naso. Located at 1610 feet above sea level, Naso is a hilltop town located about five kilometers from Capo D'Orlando. In fact, Capo D'Orlando was part of Naso until 1925. This town is dear to my heart because it is where my parents were born. I still have many cousins still living there so we drove up those twisting, winding streets which offer stunning views of the coastline below on a regular basis. Luckily, that was most often followed by an amazing meal at my dear cousin's house!
The main piazza in Naso offers beautiful views of the surrounding valley. This traditionally painted vase, and many others like it found in the piazza, were painted by my cousin's husband!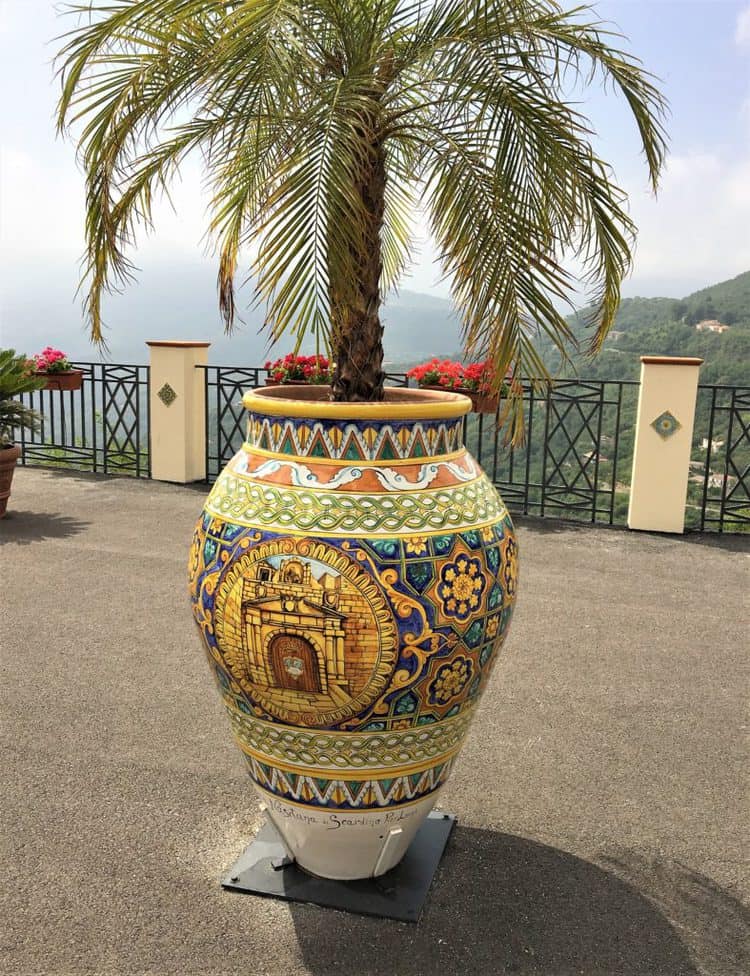 We explored the main church in the piazza, Chiesa Madre, spent some time in the town cemetery where I pointed out my children's great grand parents, and drove past my parents' childhood homes. I feel it is vital for my children to have a sense of connection with their origins and so this was truly a memorable morning.
Piraino
One late afternoon, my cousins suggested a visit to another nearby hilltop town, Piraino. Another twisty, hairpin curved road trip led us to this tower, located at the very top of Piraino.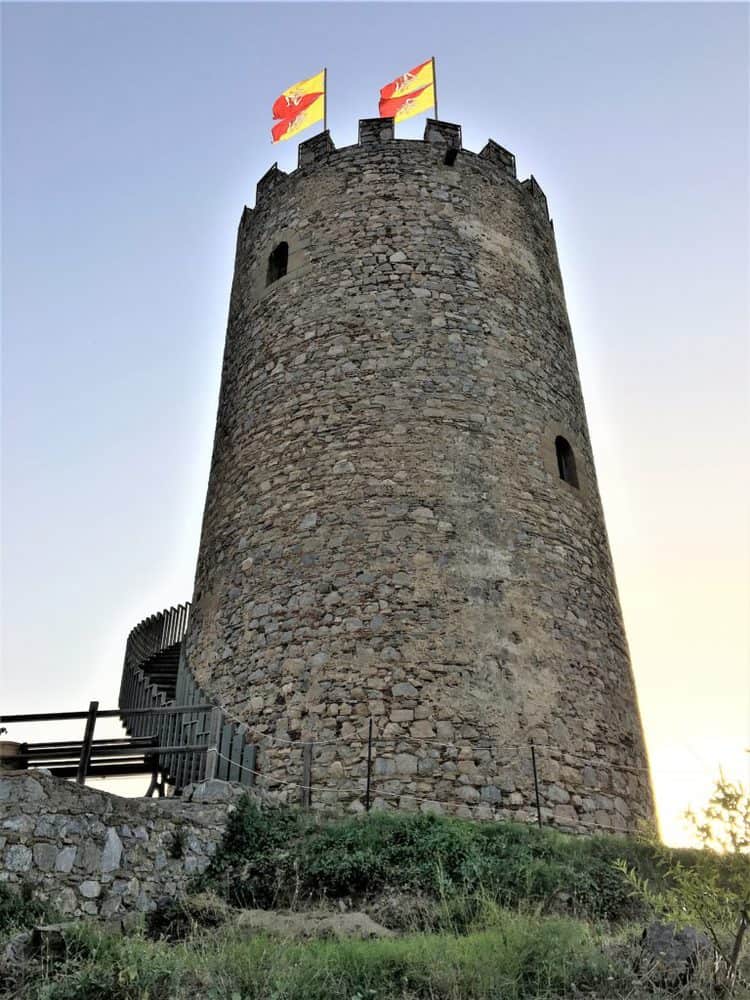 My cousin contacted the caretaker directly who proudly offered us a private visit of this beautfully preserved 16th century Torre Saracena, used for defensive purposes. On a clear day, the views of the coastline as well as Capo D'Orlando in the distance are splendid. Unfortunately, we experienced an overcast day, but nonetheless the views were impressive.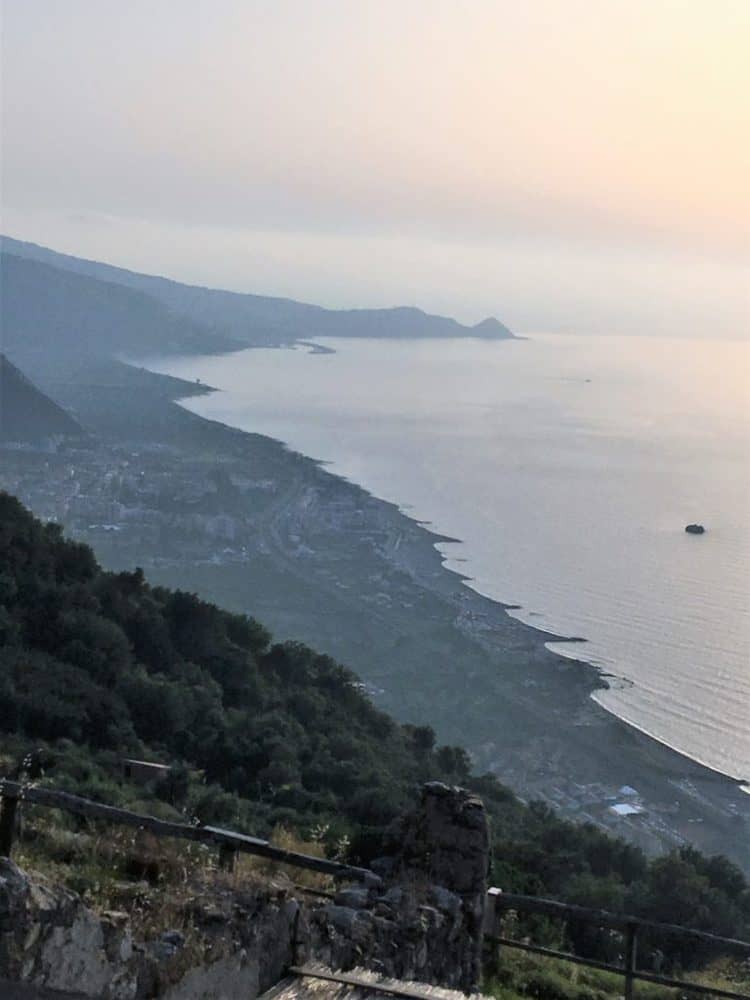 This little excursion was followed by a great meal, as usual, located down the hill from Piraino in the seaside town of Brolo. We were treated to a dinner of crepes, yes crepes, at NordSud Creperie located on the beach in Brolo. What could be better than enjoying a buckwheat crepe stuffed with cheese, prosciutto and arugula right on the beach? Make sure you leave room for the crazy desserts. We obviously shared this crazy concoction of waffles, gelato, and fruit!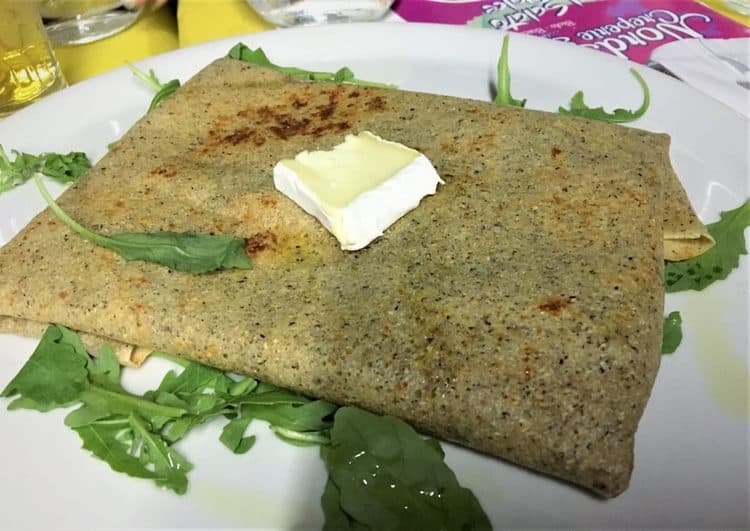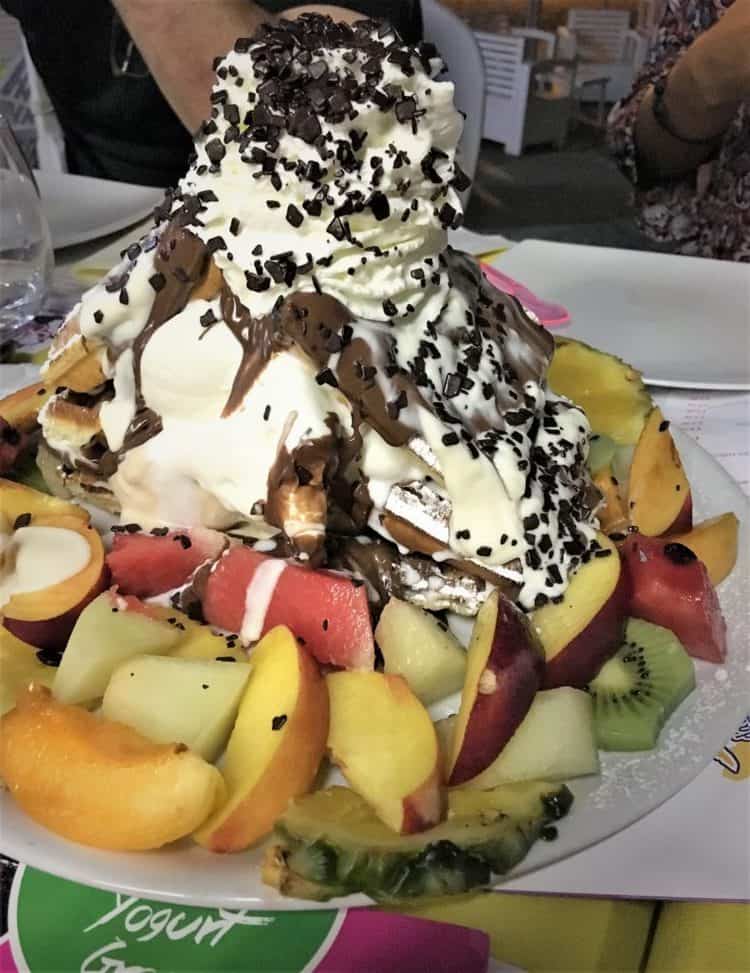 San Marco D'Alunzio
San Marco D'Alunzio is another nearby hilltop town famous for it's annual medieval festival and banquet. We decided to visit on an overcast day that was not a good beach day. This town is a labyrinth of narrow alleys and twisting paths leading to approximately twenty-two churches. Oddly enough, unlike other towns, it does not contain a main square. It was eerily quiet as we strolled through the narrow, cobble-stoned lanes and it felt as if we were transported back in time. The local elders who were out sweeping outside their front steps were warm and accommodating when I'd stop and ask for directions. The ruins of the San Marco castle stand at the one of the highest points in the town, and charming little nooks with these built in stone benches are scattered throughout the town. A visit of San Marco D'Alunzio made for a pleasant morning stroll.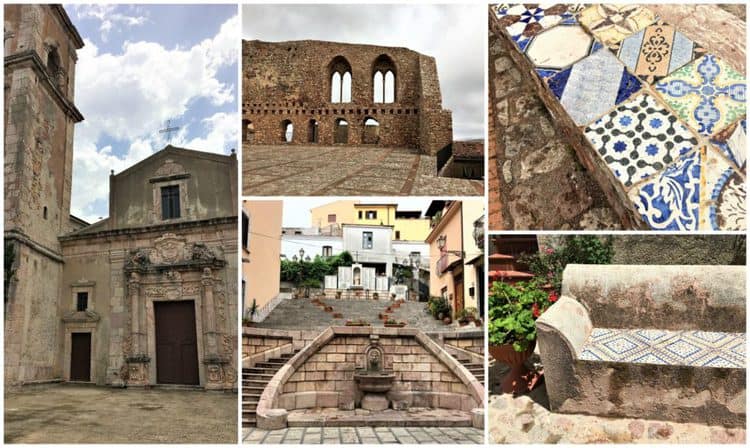 Ficarra
Another hilltop town (I guess you've understood by now, most towns are way up on the top of hills) and a favorite was Ficarra. This was mainly because we had one of the best meals in all of Sicily here. All this thanks to my son who chose La Badia to celebrate his birthday. He had long heard of this restaurant and being a foodie, when we asked him to choose where he'd like to have a birthday dinner, he unhesitatingly chose La Badia. This was a feast that dreams are made of. We began with endless antipasti plates, which is quite typical in this area, and a main dish of the local specialty, maccaruna in tegame (baked maccaruna pasta).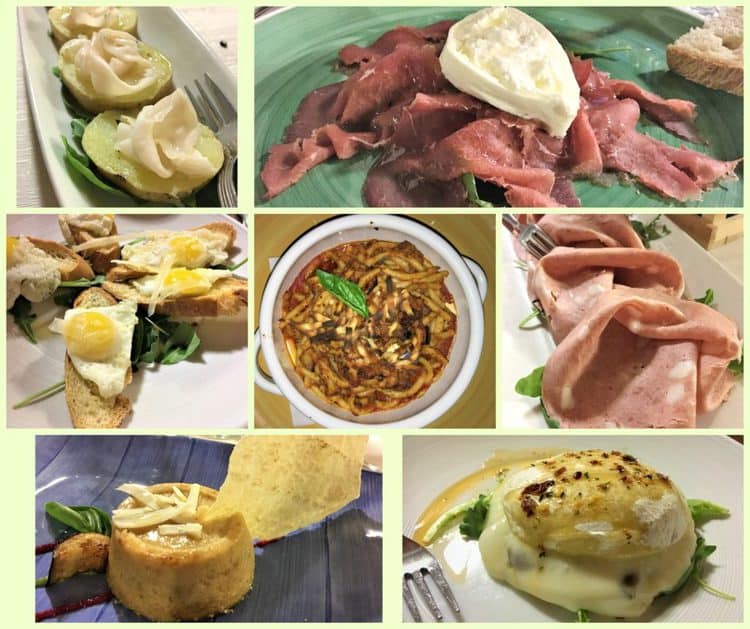 The restaurant is located in the main square of this small town in a beautiful old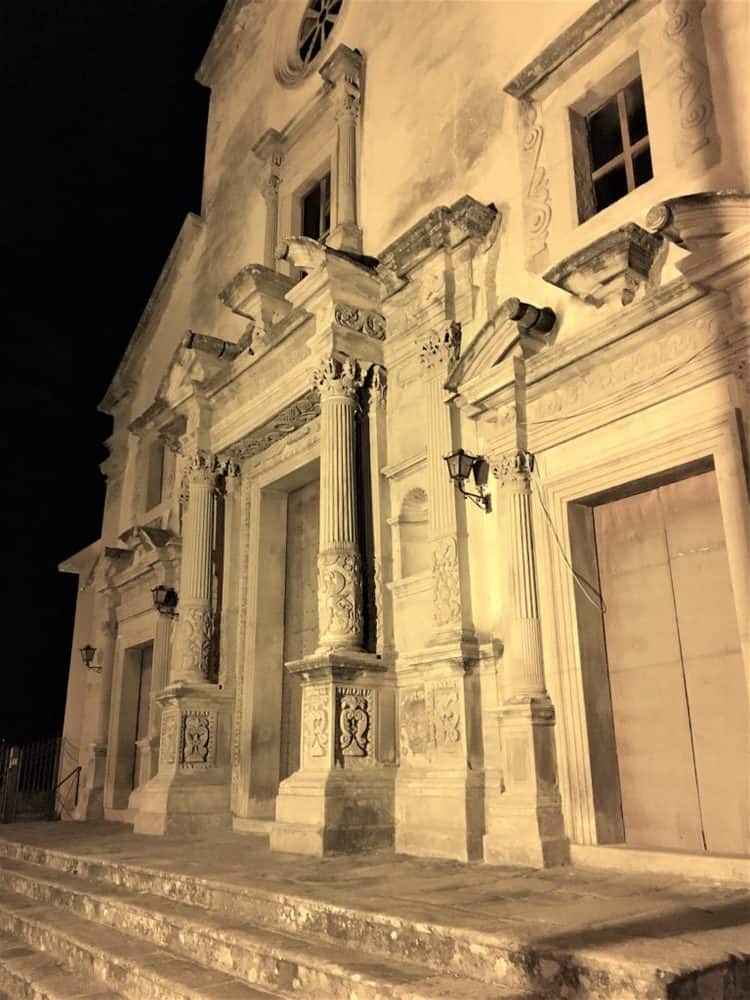 building. Bathed in moonlight, the evening had a magical quality as we strolled through the quiet alleys. My cousin described how my maternal grandmother, in her devotion to the patron saint of the town, would cross down into the valley from Naso and walk up to Ficarra barefooted each year! She then pointed out the church they came to during this yearly pilgrimage.
Day Trips from Capo D'Orlando
Taormina
No visit to Sicily would be complete without visiting Taormina. Known for it's ancient Greek Theatre, people watching and breathtaking views over the sea, Taormina is definitely quite touristy and can be expensive, yet beautiful. I would love the opportunity to visit after October when the crowds disperse in order to really enjoy strolling through the narrow streets! Regardless, we set out with my cousins as guides for an overnight stay. We stayed at an affordable bed and breakfast, located a short walk (or I should say a climb) just below the centre of Taormina.
Our day began with a visit to Isola Bella. A small island connected to the mainland by a narrow, pebbled path, this beach was quite a surprise! We pitched our umbrella in a pile of pebbles on the over crowded beach, fighting for a small space to sit. Not quite my idea of a beach day. But the highlight of this morning was a brief guided boat tour of the area with the opportunity to enter grottos and jump into the clear blue sea for a refreshing swim. This experience reminded me very much of my visit to Capri years ago.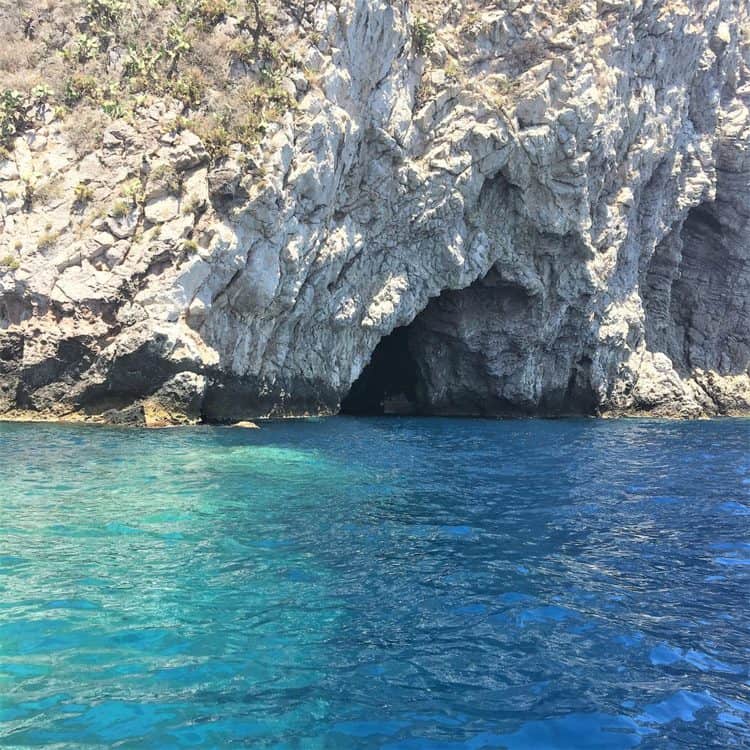 Once again, perched high above the sea, the views from the main piazza in the centre of town are not to be missed. At every turn you can see small charming alleys that compel you to explore.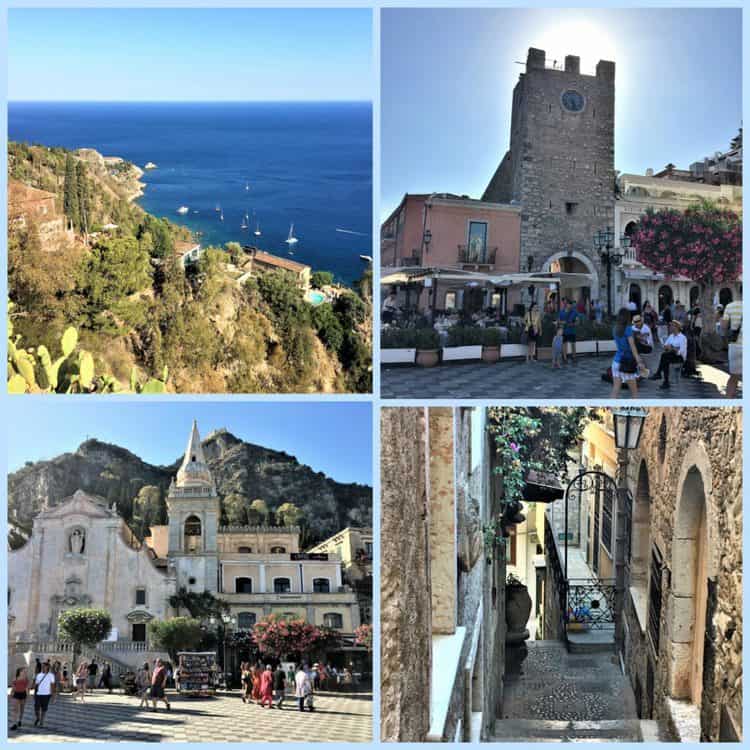 As I mentioned earlier, Taormina can be quite pricy but we found an affordable pizzeria, Ristorante Granduca, with million dollar views located on a terrace overlooking the sea. We enjoyed some of the most creative pizzas toppings I've ever eaten including pistachio; arugula and smoked salmon.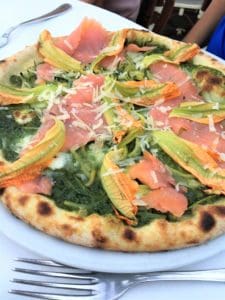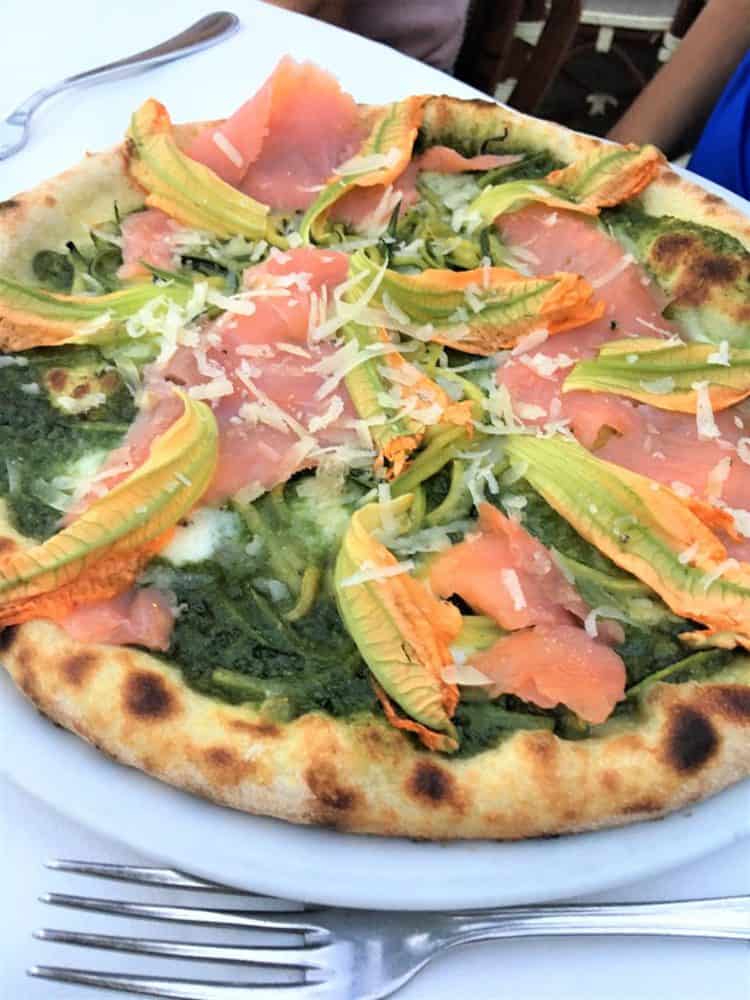 Sicily is famous for it's pistachios, grown in Bronte at the foot of Mount Etna. After a dinner stroll we visited a shop that sold products made uniquely with pistachios, including pasta! We were offered samples of pistachio liquor, chocolate covered pistachios and pistachio gelato.
Note: If you do wish do purchase pistachio products do so in a less touristy town as they are sold at quite a premium in Taormina! You can find the same, if not similar products in any out of the way grocery stores.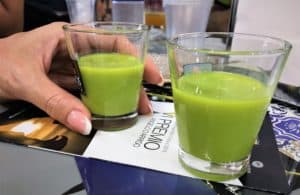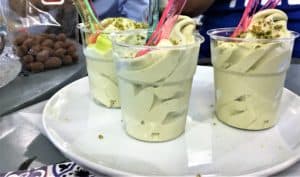 Visiting the ancient Greek Theatre is a must in Taormina. We could not visit during the day as they were preparing for the final night of the annual Taormina Film Festival which would be open to the public that night. What an experience it was to sit in the theatre which was all lit up and take part in this famous festival!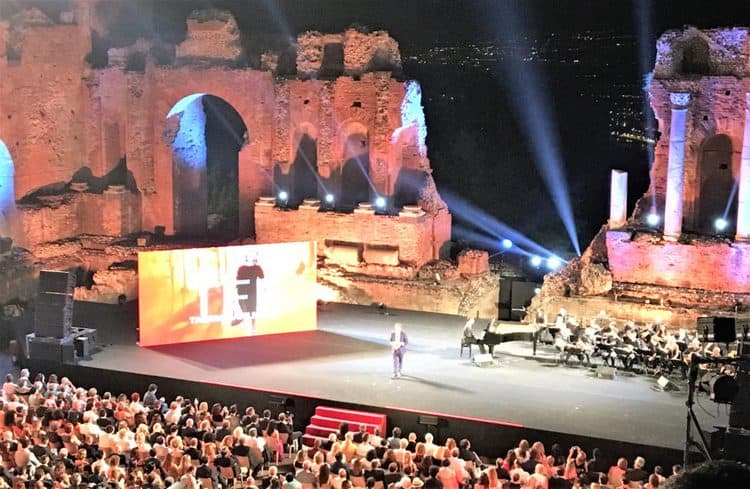 Gole D'Alcantara
Located not very far from Taormina, the Gole D'Alcantara is a natural wonder of Sicily and an excellent choice of place to visit nearby. This is a canyon made up of gorges that reach up to 223 feet tall. The gorges are most likely the result of ancient earthquakes. The river that runs through the gorges is ice cold, but quite refreshing! Access down to the river by elevator is available at an extra cost, but well worth it. This is a great place to spend a relaxing day. We found a shady spot to put up our umbrella, packed a picnic and spent the day wandering through the gorges that are scattered with waterfalls along the way. As I mentioned earlier, the water is ice cold but it offered relief from the hot sun.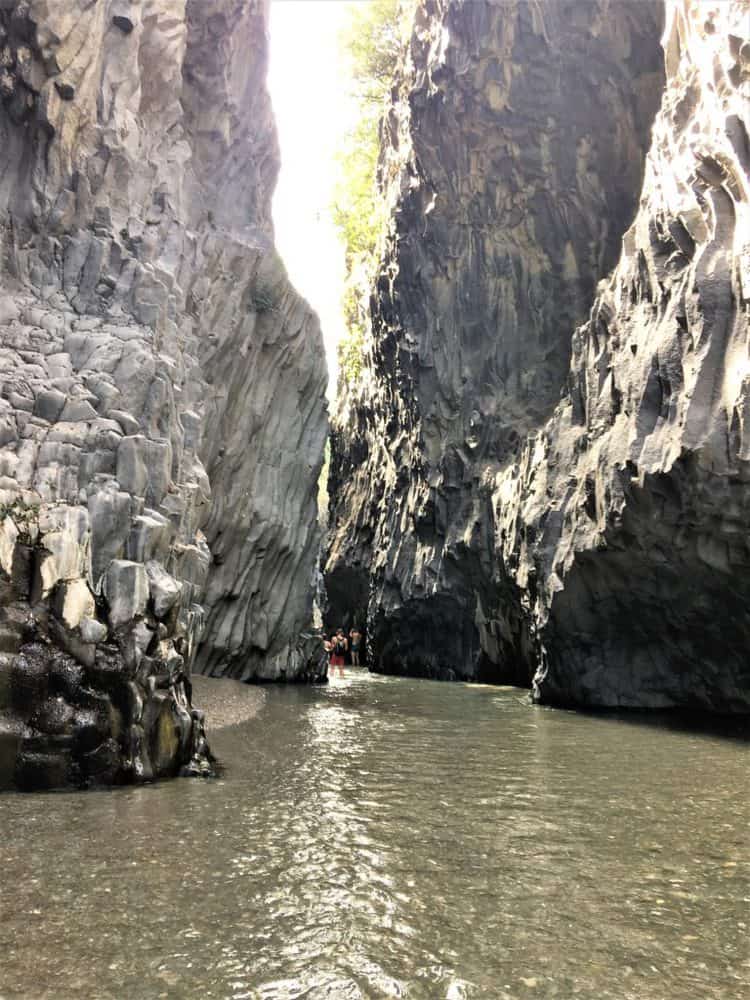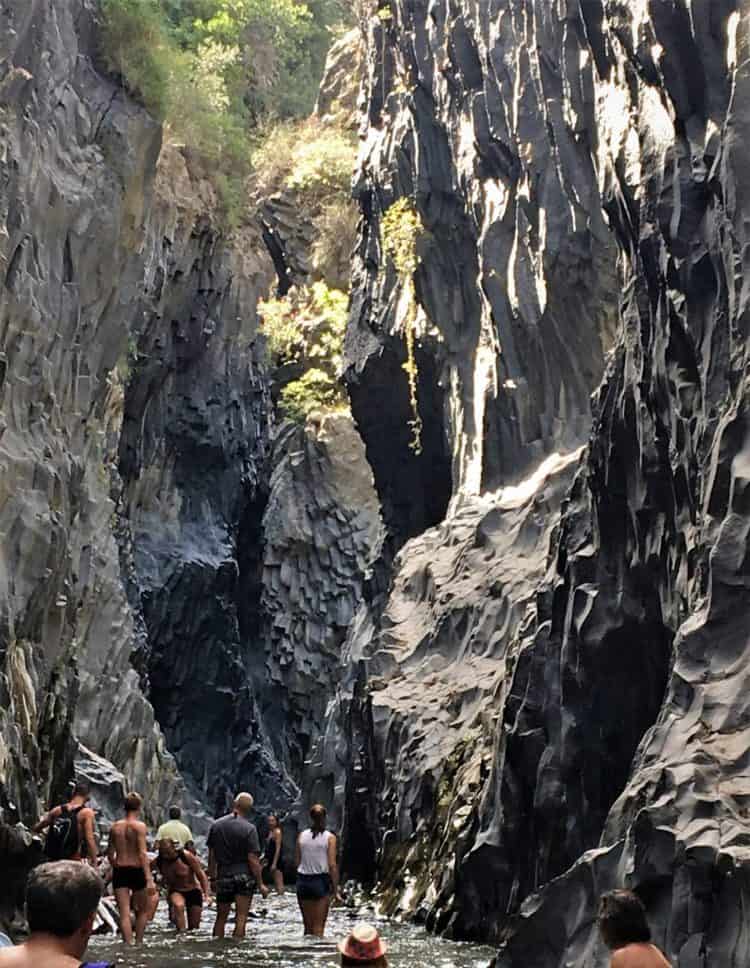 Eolian Islands: Vulcano
The Eolian islands are a chain seven of islands located off the northern coast of Sicily and visible from Capo D'Orlando. Each island is quite characteristic and distinct from the other and these islands are a popular tourist destination for Sicilians as well. We arrived via hydrofoil from the port of Milazzo, just east of Capo D'Orlando. The main draw of Vulcano is the climb to the crater of the volcano; the stinky sulphurous mud baths and the black sand beaches with bubbling jacuzzi-like water heated underneath by natural gas. As you reach the small part, depending on which way the wind is blowing that day, you may be met with awful sulphurous fumes! Thankfully, we were spared until we reached the mud baths. Now if you're sensitive to strong odors please don't go. We learned this with my son who could not stay in this area at all!
We began with a morning hike to the top of the volcano to see the crater. Good walking shoes are in order here as well as lots of bottled water. The climb is not unsafe however there are no handrails on the sometimes narrow paths that drop down straight below so caution is necessary. We saw people of all ages climbing, from families with young children to elderly couples. The climb offers spectacular views of the entire island and when you get to the top and witness the smoking crater it is all worth it. It took us about an hour to climb and half that to descend.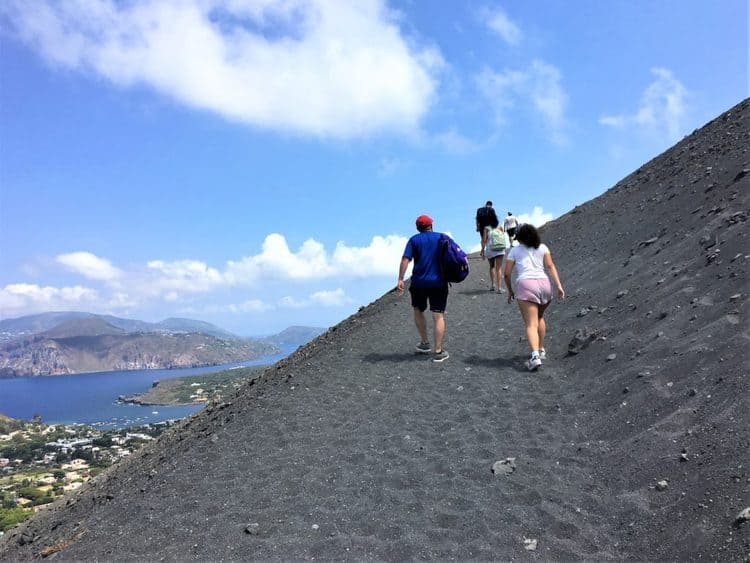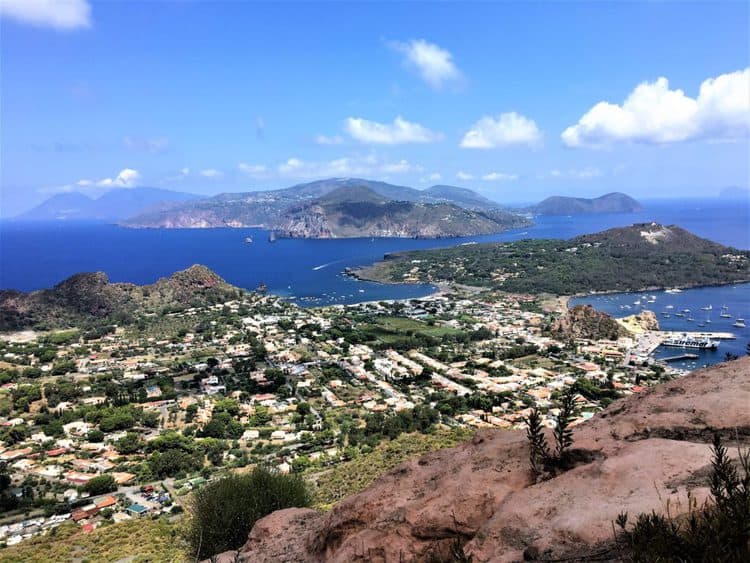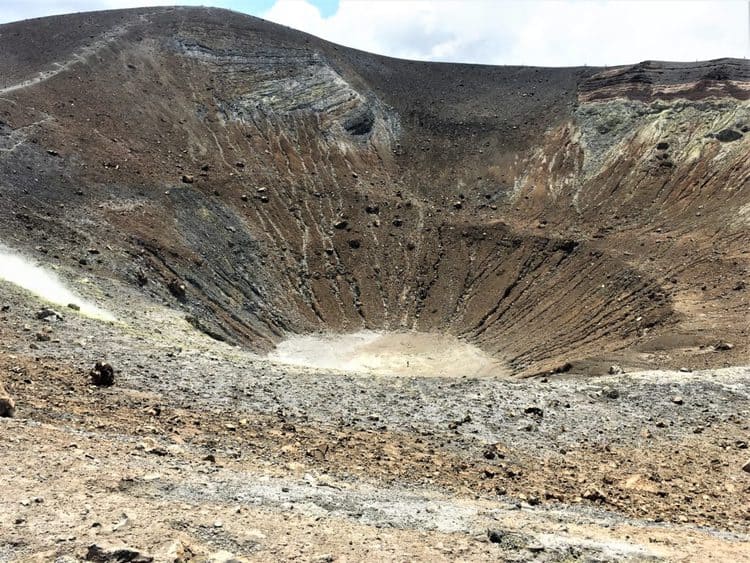 We spend the beginning of the afternoon at the sulfurous mud baths followed by an afternoon of swimming at the nearby black sand beach.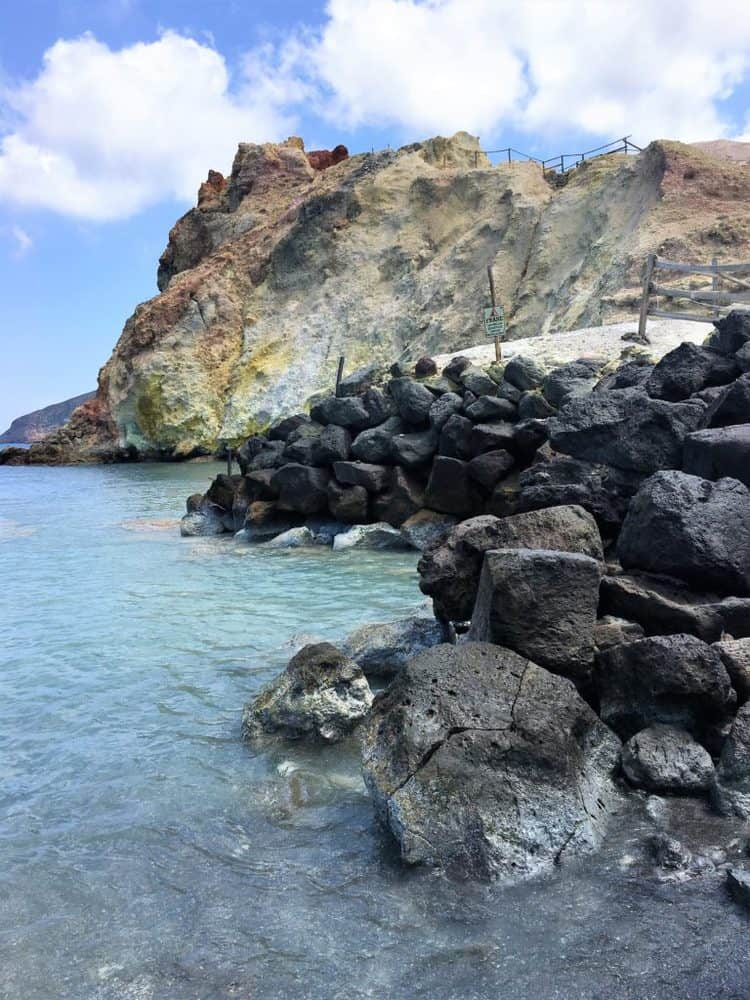 This excursion brings us to the end of our vacation. Now all there was left to do is enjoy one more huge meal with this delicious pasta al forno prepared by my cousin and then the goodbyes but until next time!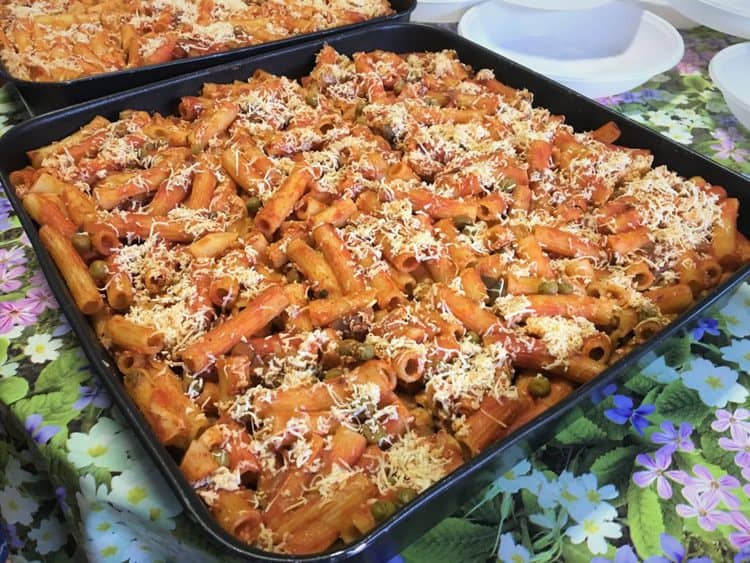 Three glorious weeks filled with adventure, great food and quality time spent with family. The ideal combination! What I know for sure is that I need to plan my return in order to explore the southeast corner of this island. I hope you've enjoyed this journey and that you now want to go to Sicily as well! Should you have any comments or specific questions about the places I visited in order to help plan your trip, do not hesitate to contact me. Ciao for now!