Sweet Ricotta Easter Calzone is a traditional Easter dessert originating from the town of Sannicandro (Puglia region of Italy). The perfect, easy and gluten free dessert to end your Easter meal with! This post is sponsored by Egg Farmers of Canada. I have been compensated monetarily however all opinions are my own.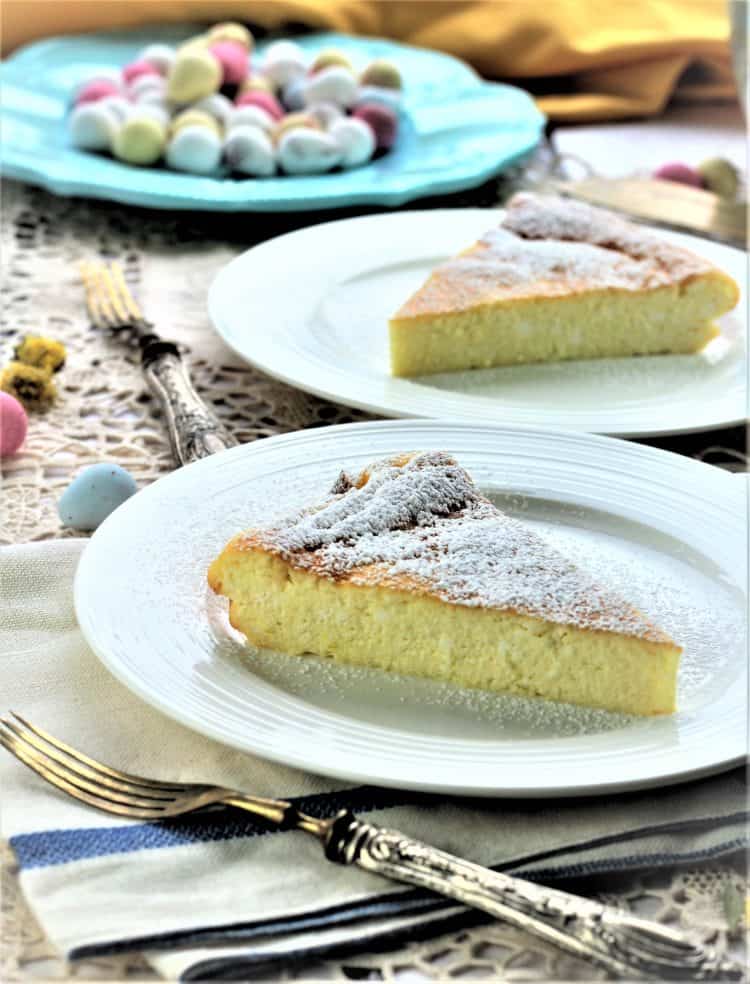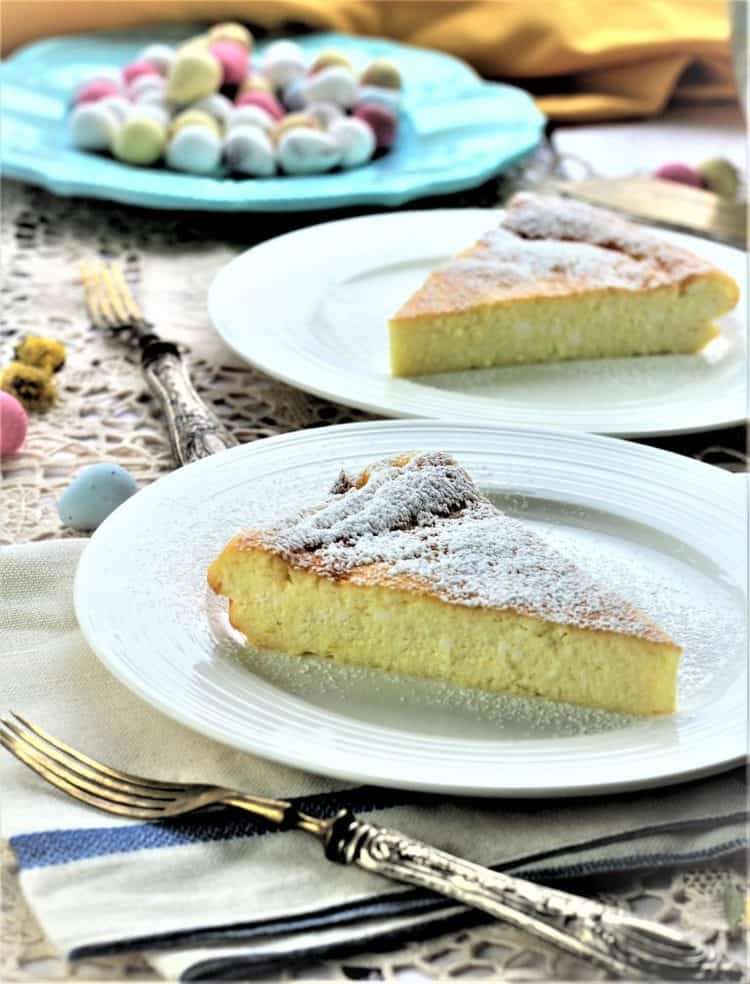 Yet another sweet ricotta recipe for Easter! For this post I strayed away from my family's Sicilian traditions in order to share with you a traditional Italian Easter dessert from my husband's side of the family.
Sweet Ricotta Easter Calzone, also referred to as pizza di ricotta dolce, is what his family prepares for Easter each year. And since it is made with one of my favorite ingredients, I just had to add it to my repertoire of ricotta treats!
However, Easter is all about the eggs, right? So it's the right time to celebrate Canadian eggs by sharing some our favorite egg dishes with family and friends this weekend. This recipe contains 6 eggs therefore giving it a smooth custard like texture as compared to other ricotta desserts such as, for example, my Mom's Sicilian Ricotta Pie.
Eggs are definitely a nutritional power house and oh so versatile. You know how much I love my eggs whether it's for breakfast, lunch, dinner or, in this case, in Easter desserts! Eggs are most often my go-to lunch choice and one of my favorite recipes is one my mom often made for us when I was growing up, that is her Fried Eggs with Greens.
Here are some interesting facts about Canadian eggs:
Did you know that no matter where you purchase your eggs in Canada, they are always from a Canadian farmer?
Were you aware that eggs travel from farms to the grocery store in less than a week?
That means you can always count on top-quality, fresh Grade A Canadian eggs. I was amazed to learn there are over 1000 Canadian family farms that work year-round from coast to coast in order to provide us with the local, high-quality eggs that we enjoy each day. I don't know about you, but that's important to me when purchasing food for my family. You can get more information including recipes, such as these beautiful Sunny Side up Pavlovas, and nutritional information by visiting www.eggs.ca.
The origins of Sweet Ricotta Easter Calzone
As I mentioned above, this is a typical Easter dessert originating from the tiny town of Sannicandro, Bari (Italy). I've been enjoying Sweet Ricotta Easter Calzone for over 25 years now! I love the custard like texture of the ricotta, lightly sweetened and flavored with lemon zest. It's always been difficult for me to stop after only one slice.
My husband's grandmother made it each Easter but unfortunately I did not obtain the recipe from her. However, my brother-in-law's mother has continued this yearly tradition and thankfully she was happy to share the recipe with me. Grazie Filomena!
Most of us recognize a calzone as a pizza type dough with a filling in it, so you may be wondering where's the dough? There is definitely no dough in this recipe and traditionally this dessert has always been referred to as a calzone by my husband's family both here and back in their hometown in Italy.
How to make Sweet Ricotta Easter Calzone:
This has got to be one of the easiest and least time consuming desserts I have ever made. And did I mention that it's also gluten-free? So it's the perfect dessert if anyone in your family is allergic to gluten!
All it takes is 4 simple ingredients : eggs, ricotta; sugar; and lemon zest, to make this wonderful treat! If you choose to indulge you can also add liqueur such as Sambuca to give it that extra zing.
Mix all the ingredients in 1 bowl. Really, that's it! No separating of eggs, no dough to prepare. Simply combine everything in 1 bowl and stir.
Pour the batter into a parchment paper covered pie dish, which means no dishes to scrub afterwards!
Bake at 350F for 1 hour until golden on top. It will be puffy when you remove it from the oven but will quickly deflate as it cools. This is perfectly normal.
Let cool completely. If you'd like, dust with powdered sugar before serving.
Watch how easy it is to make!
Tips and suggestions:
The centre may still be slightly jiggly when you remove it from the oven, this is normal. It will set as it cools.
Keep leftovers refrigerated. Sweet Ricotta Easter Calzone will keep well in the refrigerator for up to 4 days.
If you're serving a large crowd, this recipe can be easily doubled and baked in a larger pan.
To serve, cut into wedges as you would a pie or cut into squares for individual bite size servings.
How will each of you be enjoying your eggs this Easter? Please share your beautiful egg creations by posting your photos with #Eastertaining on social media! If you give this recipe a try, do tag me with your photos by using @mangiabedda or #mangiabedda on Facebook or Instagram.
For more info, including recipes, visit eggs.ca or you can also follow @eggsoeufs on Twitter, Instagram as well as Get Cracking on Facebook!
Check out more of my favorite Easter recipes!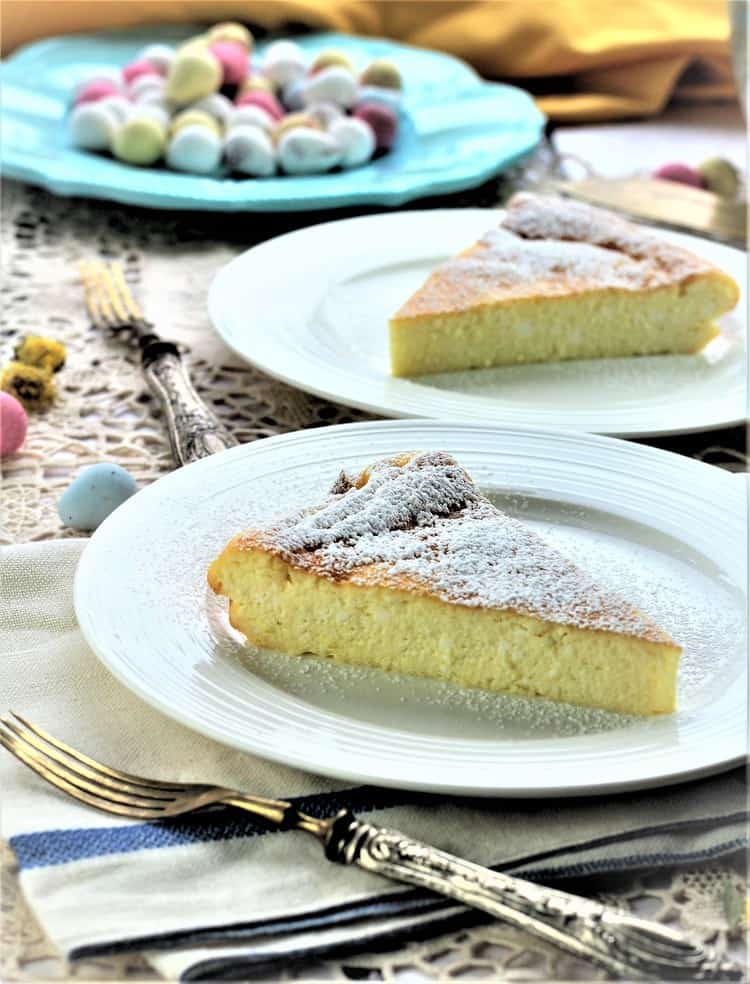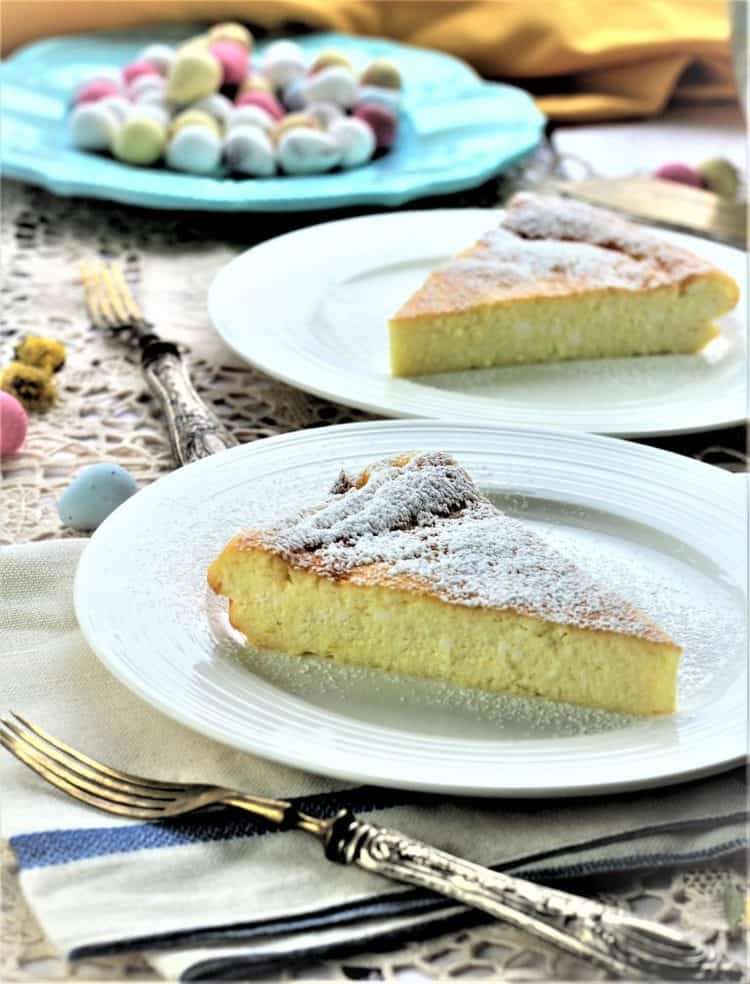 Ingredients
6

large

eggs

475

grams

ricotta

(2 1/4 cups)

1/2

cup

granulated sugar

1

lemon, zested

6

tbsp

water

1/4

cup

Sambuca,

optional

powdered sugar for dusting,

optional
Instructions
Preheat oven to 350F. Prepare a 9 inch pie plate by covering it in parchment paper.

Crack eggs and place in a large bowl. Add ricotta, sugar, lemon zest, water and Sambuca (optional).

Stir until well combined. Pour in prepared pie plate and bake for 1 hour until lightly browned on top.

Place on a rack to cool before serving.

Optional: dust lightly with powdered sugar before serving.
Notes
The center may still be slightly jiggly when you remove it from the oven. It will set as it cools.
Let cool completely before serving.
Store in the refrigerator up to 4 days.
This recipe may be doubled and baked in a larger baking pan.
Nutrition
Calories:
212
kcal
|
Carbohydrates:
14
g
|
Protein:
12
g
|
Fat:
11
g
|
Saturated Fat:
6
g
|
Cholesterol:
188
mg
|
Sodium:
110
mg
|
Potassium:
121
mg
|
Sugar:
12
g
|
Vitamin A:
495
IU
|
Vitamin C:
1
mg
|
Calcium:
147
mg
|
Iron:
1
mg