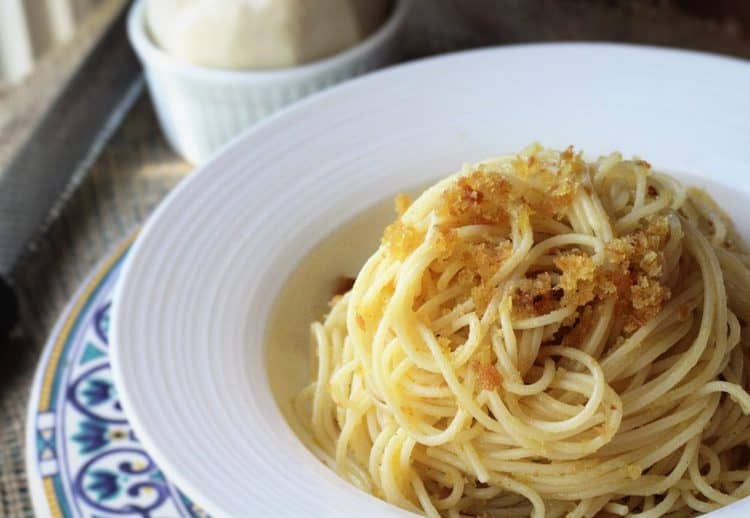 Pasta with breadcrumbs or "pasta ca' muddica" as we call it in Sicilian. This is peasant food at it's best. All you need is leftover bread, spaghetti, lots of olive oil and grated cheese. That's all!
Pasta ca' muddica is what my mother would make when we were little. These days, whenever we visit she goes all out and prepares the Sunday sauce with the meatballs, the stewed meat and all the rest, otherwise she feels like she's not feeding us anything worthwhile. But I occasionally ask her to make the simple, yet delicious, dishes that I ate as a child for my children as well.  I'd like for them to be exposed to these traditional meals. At first, my son did not take to this pasta while my daughter loved it. He never liked pasta that was crispy, such as the corners of  lasagna that harden in the oven. And here was a pile of little crispy bits of breadcrumbs all over his spaghetti! He soon got past it and now will eat bowls full topped with hot peppers in oil.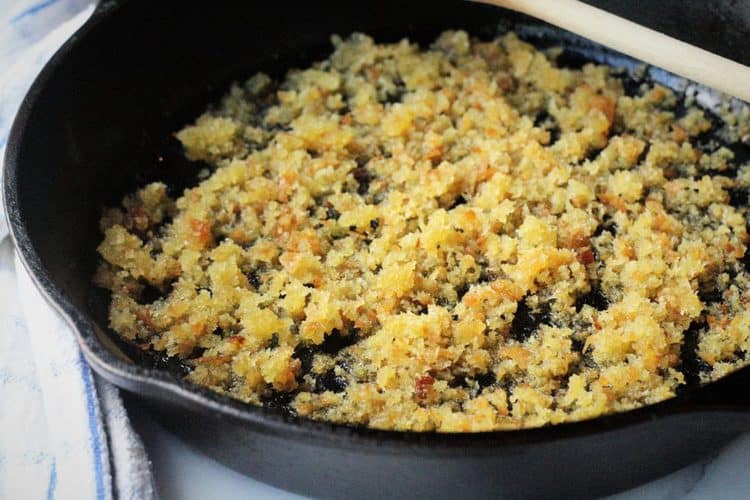 This is the perfect dish to make on those nights when you're in a hurry, as long as you have some bread lying around. I have visions of my mother grating all of her bread on your typical box grater whenever she needed fresh breadcrumbs for her meatballs or this pasta.
Today, I just take a piece of bread (without the crust) and pulse it a few times in the food processor. You don't want fine breadcrumbs but rather coarsely grated little chunks that will brown and crisp up nicely in the olive oil. Dried breadcrumbs will not do here. I had some bread that was about to go stale the other day so I made a batch of these breadcrumbs and kept them in the fridge for a few days until I was ready to make this pasta.
I have seen variations of this dish which include anchovies (we never liked them!), hot pepper flakes, garlic, pine nuts and even raisins. So you can vary the recipe according to your taste, but in our house we stick to the traditional breadcrumbs and cheese.
Pasta ca' Muddica (Pasta with Breadcrumbs)
Pasta with Breadcrumbs or pasta ca' muddica as we say in Sicilian, is an easy last minute dinner idea and a perfect example of 'cucina povera'.
Ingredients
500

grams

spaghettini

or spaghetti

1/2

cup

extra virgin olive oil

plus more for serving

3

cups

coarsely grated fresh bread crumbs

crusts removed

lots of freshly ground pepper

grated ricotta salata or parmesan cheese
Instructions
Bring a large pot of water to a boil. Add salt and cook spaghettini until al dente.

Meanwhile, heal oil in a large skillet on medium high heat. Add the breadcrumbs and fry, stirring often, until the crumbs are crisp and golden, about 5 minutes. Remove from heat.

Add the breadcrumbs to the drained spaghettini and combine well. If the pasta is too dry stir in a little extra olive oil. Add freshly grated black pepper and serve with grated cheese.