One of my best food memories (and you know I've got tons of them!) is that of my husband and I sitting at a winery in Tuscany sampling vin santo, a sweet Italian dessert wine, with classic almond biscotti. The view of the countryside dotted with neatly terraced vineyards and cypress trees was breathtaking and I thought to myself, "it doesn't get better than this!" I tried to recreate that experience with a bottle of vin santo and biscotti back at home, but somehow it just wasn't the same. Regardless, I still enjoy my biscotti!
Biscotti is an Italian word (as well as the plural  of biscotto) meaning twice baked. It is also the general Italian word for cookies. While we call these cookies "biscotti", in Italy they are commonly referred to as "cantucci" or a smaller version "cantuccini". Basically, biscotti consist of a cookie dough which is shaped into a log and baked. The cookies are then sliced and baked once again until crisp, and therefore are twice baked.
Classic almond biscotti are what my mother has always made and I had not had them in a long time.  I recently taught a biscotti making class using my mother's recipe and I've come to enjoy and appreciate, once again, this simple cookie. I have tried other recipes but prefer my mother's recipe as the dough comes together in minutes and is easy to handle and shape.
To make things a little more interesting I decided to introduce a few variations on the typical almond biscotti such as pistachio and dried cranberry as well as hazelnut and chocolate. This recipe makes it easy to try all three combinations since the dough is divided into three logs. If you opt for this add 2/3 cup of ingredients for each piece of dough.
Biscotti are the perfect accompaniment for your coffee, tea or vin santo. They are simple to make and since they are baked twice and dry, they keep well for a couple of weeks stored in an airtight container or can also be frozen.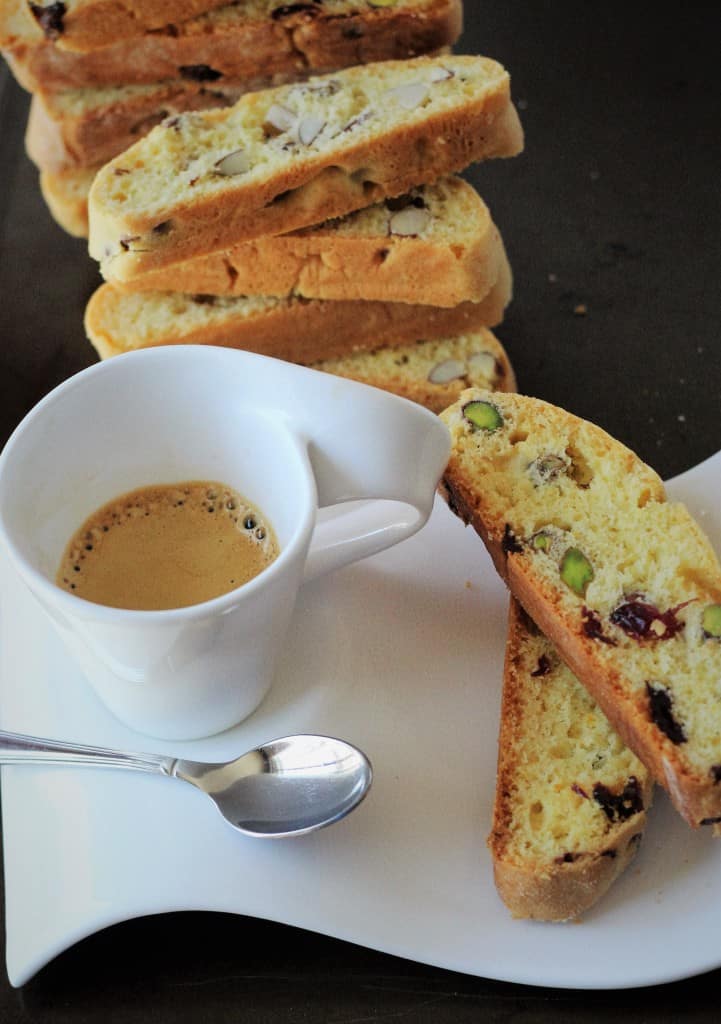 Classic Almond Biscotti with Variations
Biscotti are classic Italian cookies. In this recipe I am offering you three delicious variations including classic almond; pistachio and cranberry; and chocolate hazelnut.
Ingredients
7

eggs

1

cup

granulated sugar

¾

cup

vegetable oil

finely grated zest of 1 orange or lemon

6

teaspoons

baking powder

4

cups

all purpose flour

Possible add-ins:

2

cups

cups coarsely chopped almonds

1

cup

shelled pistachios and 1 cup dried cranberries

1

cup

roasted hazelnuts

skins removed and 1 cup chocolate chips
Instructions
In a large bowl, whisk together the eggs, sugar, vegetable oil and zest.

Add the flour and baking powder and stir with a wooden spoon. The mixture will resemble a very soft bread dough. Stir in the almonds (or other ingredients of your choice) and distribute evenly throughout the dough.

Preheat oven to 350F and prepare 2 baking sheets with parchment paper.

Divide the dough into three pieces. On a lightly floured surface, shape each piece into a log approximately 30 cm long by 8 cm wide. Transfer each log onto the baking sheet.

Bake in the centre of the oven for approximately 40 minutes or until lightly golden in color.

Transfer to a wire rack and let cool for 15 minutes.

Reduce the oven temperature to 275F. Place each log on a cutting board. With a serrated knife, slice each log into 1 cm cookies. Transfer the cookies back onto the baking sheets and continue baking for about 20 minutes or until the desired level of crispness.

Transfer to the wire rack and let cool completely.