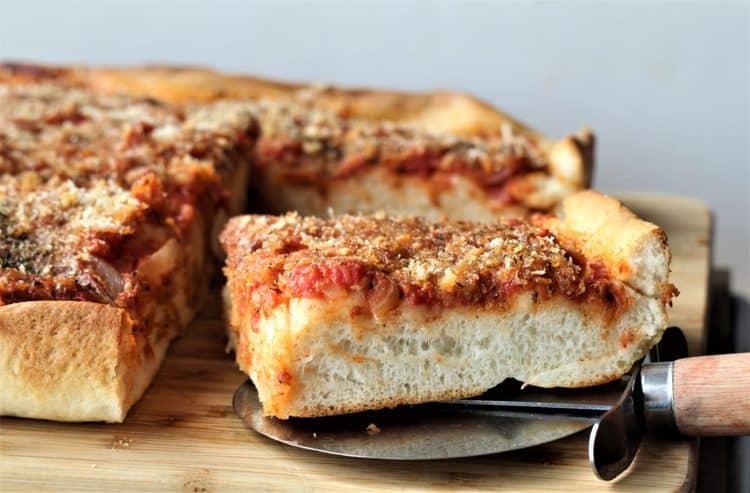 Let's talk about sfincione or sfinciuni as it would be referred to in Sicilian dialect. Have you ever heard of it? Neither have I until recently. You might say it looks just like pizza, in fact I refer to it as Sicilian pizza but I know some Sicilians may not agree with that. You see, Italians can be very particular about the authenticity of their recipes. But in my defence, I did my research. Sfincione Siciliano is a typical Sicilian pizza which consists of a thicker crust (just like a focaccia) and baked in rectangular shaped pans. The dough can be dotted with anchovies preserved in oil (although I opted not to due a strong dislike of anchovies in my home) and then covered with a delicious tomato sauce with lots of onions and flavoured with oregano. The sauce is then covered with either shredded slightly aged caciocavallo cheese or grated pecorino and then covered with a crispy coating of lightly toasted breadcrumbs. I opted for the pecorino and I am pleased with the less cheesy result. You can practically say it makes this pizza lighter!
Actually, I've been eating some form of sfincione all my life. Having grown up in Montreal, I've been used to eating the thick crusted, rectangular shaped, tomato sauce covered pizza that is common in all Italian bakeries. I'm thinking that perhaps this pizza evolved from sfincione. However, the crisp breadcrumb coating absorbs some of that tomato sauce thus preventing it from becoming greasy and overly saucy. You know what I'm talking about! My mother has always made, and still does, a similar homemade version but with cheese and whatever toppings we were into at the moment.
I have never tasted an actual sfincione from Sicily but without a doubt I will before this year is over.  Nonetheless, my kids and I are quite pleased with this version. But I'll let you know in a few months how it compares to a true Sicilian baked sfincione!
Sicilian Sfincione (Sicilian Style Pizza)
Sfincione Siciliano is a Sicilian style pizza which differs from your usual pizza as it is coated with a layer of crisp breadcrumbs. A delicious alternative to your typical cheese covered pizza and definitely a must-try!
Servings
1
10X16 inch pizza
Ingredients
For the dough:
1

envelope dry yeast

1 1/4

cups

water

3 1/4

cups

all-purpose flour

2

tsp

salt

2

tbsp.

olive oil

1

tbsp.

sugar
For the sauce:
1

large yellow onion

thinly sliced

2

tbsp.

olive oil

14

oz

can peeled tomatoes

1

garlic clove

minced

1

tsp

dry oregano

salt

to taste
Sfincione toppings:
1/2

cup

dry bread crumbs

1/4

cup

grated pecorino and/or Parmigiano cheese

anchovy fillets packaged in oil

optional

1/2

tsp

dry oregano

olive oil

for drizzling
Instructions
In a small sauce pan, warm the water until tepid. Place the yeast in a small bowl and cover with warmed water. Let sit for 10 minutes to proof. In the bowl of a stand mixer fitted with a dough hook, combine the flour and salt. When the yeast has proofed, stir in the olive oil and sugar. With the mixer running on low, pour the yeast mixture into the flour. Mix until combined. Switch to medium speed and knead the dough for 10 minutes until smooth and elastic. If necessary, knead by hand for a few minutes. Place the dough in a greased bowl, turning to coat all sides. Cover in plastic wrap and let rise until doubled in bulk, about two hours.

Meanwhile prepare the toppings. Toast the bread crumbs in a dry pan on medium heat until lightly browned, about two minutes. Set aside. Heat olive oil in a medium sized skillet and sauté the onions until golden, about five minutes. Stir in the minced garlic and cook two minutes longer. Add the peeled tomatoes and break them apart with a wooden spoon. Stir in the oregano and salt, to taste. Lower to a simmer and cook for 30 minutes.

When the dough has risen, oil a 10x16 inch baking pan generously. Using your finger tips, stretch out the dough to cover the entire pan. Cover and let sit 30 minutes.

Preheat oven to 425F. If using, distribute anchovy fillets evenly over the dough. Cover with the prepared tomato sauce. Sprinkle the grated cheese over the sauce, then cover with toasted breadcrumbs. Sprinkle the remaining oregano and lightly drizzle with olive oil.

Bake for 25 minutes until the bottom is browned. Cut into squares and serve hot or cold.
We are a participant in the Amazon Services LLC Associates Program, an affiliate advertising program designed to provide a means for us to earn fees by linking to Amazon.com and affiliated sites.