Sfincione Siciliano is a Sicilian style pizza unlike any other you've tried before. Topped with crispy bread crumbs and grated cheese for a satisfying crunch with every bite!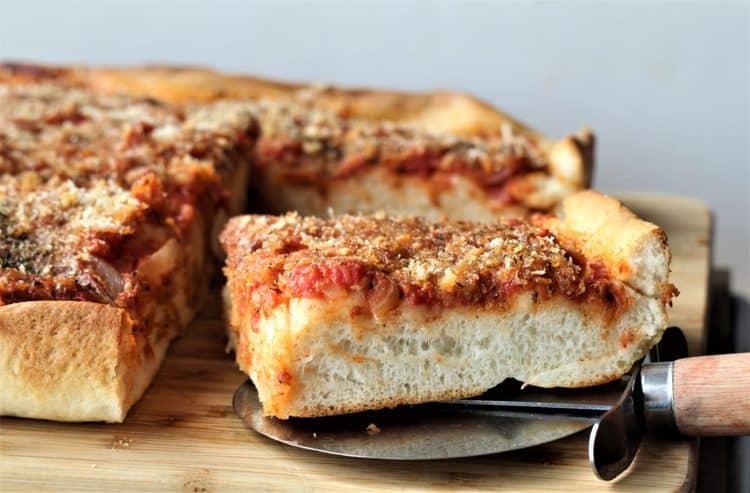 Let's talk about Sfincione Siciliano or sfinciuni as it is referred to in the Sicilian dialect. Have you ever heard of it? Neither have I until recently.
But Sfincione Siciliano looks just like pizza!
You might say it looks just like pizza. In fact I refer to it as Sicilian style pizza but I know some Sicilians may not agree with that. You see, Italians can be very particular about the authenticity of their recipes.
Sfincione Siciliano is a Sicilian style pizza with a thicker crust (just like a focaccia) and is baked in rectangular shaped pans. I have already shared with you my recipe for Black Olive Focaccia .
The sfincione dough is usually covered with anchovies preserved in oil. However, you'll notice that I did not include any in my recipe. This is due to a strong dislike of anchovies in my home!
The anchovies (if using) are covered with a delicious tomato sauce with lots of onions and oregano. Lastly, the sauce is topped with either shredded aged caciocavallo cheese or grated pecorino cheese as well as a crispy, lightly toasted breadcrumbs. I opted for the pecorino cheese and I am pleased with the result. You can practically say it makes this pizza lighter!
Believe me, this is unlike any other pizza you've had before. That crispy breadcrumb topping provides you with a satisfying crunch with every bite!
I've probably eaten Sfincione all my life!
I realize that I've been eating some form of sfincione since I was born. Raised in Montreal, I'm used to the thick crusted, rectangular shaped, tomato covered pizza that is common in all Italian bakeries. I think perhaps this pizza evolved from sfincione?
On sfincione, the crisp breadcrumb coating absorbs some of the tomato sauce thus preventing it from becoming greasy and overly saucy. You know what I'm talking about! My mother has always made, and still makes, a similar homemade version with mozzarella and whatever toppings we were into at the moment.
Watch how easy it is to make!
I have never tasted an authentic sfincione from Sicily but without a doubt I will before this year is over. Nonetheless, my kids and I are quite pleased with this version. But I'll let you know in a few months how it compares to a true Sicilian baked sfincione!
Until then I will continue to enjoy my own homemade sfincione and I hope you decide to give it a try as well. If you do, please tag me with your photos on Facebook or Instagram with @manigabedda or #mangiabedda. Don't forget to pin the recipe for later! Buon appetito!
Ingredients
For the dough:
1

envelope dry yeast

1 1/4

cups

water

3 1/4

cups

all-purpose flour

2

tsp

salt

2

tbsp.

olive oil

1

tbsp.

granulated sugar
For the sauce:
1

large yellow onion

thinly sliced

2

tbsp.

olive oil

14

oz

can whole peeled tomatoes

1

garlic clove

minced

1

tsp

dry oregano

salt

to taste
Sfincione toppings:
1/2

cup

dry bread crumbs

1/4

cup

grated pecorino and/or Parmigiano cheese

anchovy fillets packaged in oil,

optional

1/2

tsp

dry oregano

olive oil

for drizzling
Instructions
For the dough
In a small sauce pan, warm the water until tepid. Place the yeast in a small bowl and cover with warmed water. Let sit for 10 minutes to proof.

In the bowl of a stand mixer fitted with a dough hook, combine the flour and salt. When the yeast has proofed, stir in the olive oil and sugar. With the mixer running on low, pour the yeast mixture into the flour. Mix until combined.

Switch to medium speed and knead the dough for 10 minutes until smooth and elastic. If necessary, knead by hand for a few minutes. Place the dough in a greased bowl, turning to coat all sides. Cover in plastic wrap and let rise until doubled in bulk, about two hours.

Meanwhile prepare the toppings. Toast the bread crumbs in a dry pan on medium heat until lightly browned, about two minutes. Set aside.

Heat olive oil in a medium sized skillet and sauté the onions until golden, about five minutes. Stir in the minced garlic and cook two minutes longer. Add the peeled tomatoes and break them apart with a wooden spoon. Stir in the oregano and salt, to taste. Lower to a simmer and cook for 30 minutes.
To assemble
When the dough has risen, oil a 10x16 inch baking pan generously. Using your finger tips, stretch out the dough to cover the entire pan. Cover and let sit 30 minutes.

Preheat oven to 425F. If using, distribute anchovy fillets evenly over the dough. Cover with the prepared tomato sauce. Sprinkle the grated cheese over the sauce, then cover with toasted breadcrumbs. Sprinkle the remaining oregano and lightly drizzle with olive oil.

Bake for 25 minutes until the bottom is browned. Cut into squares and serve hot or cold.
Notes
Sfincione Siciliano can be frozen once baked. Wrap tightly with plastic wrap prior to freezing. Defrost in the refrigerator and place in the oven to warm before serving.
Please note that the nutritional information provided may vary according to exact portion size.
Nutrition
Calories:
207
kcal
|
Carbohydrates:
32
g
|
Protein:
5
g
|
Fat:
6
g
|
Saturated Fat:
1
g
|
Cholesterol:
2
mg
|
Sodium:
495
mg
|
Potassium:
120
mg
|
Fiber:
1
g
|
Sugar:
2
g
|
Vitamin A:
45
IU
|
Vitamin C:
3.8
mg
|
Calcium:
49
mg
|
Iron:
2.2
mg
We are a participant in the Amazon Services LLC Associates Program, an affiliate advertising program designed to provide a means for us to earn fees by linking to Amazon.com and affiliated sites.