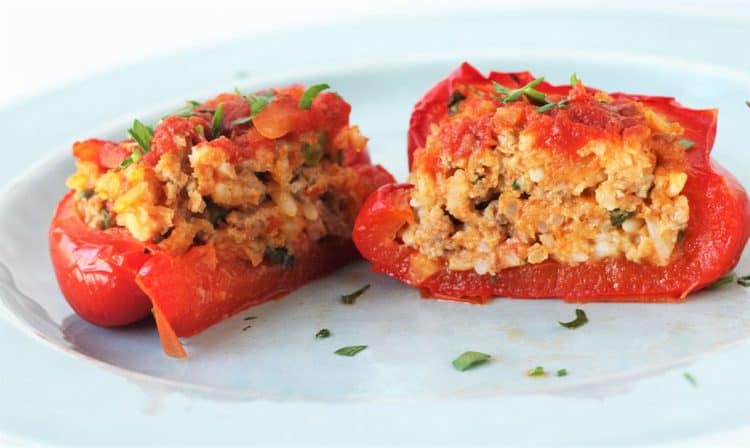 These are the best stuffed peppers you'll ever make! How do I know? 'Cause they're my mother's stuffed peppers! Obviously I'm a little biased as I've been eating these all my life. Of course, I started out eating only the filling and tossing the pepper aside when I was a child but I've finally graduated to eating the whole thing. And now my daughter eats only the filling as well!
Unlike most stuffed peppers that I've tried, the filling in these peppers is deliciously cheesy and not dry. That's because they consist of the perfect blend of meat, bread, rice and cheese. I had to experiment with the amount of each ingredient since, as usual, my mother has no quantities written down. Although I'll admit they did not turn out exactly as hers do, the flavor is definitely there. I think I'll have to try experimenting with the amount of bread in the recipe. But for now, I'm quite confident sharing this recipe with you.
The great thing about this stuffing recipe is that it can also be used to stuff other veggies such as eggplants or zucchini, as my mother often does. While most recipes for stuffed peppers use raw peppers, my mother has always boiled her peppers first in order to soften them. I do recall that my father was a fan of soft, over cooked vegetables! This is really a matter of personal taste and you can opt not to precook them. I decided to boil them for about 7 minutes before stuffing and I was quite satisfied with the resulting texture, not too crisp nor soggy.
You can also use leftover rice that you may have on hand for the filling. I happened to have on hand leftover rice with peas in it which you may be able to detect in some of the photos. You will also have extra tomato sauce after using what's required in this recipe so you can easily make some pasta with tomato sauce to serve alongside the peppers or freeze it for future use. They are also easy to prepare in advance and simply reheated before serving. Buon appetito!
The Best Stuffed Peppers
My mother's stuffed peppers are the best stuffed peppers. Filled with ground meat, breadcrumbs, cheese and eggs these are a perfect side dish.
Ingredients
4

large bell peppers

1

tablespoon

olive oil

1

small onion

diced

1

garlic clove

1

can diced tomatoes

796 ml

250

grams

combined ground beef

veal and pork

2 1/2

cups

day old bread

crusts removed

1

cup

cooked white rice

1/2

cup

grated parmesan cheese

1

small clove garlic

finely chopped

2

tablespoons

chopped fresh parsley

1

egg

salt and pepper
Instructions
Cut each pepper in half, remove the stem, seeds and ribs. Boil for about 7 minutes then set aside to cool.

Prepare tomato sauce: In a medium sized sauce pan, heat the olive oil. Add onion and garlic and sauté until translucent. Add the diced tomatoes and bring to a boil. Lower to a simmer and cook, uncovered, for 20 minutes. Add salt and pepper.

Prepare filling: in a small skillet brown the meat until no longer pink. Transfer to a large bowl.

Tear bread into small pieces (or alternately process in food processor) and add to the meat along with the rice, parmesan cheese, garlic, parsley, egg and salt and pepper to taste.

Stir in 1/2 cup of the tomato sauce. Combine all ingredients well.

Preheat oven to 350F.

Divide the stuffing evenly amongst the 8 pepper halves and place on a greased baking pan. Top each pepper with a tablespoon of tomato sauce.

Bake for 1 hour. Serve hot.