Tagliarini with Beans is my mother's take on pasta e fagioli. This is a classic Italian example of 'cucina povera'. Commonly served during the winter months in Sicily, this is the ultimate comfort food!
Tagliarini with Beans or Tagghiarini cu fasolu in Sicilian , is my mother's pasta e fagioli recipe. When I was younger I did not like eating beans. Each time my mother made this dish, I'd make a huge pile of beans on one side of my plate while I devoured the pasta. Thank goodness I've long since gotten over my aversion to beans!
The ultimate Italian comfort food!
My mother makes the tagghiarini just a little bit thicker than your typical pasta. As a result they have a satisfying bite to them. Occasionally a few of them stick together when cooking and I would intentionally fish those out 'cause I love that chewier texture. Combine that with the creaminess of the beans and I'm in heaven! This is definitely not the most elegant dish but it is a classic example of cucina povera or peasant food. It is the ultimate Italian comfort food.
Tagliarini with Beans is even better eaten the next day. The pasta is cooked in the water that you cooked your beans in, so the starch in the pasta combined with the beans creates a thick, creamy, smooth texture. In fact, I like to cook the tagliarini and let them sit a while before serving to get that texture I love.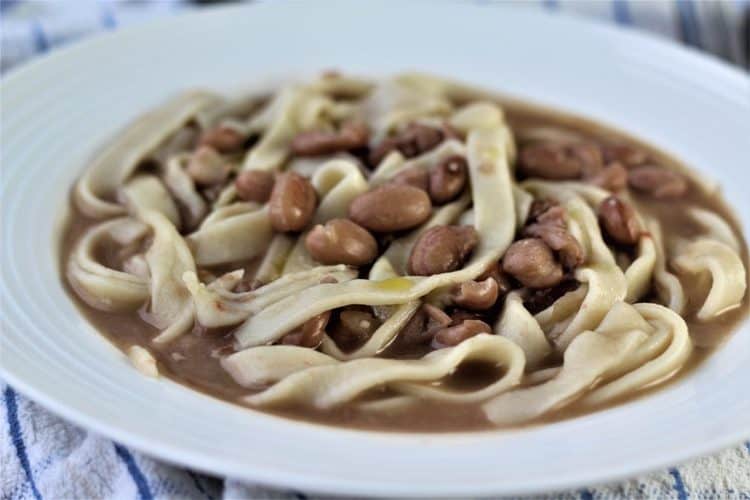 Can I use canned beans to make Tagliarini with Beans (Tagghiarini cu fasolu)?
You can't use canned beans to make this recipe since you need the cooking water from the beans in to cook your tagliarini. So you'll have to make sure you soak your beans overnight before cooking. Until recently my mother almost always used beans from her own garden but we now use dry romano beans.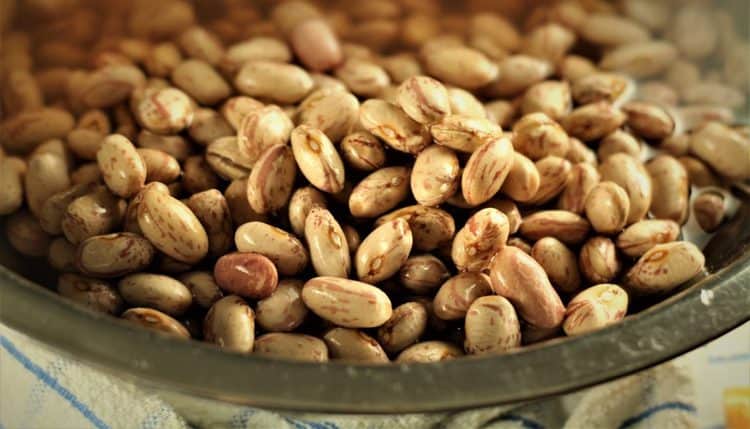 A few tips on making Tagliarini or Tagghiarini:
You'll note that the recipe only uses one egg which is much less compared to most pasta recipes. This results in a paler colored pasta.
I used my pasta maker to roll the dough and then used the attachment to cut the sheets into tagliarini. It's preferable not to roll the dough until the thinnest setting. I prefer a slightly thicker, chewier tagliarini so I stop at the third to last setting. Alternately, you can roll the dough with a rolling pin. Then fold the pasta sheet into thirds and use a sharp knife to cut approximately 1 cm wide strips.
You can also prepare your tagliarini ahead and freeze them to cook at a later date. They do not require defrosting, simply drop them into the boiling liquid to cook.
Unlike all other pasta dishes we never serve this dish with cheese. A light drizzle of good quality olive oil is all that is necessary before serving.
We still have several more weeks of winter left and indulging in a nice comforting bowl of Tagghiarini cu Fasolu will definitely help you make it to spring! Let me know how much you enjoyed this dish by tagging me with your photos with #mangiabedda or @mangiabedda on Facebook and Instagram. Buon appetito!
More of my favorite homemade pasta recipes!
Ingredients
For the beans:
2

cups

dry romano beans

(about 1/2 lb)

1

small

onion

finely diced

1

tomato

chopped

12

cups

water

salt

to taste

olive oil

for serving
For the tagliarini:
2 1/2

cups

all-purpose flour

1

large

egg

lightly beaten

1/2

cup

water
Instructions
To prepare the beans:
Place beans in a large bowl, cover with water and soak overnight.

The following day, heat olive oil in a large pot and sauté the onion. Add the chopped tomato and cook a few minutes.

Drain and rinse the soaked beans and stir into the onion-tomato mixture. Cover with 12 cups of water and bring to a boil. Lower to a simmer and cook, covered, approximately 1 1/2 hours or until tender. Add salt, to taste.
For the tagliarini:
Meanwhile prepare the tagliarini. Place flour in a mound on a clean surface. Make a well in the centre and pour in the egg and 1/2 cup water. Using your fingers, gradually incorporate the flour into the egg mixture and knead to form a dough, about 5 minutes. If the mixture is too dry add 1 tbsp. of water at a time until the dough holds together. The dough must not be sticky. When a smooth dough is formed, flatten into a disc, cover in plastic wrap and place in the refrigerator for half an hour.

Cut the chilled dough into 4 pieces. Flatten a piece of dough with your hands, lightly flouring both sides. Run the dough through the pasta maker with the flat rollers set to the widest setting. Run the dough twice at each setting until the sheet of dough is approximately 3 mm thick. I roll up to the third to last setting on my pasta maker. Cut each sheet into 3 and cover with a dish towel to prevent from drying while you roll the remaining pieces of dough.

Using the attachment to cut the pasta sheets into strips, run each piece through the machine to form tagliarini. Alternately, you can use a rolling pin to flatten the dough into thin sheets, then fold into thirds and using a sharp knife cut tagliarini strips that are approximately 1 cm wide. Loosely place the tagliarini on a dish towel and dust lightly with flour to prevent from sticking.

When the beans are tender, bring the liquid to a boil and add tagliarini. Cook until al dente, about 5 minutes and salt, if necessary. They are now ready to serve or if you prefer a thicker, creamier texture, turn the heat off and let the tagliarini rest for about 30 minutes before serving.

Drizzle lightly with olive oil before serving.
Notes
For a creamier texture, let the tagliarini sit for about half an hour before serving.
Tagliarini with Beans is even tastier reheated the following day as the broth thickens.
Please note that the nutritional information provided is approximate and will vary according to exact portion size. 
Nutrition
Calories:
435.31
kcal
|
Carbohydrates:
82.89
g
|
Protein:
22.41
g
|
Fat:
1.84
g
|
Saturated Fat:
0.47
g
|
Cholesterol:
27.28
mg
|
Sodium:
50.03
mg
|
Potassium:
1349.84
mg
|
Fiber:
12.2
g
|
Sugar:
2.9
g
|
Vitamin A:
210.36
IU
|
Vitamin C:
4.17
mg
|
Calcium:
194.79
mg
|
Iron:
9.67
mg
We are a participant in the Amazon Services LLC Associates Program, an affiliate advertising program designed to provide a means for us to earn fees by linking to Amazon.com and affiliated sites.