I have been intimidated by this cake for several years now. I've tasted endless versions of it made by Italian nonnas everywhere. Each one of them bursting with pride as they serve their delicious, fluffy creation and share their tips and techniques for the perfect cake. What sets one cake apart from the other and determines the successful outcome is the height, the dramatic height! Each time I take a bite, I'm in awe of how Nonna's Sponge Cake made with few ingredients could turn out so high, so light and airy, so utterly amazing!
I've mentioned before how I don't consider myself much of a baker. You have to be so precise when you're baking, whether it be the exact quantity of each ingredient and the techniques involved. I have the habit of not levelling my flour in the measuring cup with a knife, over stirring or under stirring, under baking, over baking…you have the idea. I enjoy preparing savory foods where you can improvise with different ingredients and flavorings and get a different result each time.
But I finally decided it was time to overcome my intimidation with this cake. I was at a bride's home this fall on her wedding day(in case you were not aware, at Italian weddings there's always a pre-ceremony buffet at the bride's parents home) when I, once again, came face to face with The Cake! I quickly sought out the baker of the cake and, of course, it was the nonna of the bride. It lay on the buffet table untouched. So, I had to slice that first piece for me. Heavenly! I immediately set out to praise her and, like nonnas everywhere, she explained that it was such an easy recipe, she could practically make it blindfolded. She then began to list the ingredients, which as you could imagine, she knew by heart. I quickly pulled out my cell phone and jotted down the amounts and list of ingredients. No instructions were given as it's obvious how to put a cake together, isn't it?
One week later, I attempted it without much success. Although the flavor was wonderful, it didn't have that dramatic height. The only thing I knew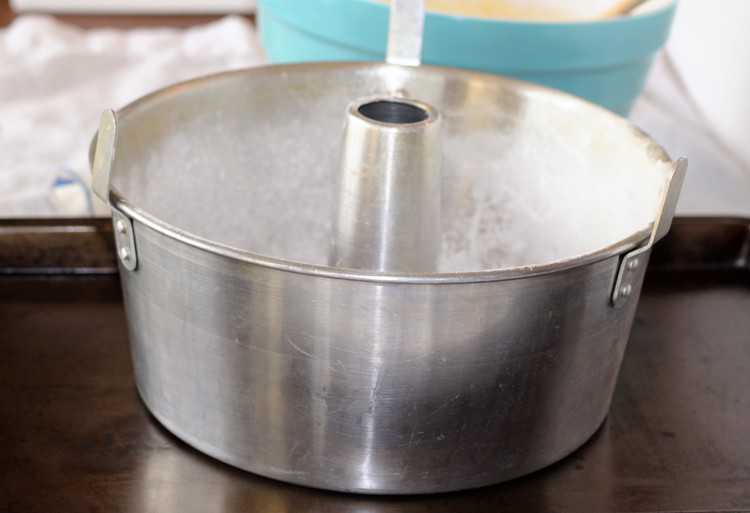 for sure, is that you have to turn the cake, still in the pan, upside down immediately when you take it out of the oven. It must remain upside down until completely cooled in order to get that light, fluffy texture. This is the cake pan that is necessary in order for air to be able to circulate underneath the cake while cooling.  I sought council through Facebook friends. Finally, a friend attempted it by separating the egg whites from the yolks and she had success. But the nonna who gave me the recipe insisted she didn't separate the eggs? So I tried again and behold, I had the height! I had done it!
So, you may think I'm nuts. All this over the height of a sponge cake? Yes! Believe me, it's all worth it. This simple cake is what you make at the last minute when you have to bring dessert over to a friend's house, or when you're expecting guests, or when you've got to bring something over to the bride's house before the wedding, or as a hostess gift. All it requires is a dusting of powdered sugar on top and you're set. No fancy icing, layers, sprinkles, chocolate chips or anything else. The holiday season is upon us and this cake is guaranteed to impress your guests!
I'm still working on getting more height on my cake. Recently, as everyone in my entourage knows how much I love this cake, a relative baked one for me. I actually measured the cake and it was 11.2 centimetres high!  I'm challenging each of you who loves to bake to try it out and let me know how high yours turns out. Meanwhile, I will continue baking this cake until I reach this height. Did I tell you how much I love challenges?  Good luck to all of you!
I almost forgot to mention, I have asked many people but apparently no one has an exact name for this cake. So, in honor of all the dedicated nonnas out there who bake this cake, especially those who deliver one to me,  I have decided to simply name the cake, Nonna's Sponge Cake!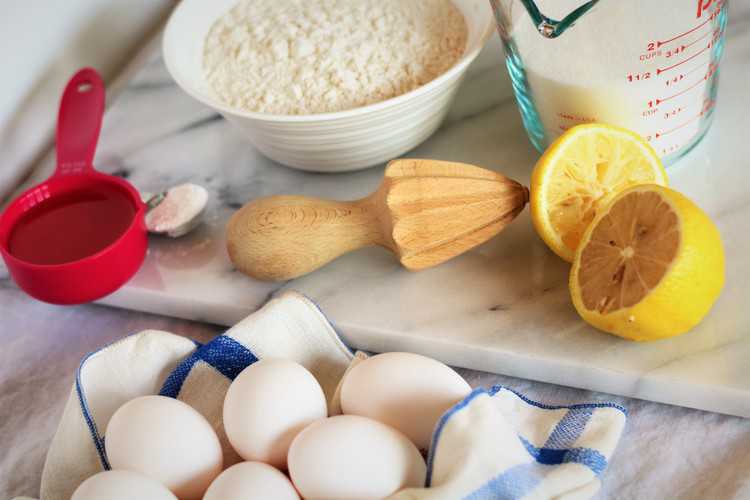 Nonna's Sponge Cake
Light, airy and fluffy, Nonna's Sponge Cake is the cake that all Italian nonnas make better than anyone elase. A must in all Italian households!
Ingredients
8

large eggs at room temperature

1 1/2

cups

granulated sugar

75

ml

vegetable oil

(1/4 cup plus 2 tbsp)

1

lemon

rind grated and juiced

1 1/2

cup

flour

sifted

2

teaspoons

baking powder

icing sugar

for dusting
Instructions
Separate the eggs placing the egg yolks in a large mixing bowl and the whites in the bowl of your stand mixer fitted with a whisk attachment. Add the sugar and oil to the egg yolks and whisk vigorously for several minutes until the mixture is pale yellow, thick and forms ribbons when you lift the whisk out of the bowl.

Stir in the lemon rind and lemon juice. Add the sifted flour and baking powder. Stir until well combined.

Whisk egg whites in the mixer on medium speed until the whites turn into stiff peeks, about 5 minutes.

Using a rubber spatula, gently fold in half of the egg whites. When completely incorporated, fold in the remaining egg whites.

Preheat oven to 350°F and lightly grease and flour your cake pan. Do not over grease as the cake may slip out of the pan when you turn it upside down to cool.

Pour the batter into the prepared cake pan and bake for 50 minutes, until a toothpick inserted in the centre of the cake comes out clean. Time may vary according to your oven.

When you remove the cake from the oven, gently turn it upside down on a flat surface and allow to cool completely before unmolding the cake. Dust lightly with icing sugar before serving.
We are a participant in the Amazon Services LLC Associates Program, an affiliate advertising program designed to provide a means for us to earn fees by linking to Amazon.com and affiliated sites.