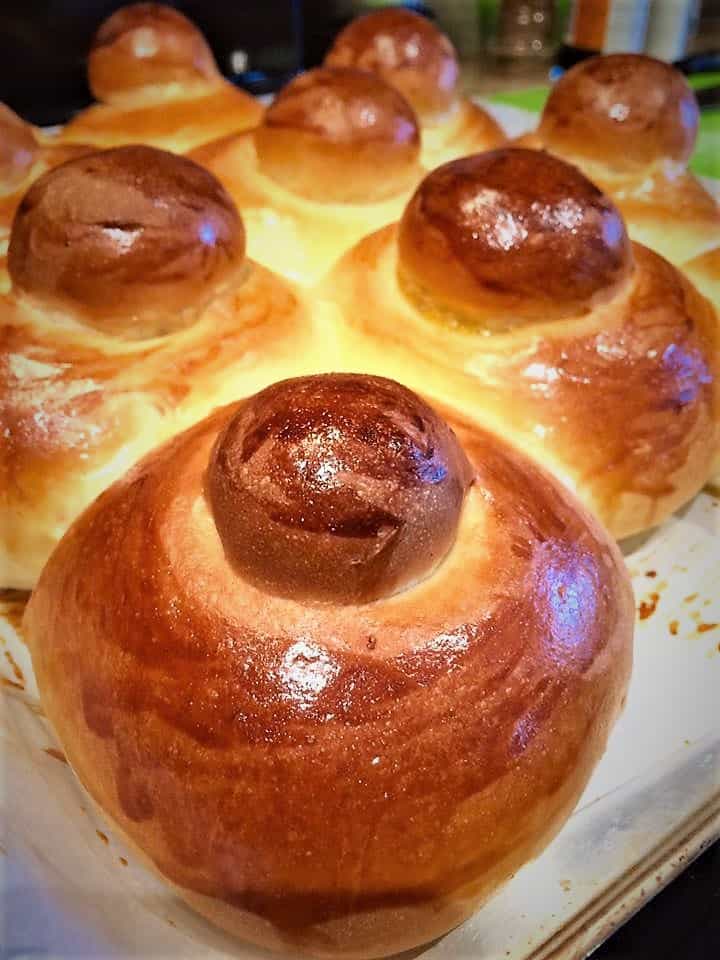 Picture it. Sicily 1991. A young woman visits her parents' hometown in Sicily for the first time. She's staying at her nonna's home in the outskirts of a tiny medieval village located high on a hilltop. She is sleeping in her nonna's bedroom with the shutters drawn tightly to keep out the morning sun. Suddenly, she is awakened by the sounds of a man shouting into a megaphone unintelligible words in a heavy Sicilian accent. She soon learns that this was the brioche man making his morning deliveries. That morning, she has her first taste of Sicilian brioche for breakfast and falls in love. My dear friends, that young woman was me!
Fast forward 25 years later. I am back in Sicily, once again enjoying my brioche, this time with my husband and children. I am not staying up in the hilltop village as I did last time so I'm not sure if the morning brioche man is still making his rounds. I obtain the recipe for brioche by a local cook and when I return home, I finally attempt to make them for the first time.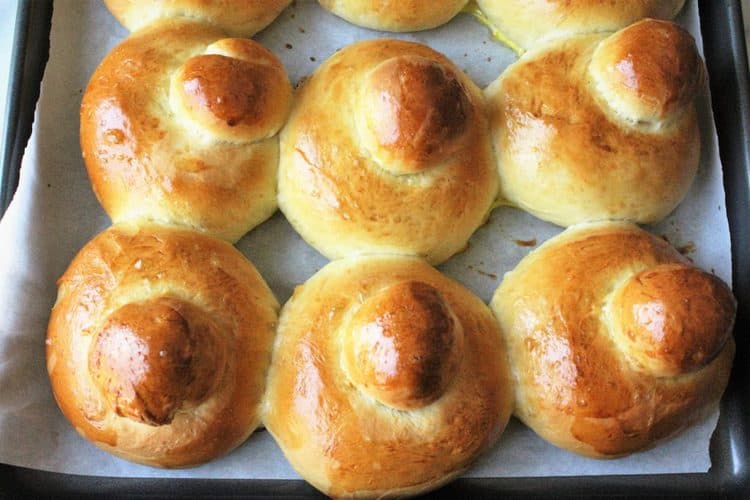 I have been asked what makes these brioche Sicilian. That is because they are found mainly in Sicily. For the most part, because on this most recent trip I saw similar ones that were referred to as Sicilian brioche in different parts of Italy. The "tuppo" on top is also characteristic of these brioche.
Now let's talk a little bit about how you eat brioche when you're in Sicily. You can have them for breakfast, at snack time around 10:00 sitting at the bar with your friends, or as a late night snack sitting at the bar with your friends! So basically, all day long. The first step is to remove the "tuppo", the cute little bun on top, and you pop that into your mouth.
You do not eat one on it's own. A brioche is accompanied by granita available in various flavors such as traditional lemon (my favorite), coffee, strawberry, pistachio, and so on. You can also top your granita with fresh whipped cream. Are you drooling now?  The other way of eating brioche, which I learned from my cousin, is to split it in half and stuff it with gelato. This, of course, makes the perfect breakfast! But unfortunately, since we are not in Sicily and do not visit the bar on a daily basis with friends on a hot blistery day, we (particularly my children) enjoy them cut in half and spread with Nutella. Oh well, we gotta make do!
After some experimenting with this recipe, here are some tips for making brioche:
-The recipe calls for brewer's yeast, which is sold in bakeries by the pound. You can also replace it with 1 envelope of traditional dry yeast.
-I bought 00 flour in my local Italian grocery store.  00 flour is an extra fine flour and is ideal for making bread, pizza and focaccia as well. Unfortunately it costs twice as much as regular four, but is well worth it.
-For best results, use a kitchen scale to weigh the base and the "tuppo" of the brioche in order to have equal shaped brioche.
-In order to nestle the "tuppo" deep within the base of the brioche, brush the brioche with egg wash before placing the tuppo on top. The egg will act as a glue and prevent the tuppo from falling out.
-After they have risen and you notice any of the "tuppo" that may be off centered and lopsided, resist the urge to nudge them back in the centre of the brioche as they will deflate. Trust me, I know. You will simply have a brioche with an off center "tuppo" and that's ok.
-The original recipe also called for placing the brioche in the oven with the light on in order to make them rise. The heat from the light helps them to rise. It does make a difference!
-If you don't plan to eat them the same day, or at most the next morning, I recommend you freeze the brioche and take out what you need the night before. In Sicily, they are only eaten the day that they are purchased, you will never have leftover brioche the next day. That's why you have the delivery man making his morning rounds!
Now onto the recipe!
Sicilian Brioche
Sicilian brioche are the ultimate treat enjoyed in Sicily for breakfast, midday or evening snack, basically any time of day. Best enjoyed with granita or sliced and stuffed with your favourite gelato!
Servings
12
Makes 12 brioche
Ingredients
3/4

cup

milk

preferably whole milk

20

grams

brewer's yeast

or 1 envelope traditional dry yeast

1 1/2

cups

all-purpose flour

2 1/2

cups

00 flour

1

tsp

salt

6

tbsp.

sugar

2

eggs

plus one extra for the eggwash

3

tsp

honey

1/3

cup

butter

melted

grated rind of 1/2 lemon

grated ring of 1/2 orange
Instructions
Warm the milk, transfer to a bowl and crumble the cube of yeast over the milk. Allow the yeast to dissolve in the milk while you prepare the remaining ingredients. It will not completely dissolve in the milk as traditional dry yeast will.

Meanwhile, in the bowl of your mixer with a dough hook attached, add the sifted flours, salt, and sugar.

Add the eggs, lightly beaten, butter, honey and orange and lemon rind and mix on the low setting until just combined.

With the mixer running on low speed, slowly add the milk/yeast mixture. When the dough has come together, increase the mixer to the next speed for about 5 more minutes.

The dough is slightly sticky but do not add more flour to it. When the dough is soft and elastic, transfer to a bowl.

Place in the oven with the light on and let sit for an hour.

After an hour, divide the dough into 12 -90gram balls. Remove a 15gram portion from each ball in order to form the "tuppo". Brush with egg wash (mix 1 beaten egg with 1 tbsp of milk) then make a deep indentation in each ball using your thumb and nestle the "tuppo" in the base of the brioche. Brush the tuppo with egg wash as well.

Transfer to a parchment paper covered baking sheet and continue with the remaining dough.

Place in oven with the light on and allow to rise for 3 hours.

Bake in the centre of the oven for 20 minutes or until the brioche are golden in color. Allow to cool before serving.