At this time of year most people have chocolate eggs, chicks or rabbits on their minds. All except for me. I look forward to my "cuddura cu l'ova", a traditional Sicilian Easter bread ring baked with whole eggs in it. This is the gift that children in Sicily receive each Easter (at least they did back in my mother's day) and this is what I look forward to each year. The word "cuddura" has its origins in the Greek word "kollura" which means crown thus referring to the circular shape of the bread. The bread dough is usually braided with the eggs nestled in the crooks. Today, cuddura are made in various shapes such as a basket which is typically given to children.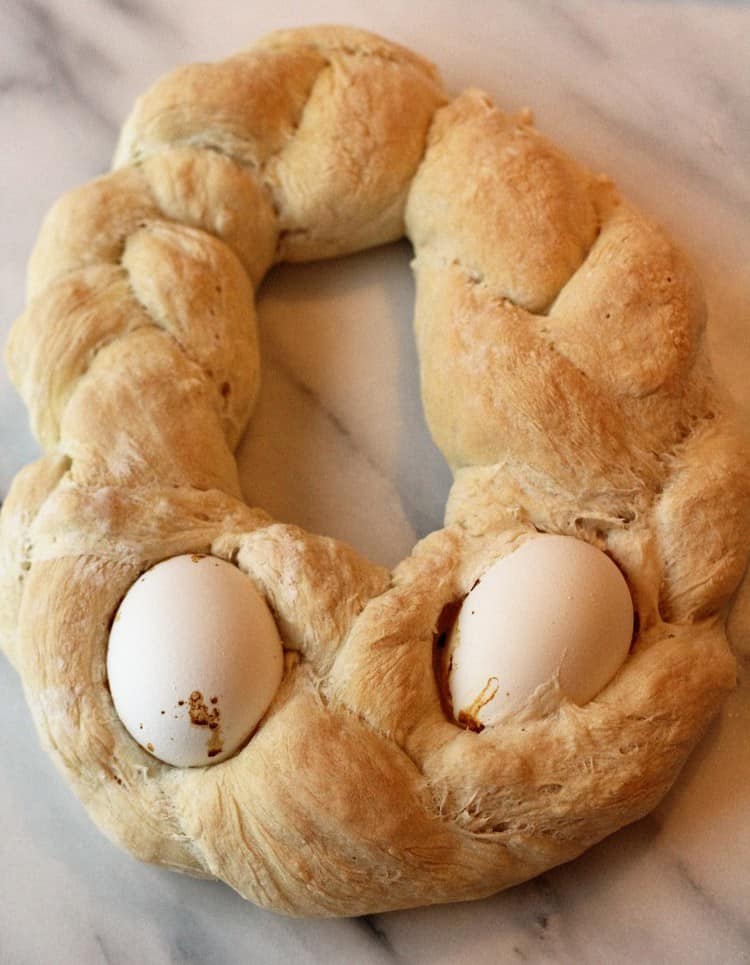 They were originally made with bread dough, however, they are also commonly made with a sweet dough and covered with candy sprinkles. When I was growing up cuddura was always made with bread dough which is perfect because you need bread to eat the eggs with. At least I do! And don't forget to serve the bread with olive oil.
Variations of cuddura are also made in different regions of Italy including Calabria and Puglia. I fondly recall my husband's grandmother's and mother's Easter "scarcella"(from Puglia) which consisted of a sweet dough shaped as a rabbit or chick with eggs in it.
I never participated in the cuddura making process before, but this year I decided it was time to learn. Of course, it consisted of the usual task of trying to get my mother to scale down the recipe so I can document it. Always a challenge, but I think we succeeded quite well!
Happy Easter!
Sicilian Easter Cuddura
Sicilian Easter Cuddura is a traditional Sicilian bread nestled with eggs prepared for Easter and presented to family and friends each Easter.
Ingredients
3 ½

cups

warm water

1

package yeast

1

teaspoon

sugar

3 ½

cups

all-purpose flour

1

teaspoon

salt

4-8

large eggs
Instructions
Place yeast and sugar in a small bowl and add ½ cup of the warmed water. Let sit for 10 minutes.

In a large bowl combine the flour and salt. Make a well in the centre and pour in the yeast mixture. Add the remaining 3 cups of warm water and stir with a wooden spoon to form a dough.

Place the dough on a lightly floured surface and knead for a few minutes. If the dough is too sticky add more flour.

Place the dough in a lightly oiled bowl, cover with a cloth and let rise for 2 hours until doubled in bulk.

Punch down the dough and let rise for an additional 15 minutes.

Preheat oven to 350F and cover baking sheets with parchment paper. Place 4-8 eggs (depending on which cudurra shape you are making) in a bowl, cover with hot tap water and let sit for 10 minutes while you shape the dough.

Divide the dough in 2. Divide each half into 3 equal pieces. Roll each piece into a -20 inch long rope. Braid the 3 ropes and form a circle by pinching the ends together.

Nestle 4 eggs at equal intervals into the dough. To form a basket, nestle 2 eggs on the bottom of the braid and slightly lengthen the top part of the braid to shape the basket's handle. Repeat with the remaining dough into the desired shape.

Bake for approximately 45 minutes until the bread is golden.