If you can't get to Sicily any time soon, bring Sicily home to you with some of my top ten must try authentic Sicilian recipes!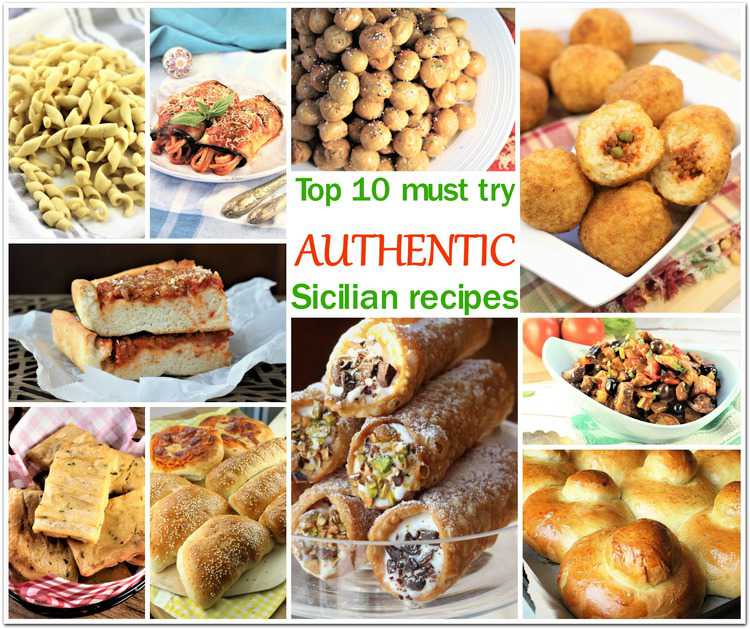 Unfortunately we won't be able to get to Sicily as planned this summer as may be the case for many of you as well. So I decided to round up some of my favorite Sicilian dishes that I invite you to enjoy in the comfort of your own home!
Without a doubt, there are far more than ten amazing Sicilian dishes to try therefore by no means is this list exhaustive. So how did I choose which dishes made the cut for this list?
Each of these recipes has special meaning or memory linked to them. Some are favorites that I have been enjoying all my life made by my mother. Others are new discoveries that I had the opportunity to sample during recent trips to Sicily and inspired me to replicate them at home.
Influences on Sicilian cuisine
Sicily has been invaded by several civilizations over the last 2000 years resulting in a rich and diverse history. Each of these cultures has left their mark on Sicilian cuisine.
These include the Spanish, Greek, Normans, Romans and Arabs. In my opinion, most notable is the Arabic influence introducing ingredients such as citrus, saffron, raisins, and pine nuts as well as the combination of sweet and sour flavors.
So let's begin my list with the recipe that is, without a doubt, one of the most popular Sicilian exports ever!
Top Ten Must Try Authentic Sicilian Recipes
So there you have it, my ten must try authentic Sicilian recipes! You don't have to travel to Sicily this summer to enjoy some of your classic favorites or discover new ones, all from the comfort of your own home!
Click here for my complete list of Sicilian recipes!
Let me know if you try any of these recipes. I'd also like to hear from you, so please let me know what your favorite Sicilian dish is in the comments below. Buon appetito!